That includes the building of an anti-submarine warfare Corvette and an aircraft carrier for the navy.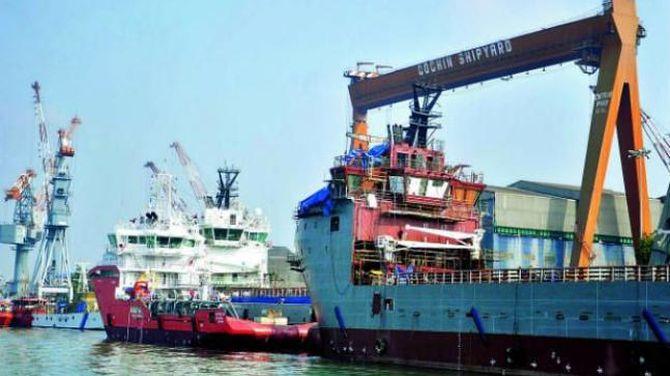 Cochin Shipyard, largest ship building and repairing facility in the country, expects to put through around Rs 15,000 crore worth of orders in the next five years.
That includes the building of an anti-submarine warfare (ASW) Corvette and an aircraft carrier for the navy.
Expansion plans, including a drydock within the shipyard and facilities in Mumbai, Kolkata and Port Blair, for a total of Rs 2,500 crore would be readied during this period, said Madhu S Nair, chairman.
"Unlike in other industries, we will not see this signed, documented and sealed at each point of time but the visibility in front of us is around Rs 15,000 crore.
"For the aircraft carrier, we have some post-delivery commitments. All these contracts have to be executed in at least four to five years," he said.
The company is in advanced stages of finalising a contract to build the ASW corvette, as the project's lowest bidder.
The project is to produce eight such vessels for a total value of Rs 5,400 crore. The contract is expected to be signed before the end of next month.
The aircraft carrier project is expected to see the third phase of building activities to commence by December or the early part of 2019.
The price has a fixed and a cost-plus part to the contract, seamless across the three phases. The phase-III fixed price and cost-plus part is remaining.
Delivery of the vessel is scheduled for February 2021 and the company is close to attaining that target, said Nair.
The signed and remaining works in the order book is around Rs 18 billion including a Rs 513 crore out of the total value of Rs 2,848 crore of the aircraft carrier project.
The expansion projects are on track, including nearly Rs 1,800 crore for a new drydock, targeted to complete in June 2021.
"We started initial ground preparation work in May, awarding the contract to Larson & Toubro.
"The ground-breaking ceremony took place this October. The project is expected to be completed in three years," said the chairman.
An international ship repair facility is also being built (in Kochi), with an investment of Rs 970 crore, the target being next November.
It is also developing a small ship building facility in Kolkata, under a joint venture named Hooghly Cochin Shipyard Ltd, with investment of Rs 160 crore.
This is to make inland vessels. Construction is expected to start by the end of December and operations to commence by 2020.
It is also planning to commence operations in a ship repair facility it took over from Mumbai Port Trust, by the coming January, the investment being Rs 80 crore to Rs 100 crore.
Also a ship repair facility in Kolkata (Rs 15-18 crore) and at Port Blair. This would be funded by the government.
The company earlier signed an agreement with Russia's United Shipbuilding Corporation, to work together for designing, development and construction of vessels for inland and coastal shipping.
Photograph: PTI Photo