As people wait in long queues outside banks, they appear happy that the ban on Rs 500 and Rs 1,000 notes will unearth black money and root out corruption.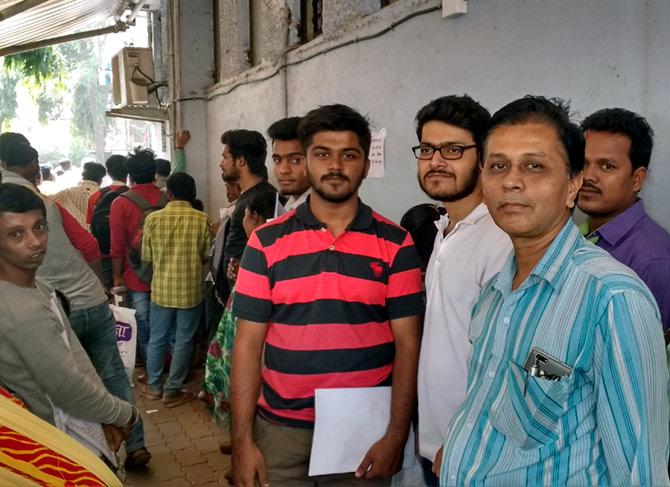 IMAGE: College students Ishit Gangar (in red), Harsh Singh (in white) and shopkeeper Anil Gandhi believe the ban on high-denomination notes will stem the creation of black money. Photographs: Prasanna D Zore/Rediff.com
Day 2 after the banks opened following the ban on Rs 500 and Rs 1,000 banknotes and the queues -- for depositing, withdrawals and exchanging Rs 500/Rs 1,000 notes -- have only grown longer.
Outside a Bank of India branch, as outside other banks we visited on Thursday, the crowds have almost doubled.
People were standing in serpentine queues for more than two hours on Friday morning to exchange the banned notes as well as to withdraw and deposit money, even as most ATMs shut shop soon after opening for business as the onslaught of withdrawals began.
"Of course, we are facing problems, but this will smoothen in the next couple of weeks," argue Harsh Singh and Ishit Gangar, college students, who say they are in favour of the ban on Rs 500/Rs 1,000 notes.
Harsh and Ishit had taken the day off from college to exchange Rs 4,000 -- the maximum permissible currently -- so that they would have enough "pocket money for a week."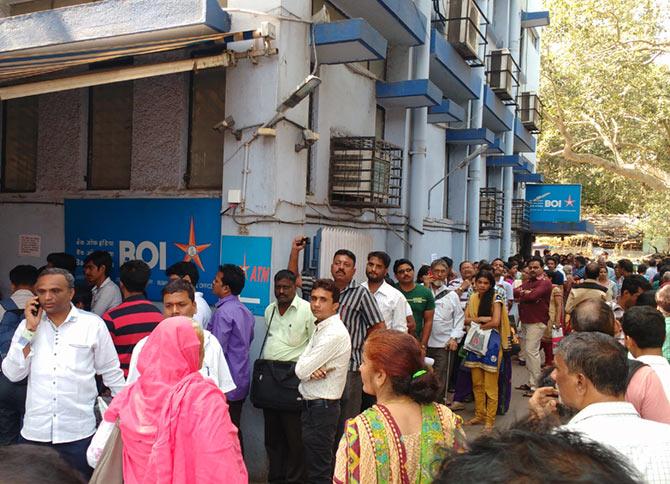 IMAGE: The crowd, which wanted to get their Rs 500 and Rs 1,000 notes exchanged had doubled compared to what one saw on Day 1 of the ban.
Ask the boys how the demonetisation would help unearth stashed black money or how the re-introduction of new Rs 500 and Rs 2,000, and Rs 1,000 later, will stop the creation of new stocks of black money, they say, "we don't know how, but this is indeed a good move. We congratulate the prime minister for taking such a bold step."
"The Modi government is very, very, decisive," says grocer Anil Gandhi. "Manmohan Singh's government, which lasted 10 years, knew about black money and did discuss the issue for some time. But they turned tail and kept postponing such demonetisation."
Others in the queue reel out the names of some of India's best-known businessmen who, they alleged, are hand-in-glove with the government.
"All the top politicians, though they may be abusing each other on television, knew of this ban and must have already converted their hoarding into legal money," says an agitated woman in the queue.
"It is people like us, who earn Rs 20,000, Rs 25,000 per month, who have to suffer."
Gandhi sticks to his guns: "Our chaiwala PM did what a scholarly economist couldn't achieve in 10 years."
***
'Repairing an old house takes time'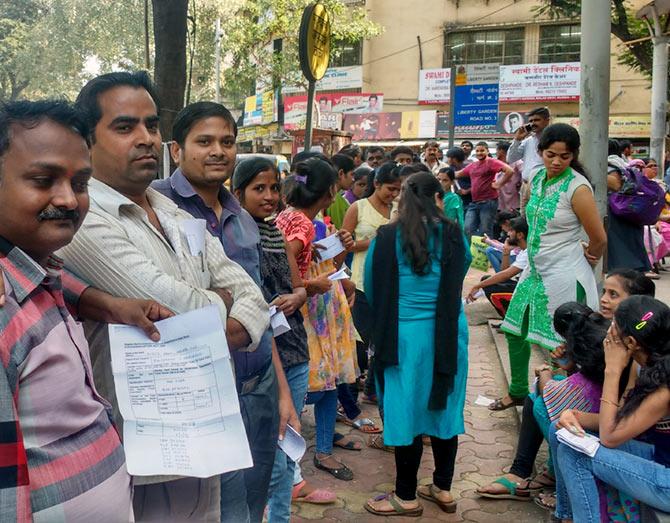 IMAGE: Raksha Ram, extreme left, with his friends had taken a day off to help his family cope with shortage of money.
Raksha Ram, a skilled worker employed in the imitation jewellery business, has a family of four -- wife, son and daughter -- to support. He was standing in the serpentine queue to exchange Rs 4,000.
"In the last two hours we have moved only two feet," he says, standing outside the ICICI Bank, India's top private sector lender. The ATM outside the bank's branch was closed as it had run out of cash and that added to the growing number of people, says Ram.
Ram, who had taken a day off, along with friends from the company where he works, will lose a day's pay for the exercise, but he is not complaining.
"Agar desh ka bhala hota hoga toh hamare ek din ki salary koi mayine nahi rakhti (If demonetisation will help India progress, then the sacrifice of one day's pay makes no difference to us)," he says.
"Won't all the black money now enter the banking system? People like me will have greater access to small and medium loans."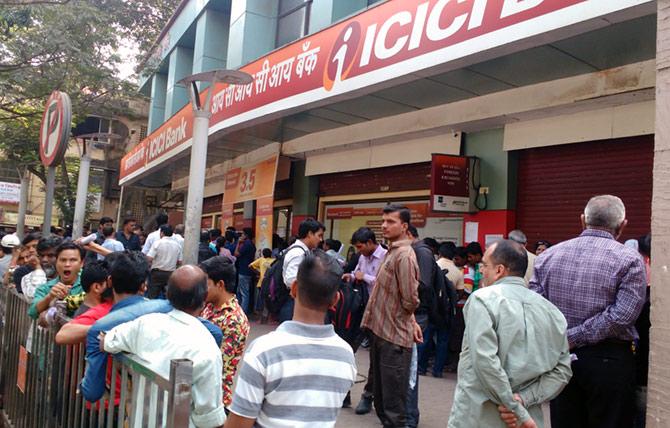 IMAGE: Raksha Ram, who was standing in this long queue, said the ATM machine (red shutter, extreme right) had stopped working since 9.30 am when he just joined the big line.
Ram agrees that those who have crores of hard cash may not come out in the open for fear of facing the law -- the government's voluntary disclosure of the unaccounted money scheme ended September 30 and the government is quite clear that those who declare unaccounted money now will have to pay a 200 per cent penalty on tax payable and also face criminal proceedings -- but believes that that money will become worthless after midnight December 30, when the government-mandated deadline for depositing or exchanging Rs 500 and Rs 1,000 notes comes to an end.
Ram gives a simple example to drive home his point. Purana ghar repair karne main time toh lagta hi hai na? Lekin, kaam pyra hone ke baad us ghar main rehne ka maza hi kuch aur hota hai (It takes some time to repair or redo old homes but once the repair work is over the feeling of comfort and happiness one gets is something difficult to describe)."
***
'The new Rs 2,000 new note is a new problem'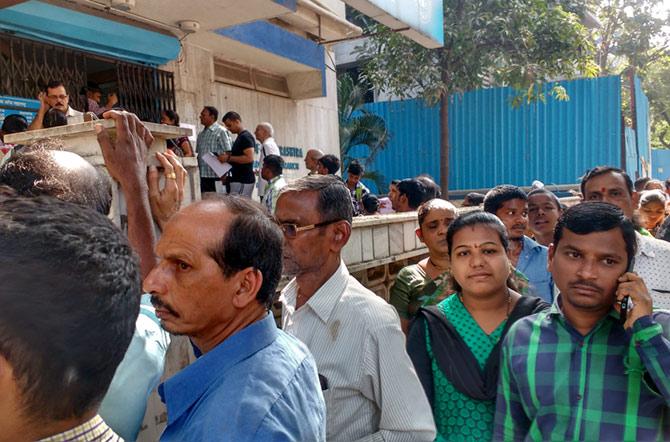 IMAGE: Meenakshi Chavan and her husband Rakesh in green, were not happy with the disbursement of the new Rs 2,000 notes in exchange for Rs 500 and Rs 1,000 that people exchanged.
Meenakshi Chavan and her husband Rakesh, standing outside the Bank of Maharashtra bank, aren't as ecstatic as Gandhi, Gangar, Singh, or Raksha Ram.
Rakesh works in a casting factory and Meenakshi is a home-maker.
Their daily supply of small cash has been cut off abruptly and they are not hiding their anger though they too, like others, believe the move will squeeze corruption out of their daily lives.
"The woman next door, after standing in a long line, did get her notes exchanged. But the banker gave her two Rs 2,000 notes and ever since then she is running around to buy goods of daily need without any success," Meenakshi says.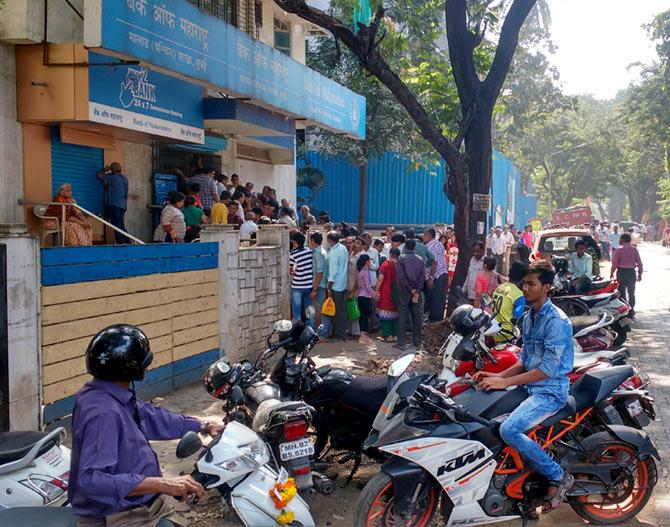 IMAGE: The crowd outside the Bank of Maharashtra branch had spilled on to the road.
Meenakshi is pointing out an obvious flaw affecting the smooth transition from the old currency notes to the new ones.
"They have banned the Rs 500 note and people don't have enough of Rs 100 or Rs 50 notes to exchange when one goes out to buy groceries or vegetables. The other lady had to buy her groceries and vegetables on credit."
"The new Rs 2,000 note," says Meenakshi, "is a new problem for women like us who need small change to buy household stuff."