SpiceJet has resumed flight operations but it will be difficult for it to pull through in coming days due to lack of equity infusion.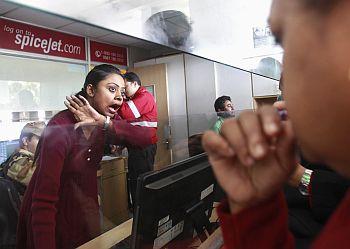 One would never have thought that SpiceJet, India's second largest airline with around 20 per cent market share would be on the verge of going bust so soon.
The airline's customer care helpline is flooded with calls from fliers who are now seeking a refund for seats booked in advance.
Source-based media reports on Wednesday morning (December 17) suggested that SpiceJet has grounded almost all its flight due to oil marketing firms denying fuel to the cash-strapped carrier.
Though, the airlines chief commercial officer Sanjiv Kapoor has assured to resume flight operations, the industry is unsure about the airline's capability to operate flights smoothly henceforth.
It is not long ago, when in 2012, SpiceJet and it arch rival IndiGo had gained maximum market share from erstwhile Kingfisher Airline's debacle.
Today, destiny has taken its own course and the 9-year old carrier is desperately seeking funds to run daily operations without any hurdles.
The politically-connected promoter of the airline, Kalanithi Maran has assured to immediately infuse Rs 200 crore (Rs 2 billion) into the ailing carrier.
But is this amount sufficient for the airlines to fly all its aircraft in full swing?
The answer is certainly 'no' and here's why
During the September quarter of financial year 2015, the airline paid around Rs 750 crore (Rs 7.5 billion) towards fuel purchase, Rs 1.10 billion (Rs 110 crore) as airport charges, employee cost came to around Rs 140 crore (Rs 1.4 billion). Overall expense was around Rs 1,829 billion ( Rs 18.29 crore).
Though, the airline trimmed its losses by around 45 per cent to Rs 3 billion, it still remained in the red year-on-year during the quarter gone by.
But industry watchers and travel agents had seen SpiceJet's downfall around a year back.
Frequent offers were not a good idea
Rajesh Rateria, managing director, Cirrus Travels told Rediff.com, "The airline frequently indulged in discount schemes and promotional fares which strengthened its market share and cash flows temporarily.
For instance, SpiceJet managed to mop us over Rs 400 crore-500 crore (Rs 4-5 billion) by announcing Diwali dhamaka offers, early bird sale, super sale in which it sold all-inclusive tickets at Rs 1,800.
High airport charges, steep fuel cost hurt most
Its not only the case with SpiceJet, other airlines too are facing the heat of high cost environment prevalent in the aviation industry.
ATF is the highest cost component to any airline and dominates over 75 per cent of the total expenditure to any airline.
Global investors are shying away from SpiceJet
Portfolio manager PN Vijay told Rediff.com
Tainted Maran Brothers who are accused of being involved in the money laundering probe in the Aircel-Maxis deal has kept investors at bay.
"Investors and global investors have not shown much interest in investing in the airline because of the sinking credibility and sinking credit rating of the company. " Vijay said.
Problems abound
Kush Katakia, founder Beanstalk Advisory lists few issues that put SpiceJet in trouble
There may be quite a few reasons for the downfall of SpiceJet like poor administration at top level, unavailability of funds ( though the Maran family has on regular interval injected equity into the airline in tough times), high loan repayment charges and exorbiant ATF cost.
"There was also a buzz that the airline's top honchos who managed business well resigned due to some clashes with the management, "added Katakia.
"SpiceJet has been registering a daily revenue loss of Rs 2-2.5 crore (Rs 20-25 million) from September-October because of cancelled flights," an airport official told Rediff.com on condition of anonymity.
"To stay airborne, the airline could not afford cancellations but the latter have been happening on a regular basis for some time as SpiceJet's dues to oil companies were piling up," he said.
"It is a vicious cycle that the airline has been struggling to get out of," he added.
According to industry estimates, SpiceJet's losses stood at Rs 2,500 crore (Rs 25 billion) as of March 31, 2014.
What's even worse, "The airline can't afford to cut ticket prices as the company's overhead expenditures, including salary for staff, airport charges, equipment, etc have remained the same," the official told Rediff.com.
"The airline has been looking for investors for more than a year and its needs $300 million approximately to stay afloat," he said.
"Even if SpiceJet manages to get the investment, it is likely to see tangible results only after a couple of years."
Also, repeated cancellations have told upon the airline's advance booking, denting the revenue further, the official informed.
Fliers are known to book air tickets well in advance to avail of 'lucrative' discounts.
"The airline desperately needs an investor so that it can breathe. Unless it gets one, it will have to cancel its order for 42 Boeing 737 MAX worth $4.4 billion."
(With additional inputs from our correspondent on Kolkata)
Image: A SpiceJet employee talks to a passenger at the Mumbai airport.
Photograph: Jayanta Dey/Reuters