Around five months earlier, Shrikanth Ghanekar, a city-based wholesale textile exporter, watched a 3D film for the first time. The film, Haunted, was being screened at Regal Cinema in Mumbai, and Ganekar spent Rs 350 to watch it.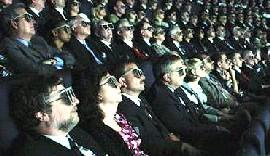 However, what Ghanekar did not know was it was also the first 3D movie screened in the theatre.

Regal Cinema earlier had a 2D screen and converting it into a 3D screen would have meant an investment of around Rs 45 lakh.

UFO Moviez offered to upgrade their 2D screen to a 3D one at almost one-third the cost. With the theatre owners agreeing to it, UFO Moviez set up a platform comprising dual 3D projectors, along with a playback server, 3D format converter, passive polarised filters, a silver screen and 3D goggles.

With the help of these, a movie is now processed in stereoscopic format and played back from the server.

The video fro the server is connected to a 3D format converter that processes the stereoscopic video and gives two separate frames as output (one for the left eye, the other for the right).

The two video outputs from the format converter are connected to dual projectors - one projector projects left-eye video, while the other projects the right one. There are passive polarised filters mounted in front of the projector lens.

The video passes through filters and is projected on the silver screen. Polarised light is reflected from the silver screen to the passive 3D glasses (non-battery operated), due to which a 3D image is seen.

UFO Moviez provides 3D projectors in exchange for a modest cut of the ticket proceeds of upcoming movies —Rs 10-20 per ticket. Its dual projector, or 3D platform, requires no capital investment from the theatre owner.

The equipment and screen upgrade cost, borne by UFO Moviez, is about Rs 15 lakh, compared to a DCI-complaint 3D platform that requires theatre owners to invest up to Rs 45 lakh.

UFO Moviez, which spent a year and a half creating its own 3D technology (patented), managed to cut overheads by a third of what traditional 3D technology needs.

"On our platform, we use dual projectors. So, the lumen (brightness) on the screen doubles. This gives a better image quality and our dual projector technology uses passive glasses that are easier and lighter to wear and are more cost-effective. A passive glass costs around Rs 50, while an active glass (battery-powered) costs around Rs 1,500 per unit," says UFO Moviez, founder, Sanjay
Gaikwad.
The company's patented 3D platform competes with the standard 3D technology promoted by Hollywood's Digital Cinema Initiatives (DCI), comprising seven large studios—Metro-Goldwyn-Mayer, Paramount Pictures, Sony Pictures Entertainment, 20th Century Fox, Universal Studios, The Walt Disney Company and Warner Bros.
According to the DCI agreement, Gaikwad cannot screen films produced by the big seven Hollywood studios using his alternate 3D technology platform.
However, Gaikwad, who tested the technology during IPL 2010—in which the last four matches were broadcast live in 3D—is optimistic his company would be able to convert 1,250 screens into 3D over the next two years, a huge rise from the current 100 3D screens.
India, according to KPMG and industry estimates, had about 230 3D cinema screens in 2010-11.
Films like Haunted, a 3D Hindi film with a budget of Rs 15 crore (Rs 150 million) and earnings of Rs 40 crore (Rs 400 million) at the box office, have kicked-off interest levels in Bollywood.
Haunted was co-produced by BVG Films and DAR Motion Pictures and the consortium deal includes two additional 3D movies by 2015.
Forthcoming big budget films like Ra.One, Dhoom 3 and Don 2 are expected to be released in 3D formats in 2011, along with a bevy of 3D English studio releases dubbed in local languages.
Rajesh Mishra, chief executive (Indian operations), UFO Moviez, says, "Box office collections for Haunted were at least four times more for the film's 3D version, compared to the 2D version. We know film producers watch the market dynamics carefully and realise 3D films can fetch a higher ticket price in both single and multiplex theatres, thus boosting revenues."
Theatre owners are queuing up to upgrade their screens. ViraljiLal Mehta, manager, Natraj Laser Cinema, Gujarat says, "Even dubbed 3D Hollywood films attract a good audience, mostly due to the novelty of the picture format. Obviously, single-screen theaters like our's cannot afford costly 3D DCI technology recommended by Hollywood studios. So, UFO's platform is next best option without any compromise on quality."
Gaikwad says his company is already exploring foreign markets. "We are yet to finalise our 3D plans for foreign overseas market. Having said that, there is tremendous potential in emerging markets and our cost-effective 3D technology, coupled with our satellite delivery solutions, can be very appropriate in these markets," he says. UFO Moviez specialises in delivering MPEG-4 high definition content for digital cinema through satellites.