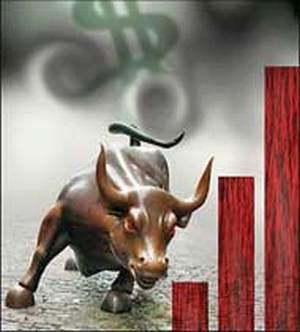 After growing rapidly over the past decade, these consistent performers are expected to maintain momentum, say Sheetal Agarwal and Vishal Chhabria.
Indian markets have had a strong run so far.
Signs of revival in economic growth, reforms such as the goods and services tax (GST) and strong liquidity-driven flows are key factors.
As with any rally, stocks across the market cap spectrum participated.
Among them are companies that have delivered consistent earnings growth in the past 10 years and across market cycles.
The outlook is strong with most expected to deliver double-digit net profit growth.
Further, they have been rewarded for consistency and are trading at FY18 price to earnings multiples of 17 to 54 times.
Given the fundamentals, valuations are unlikely to correct in a hurry.
"The stocks, trading at 40, 50 times earnings, are not trading on hope. These are solid companies, with good managements, and would not make losses all of a sudden," says Ambit Institutional Equities' Pramod Gubbi.
1. HDFC Bank
It would continue to gain market share, particularly from public sector banks.
Even as it continues to do well on growth, margins and asset quality, its retail broking and non-bank finance arms, too, seem ready for the next leg of growth and could see some value-unlocking in the longer term.
2. Eicher Motors
Strong growth of Royal Enfield motorcycles in India and plans to develop markets outside will drive performance.
Market share gains in the commercial vehicles business and margin expansion are other positives.
Start of a new plant in August will drive cost efficiencies and deliver scale benefits.
3. Dabur India
Dabur is a play on the rising growth of ayurveda-based products and stands to benefit from a likely pick-up in rural growth.
Continued traction in the domestic business, along with turnaround of the Namaste acquisition, will support growth.
With an eye on margins, the company's innovations across categories could lead to market share gains.
4. Marico
Implementation of the GST will accelerate the pace of market share gain from unorganised players, particularly in the rigid hair oils (Parachute) portfolio.
Pick-up in rural markets will aid the value-added hair oils segment, even as new launches will help sustain the strong position of its Saffola franchise.
Continued innovation and cost efficiencies will aid margin expansion, even as the international business is likely to pick up only in the second half of this financial year.
5. Page Industries
A lower GST rate on apparel priced below Rs 1,000, availability of input tax credit will drive price cuts and boost volume growth.
The strong economic moat, premiumisation focus and improved traction in leisure wear and lingerie segments are key positives adding to the strong show in the men's innerwear segment.
6. GRUH Finance
Given its larger presence in Maharashtra, Madhya Pradesh and Gujarat which are the front runners of the Pradhan Mantri Awas Yojana, it stands to gain meaningfully from this scheme.
Strong parentage (HDFC), healthy growth, high return ratios and resilient asset quality are other positives.
7. Dr Lal Pathlabs
Strong brand recognition, focus on cross-selling opportunities with walk-in clients, as well as on the high-margin preventive health care segment, are growth drivers.
The company aims to improve cost efficiencies and drive volumes at existing centres.
8. City Union Bank
A niche banking model (sole banker to small businesses), declining slippage or fresh bad loans ratio and focus on the high-yielding small and medium enterprises segment are strengths.
A fall in funding costs, along with relatively high pricing power with borrowers, should aid margins.
9. Repco Home Fin
It is a play on the affordable housing theme and enjoys pricing power.
Falling cost of funds and improving asset quality, particularly in the loans against property segment, are key margin levers at its disposal.
Expansion beyond southern India will enable healthy growth in loans.
10. Cera Sanitaryware
It will benefit from the push in affordable housing and gain share from unorganised peers post GST.
While sanitaryware segment is likely to grow in line with industry, Cera's tiles and faucets businesses will boost growth further.
Higher utilisation, increasing premiumisation and ramp-up of production in a new joint venture will aid margin expansion.