The first of a series of excerpts from Nandan Nilekani's book Imagining India: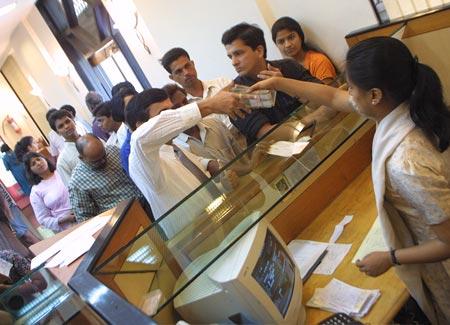 A nightmare of pulsing, twitching, flashing complexity,' was how one intimidated journalist chose to describe a computer in 1954. He then went on to compare the sound it made to a swarm of insects.
The sheer strangeness that computers brought to technology made them in the early years a source of popular anxiety both in the West and in India. The computer became an easy target for every rabble-rouser; a symbol for whatever was his particular nemesis.
The Luddites and conspiracy theorists in the West, for instance, feared that computers would widen the government's control -- mainframes would increase the state's surveillance powers, and society would become Orwellian and devoted to propaganda. As a teenager, I also read plenty of science fiction stories by American writers that portrayed computers as evil, hyper-intelligent misanthropes out to destroy the human race.
In socialist India, this fear was inverted. Here computers got demonized as tools of not the state but of the 'capitalists', which would replace human labour in factories and offices. In 1966 there was an uproar against computers when the IBM chief supported India's short-lived currency reforms by arguing that rupee devaluation would make the manufacture of computers in India economical. His remarks triggered a firestorm of criticism among India's political class, and Indian legislators opposed computers in no uncertain terms as 'man-eating machines' that would 'devour the jobs of working people'.
India's negativity was a marked deviation, by the way, from the pro-technology policy of other planned economies. The Soviet Union, for instance, placed a high priority on IT and robotics, and the government saw computers and robots as a viable alternative to a demoralized -- and vodka-swilling -- Soviet workforce. As Soviet policy makers explained, 'Robots don't drink.'
But in India the arguments against computers as a threat to the working class persisted, and computer imports were severely restricted. Through the 1960s and 1970s, we saw little computerization across businesses, with the exception of the reconditioned 1401 computers that IBM sold in India. And after IBM exited India in 1978, people found it so difficult to get hold of a computer that the ones who did manage to import one made easy money by setting up a 'computer service' bureau and leasing out computing time.
I have noticed that behind nearly every major shift in IT policy in India, there was an intelligent -- and enterprisingly agile -- bureaucrat. And when it came to the first tentative moves to open up the technology sector in the 1980s, I could spot one of the pioneers with ease.
Dr N Seshagiri lives in Bengalore and is now retired, and looks none the worse for wear, despite the cut-throat, volatile politics he had to deal with while working for the Rajiv Gandhi government. For Seshagiri and the other bureaucrats interested in nurturing India's IT industry, overcoming the prevailing animosity to computers was all about making the right converts.
'I knew from the beginning that we had to inoculate some politicians from IT opposition,' he says. In this, Seshagiri and the other IT-savvy bureaucrats were lucky to meet Rajiv Gandhi, who was much younger than other political leaders, and just forty years old when he became prime minister. Trained as a pilot for the Airbus A320, Rajiv was generally unafraid of technology. 'He was a thinkerer,' one bureaucrat who worked with him tells me. 'He was always curious about how new technologies worked.'
Rajiv's attitude to the role of computers in governance was shaped early on by the Asian Games, which India hosted in 1982. Rather typically, the ministry of sports dragged its feet on the project, and six months before the Games nothing had been done. Within the government, the panic was similar to when you opened your text for the first time the night before the exam. The project was handed over to Rajiv, and he and his team of bureaucrats got it running in the little time available, wiring it together with IT.
'The system we put in place covered everything from managing costs to monitoring each game,' Seshagiri says. 'We also built a result information network, which was connected across Mumbai and Delhi.' For Rajiv, the Games were a revelation of the possibilities of IT within the government, and when he came to power in 1984 the IT policy was one of the first initiatives he announced.
At the time, Infosys was already part of the fledgling IT industry that had come up in the early 1980s. Until the 1984 IT policy, we were not even really entrepreneurs in the eyes of the government -- software did not qualify as a business. We were therefore ineligible for bank loans, and our start-up capital was a pile of crumpled bills that were our pooled savings.
We struggled to get hold of a computer. We imported our first computer -- which we installed in Bangalore -- under the rule that allowed software exporters to import one if they had an active order from a client.
In 1982 Infosys applied for permission to import a 150 MB hard disk drive. (I know you are laughing, but 150 MB was a big deal in 1982.) But by the time we got the approval, enough months had gone by that the company manufacturing the drives had improved the capacity to 300 MB, and reduced the price by 15 per cent. This meant changing the import licence -- and took another six to eight months, luckily coming through before the drive was upgraded again.
The 1984 policy, by easing some limits on IT exports, capital access and tax policies, was a step forward. But even with the policy in place, there were plenty of bumps in getting things done -- as Montek Singh Ahluwalia noted before, the essential cultural of government control was still pervasive, new incentives or not.
Nevertheless, something and begun to stir -- there were ripples of change in the telecom sector as well, thanks to one of the advisers in Rajiv's team of 'computer boys', Sam Pitroda. Telecom in India at the time had grown stodgy and cobwebbed as a result of the state monopoly of the sector, and getting a phone line meant waiting for several years. 'I saw my first phone,' Sam tells me, 'when I went to the US.'
Sam, flamboyant and his hair already turning silver in 1984, set out to build a series of rural and urban telephone exchanges across the country, in a colossal effort to bring phones to the masses. While few people had yet made the connection between telecom and computers, the parallel transformation of both was helping set the stage for a vibrant, connected economy.
The prime minister was an island of support for these efforts in a sea of opposition. Sam was accused by some in the left of being a CIA agent, and the 1984 IT policy ran into choppy waters almost immediately. Bank employees burnt effigies of computers, and the Bharatiya Mazdoor Sangh, the BJP-affiliated trade union, observed Labour Day in 1984 as 'anti-computer day'.
Rajiv's idea of electronification 'as a tool for the removal of poverty' attracted wide disdain -- the consensus was that these guys had their heads in the clouds and were out of touch with India's problems.
'Rajiv was ahead of most people in the government when it came to technology,' one bureaucrat tells me. 'When he was PM, he had a meeting with the Railway Board where the officers presented him with data written out on several paper charts. He asked them, "Why don't you just use a spreadsheet?" These officials had no idea what a spreadsheet was, and came back to him with an actual sheet, with their data marked all over it!'
The prevailing attitude drove key state IT initiatives off the rails -- for instance, when the ministry of external affairs tried to computerize the passport department in 1986, the project got stuck in a quagmire of resistance from department officials. Across public sector offices, computers that arrived were often dumped in a corner and forgotten. The resistance to IT made state electronification efforts covert, back-door operations, and the government implemented IT initiatives while taking great pains to avoid labeling them as such.
The policy for the computerisation of Indian banks, for instance, referred to computers as 'ledger posting machines' (LPMs) and 'advanced ledger posting machines' (ALPMs). The 'computer boys' had to play hopscotch over the bureaucratic wires, and had to be quite artful to get departments to implement IT.
'We'd meet the joint secretaries who were near a promotion,' Seshagiri says, 'and we' tell them, if you adopt IT, it will make you look progressive. This helped us computerise twenty-five departments.' And sometimes bureaucrats would agree because they had an eye on the air conditioner that came with the computers.
In those early years, our industry often got caught in bureaucratic crossfire. We would see IT policies take a bold step, and then backtrack by a few years in progress. It took until 1990, when N Vittal became the secretary of the department of electronics (DOE), for IT to get another big boost, with fewer restrictions on companies which came up within India's software technology parks (STPs).
Bureaucrats like Vittal often pushed hard against the wariness within the government towards technology and the new, liberal industry policies. Perhaps Seshagiri's remark says a lot for the resilience of these officers against the odds. 'We'd learnt,' and here Seshagiri has the demeanour of a cowboy in the Wild West, 'that to get things done in the government, you have to occasionally break all the rules.'
Imagining India: Ideas for the New Century by Nandan M Nilekani, published by Penguin Books India. Price: Rs 699.
Buy the book at Rediff Shopping
Nandan Nilekani introduces the series: Exclusive to rediff.com | Part III : 'India's software industry turned superstar after 1991' |
Image: A scene at an Indian bank. Photograph: Rediff Archives