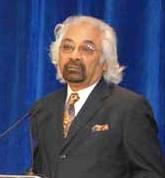 Prime Minister Manmohan Singh has asked the department of telecommunication to refer the controversial Bharat Sanchar Nigam Limited tender issue to the Sam Pitroda committee for urgent consideration.
Singh had constituted a committee under Pitroda last month to look into the functioning of two telecom public sector units -- BSNL and Mahanagar Telephone Nigam Limited. Noted banker Deepak Parikh and the telecom secretary are members of this panel.
Singh's directive comes in the wake of telecom minister A Raja seeking his intervention for early resolution of BSNL's tender controversy.
The minister had said that the corporate rivalry was affecting the decision making process in BSNL.
BSNL had invited bids for GSM equipment for an estimated investment of over Rs 36,000 crore (Rs 360 billion) but the PSU could not place the orders even after 20 months of tender due to various issues, including legal battles.
Leading telecom vendor Nokia Siemens Network was disqualified on technical reasons, leaving only two equipment suppliers -- Ericsson and Huawei -- in the fray.
Ericsson had emerged lowest bidder for North and Eastern regions while Huawei for the Southern zone.
The matter was referred to chief vigilance commission even as the two high courts had upheld NSN's disqualification.
The CVC is understood to have asked BSNL to go for either snap tender or short tender.
"Against this background it would be appropriate if the secretary, DoT, is directed to place the CVC's letter before this committee (Pitroda) for its urgent consideration and early recommendations," PMO said.
"Please recall that this issue was briefly discussed in the meeting taken by the prime minister to review the functioning of BSNL and MTNL on January 6, 2010," said a letter by the prime minister's office to Raja.
"It was agreed that the committee consisting of Pitroda, advisor to prime minister on public information, infrastructure and innovation, and including Deepak Parekh and the secretary, DoT, as members would look into the issue in its totality and suitably advise DoT," it added.
Raja had opposed CVC's decision to go for fresh or snap tender saying what was the guarantee that this (fresh tender) would not be challenged by any disgruntled party.
"BSNL needs these lines (93 GSM lines tender) badly in view of its rapidly declining market share and inadequate capacity to add mobile subscribers may lead to further deterioration," the minister had said in its letter to the prime minister.
Image: Sam Pitroda