'Milk prices have reduced by 20 to 30 per cent while production has been steadily going up.'
'Overproduction of milk is resulting in a price crash and slashing of profit margins.'
'While dairy farmers are suffering from low prices, consumers are paying a high price for milk'.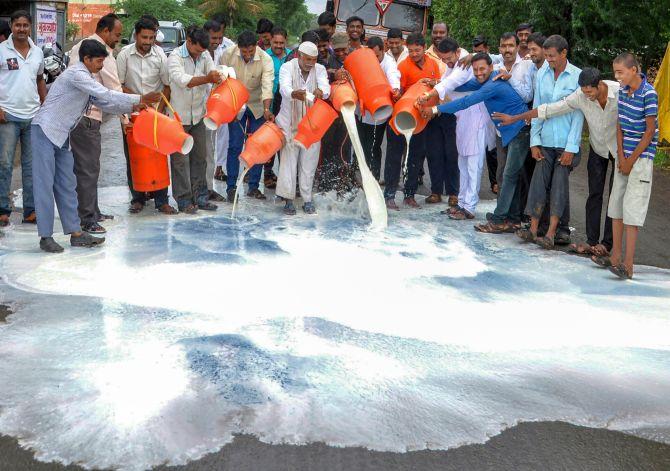 Farmers organisations in Maharashtra have been protesting since Monday, July 16, demanding a hike of Rs 5 per litre in the milk procurement price, and have threatened to suspend milk supply to Mumbai and Pune.
In several districts milk tankers were blocked by protesters on Monday, even emptying milk on to the roads.
Swabhimani Shetkari Sanghatana leader Raju Shetti, who is spearheading the agitation, said dairy owners were forced to protest since the Devendra Fadnavis did not heed their demands. Shetti, the Lok Sabha member from Hatkanangle in Maharashtra, left the National Democratic Alliance last year.
The agitation in Maharashtra comes on the heels of Agriculture Minister Radha Mohan Singh stating that milk production in India has increased significantly from 137.7 million tonnes in 2013-2014 to 164 million tonnes in 2016-2017.
What should be positive news for the dairy business has turned out to be a bane instead.
Many farmers with cows and buffaloes do not know what to do as the oversupply of milk is killing their business
"I don't see a bright future for the dairy sector in India. We will see more and more small farmers getting out of the dairy business. Policy-makers are keen to bring in big dairy giants into India," Devinder Sharma -- distinguished food policy analyst, agricultural scientist, author and activist -- tells Rediff.com's Syed Firdaus Ashraf.
Why is there so much of surplus milk in our country today?
Because we are overproducing milk.
This did not happen all of a sudden, we have been doing so for the last couple of years.
If you see, for the last few years, we have piled up skimmed milk powder and now there is no demand for that in the international market.
Therefore, there is plenty of milk in India.
What is the reason for the fall in demand in the international market?
The world is awash with milk. This is something that has been going on for at least four years.
Producers across the globe have been engaged in a vicious cycle of overproduction, which has forced prices to crash.
In India, milk prices have reduced by 20 to 30 per cent for farmers while production has been steadily going up.
In 2016-2017, India produced 165.4 million tonnes and is the biggest producer of milk in the world.
Europe too is inundated with milk after the quota system was withdrawn in 2015.
Overproduction of milk is resulting in a price crash and slashing of profit margins.
After the milk quota was withdrawn in Europe, and prior to that in America, people started believing that they can earn more profit by producing more milk.
This resulted in a race for overproduction.
Skimmed milk powder prices have declined internationally.
In 2013, international prices of milk powder, which hovered around $5,000 to $5,200 a tonne, has now come down to $2,000 per tonne because of oversupply.
In India, also, because of the steady rise in the production of milk powder, the price has come down to Rs 136 per kg now from Rs 250 per kg in 2014.
Why are we overproducing things? We are also overproducing farm products when there are no buyers.
The glut started from 2014-2015.
In Maharashtra, you can see now that milk is costing less than a bottle of water.
In North India, you get cow milk for Rs 19 to Rs 21 a litre while bottled water is more expensive than that.
The entire dairy industry in the world is struggling for survival and this situation has aggravated in the last four years.
I have been quoting that in the USA over 17,000 small dairy farms have closed down in the last decade.
In Europe, more than 1,000 dairy farms have closed down in the last three years.
In Australia, milk prices are on a downward spiral forcing the biggest cooperative giant, Murray Goulburn, to sell (its business) to Saputo in Canada.
This was the biggest cooperative dairy in Australia which was sold because they could not pay prices to their farmers.
In New Zealand, which is known for its very efficient dairy industry, farmers continue to suffer heavy losses.
So the problem is not restricted to India alone.
This is a worldwide problem because of the eclipse of small dairy farms and the rise of mega dairy farms.
Many years ago in the USA, at the time of President (Richard M) Nixon, the then US agriculture secretary Earl Butz had said 'get big or get out' and this is the trend which is going on globally.
Is the same thing happening in India?
Yes. the trend is catching up.
Small farmers are being driven out. Agriculture policy is favouring large producers.
India has already allowed 100 per cent FDI in animal husbandry.
Dairy giants like Fonterra of New Zealand, French cheese maker Fromageries Bel, Denmark's Arla, Dutch dairy cooperative Friesland Campina, Mexico's Grupo Lala, and Germany's Hochland Group have been reported to be looking for opportunities to set up own units or to partner with local players.
But the ban on cow slaughter may come in the way.
In the USA, Walmart is the latest to have entered the dairy business.
In India, 80 million women are engaged in the dairy farm activities and it is a question of livelihood for the poor in India.
It is generally believed that farmers who integrate dairy with farming do not commit suicide because small dairy operations supplements their incomes.
Now that sector, which was a saviour of agriculture, is also in bad shape.
Despite all that you have said, the cost of milk does not reduced in cities for the end user. Why?
Yes, while dairy farmers are suffering from low prices, consumers are paying a high price for milk.
Efficiency of milk plants is low.
What about cooperatives like Amul? Are they doing well?
How can they do well?
They too are in crisis.
The Gujarat Cooperative Marketing Milk Federation is collecting milk from farmers once a day. Earlier, they used to collect twice a day.
Many dairies in Maharashtra do not buy cow's milk because it has less fat compared to buffalo milk.
Can't we divert this to making butter or cheese or other milk products?
How much can you make?
If there is demand, then automatically that will be done.
Former managing director of the Gujarat Cooperative Milk Marketing Federation, B M Vyas, said instead of getting into a vicious cycle of competitiveness by pulling prices further down, the best option is to demonstrate statesmanship at this hour of difficulty.
When the White Revolution came to India it was the European Union that gifted us butter oil. And by using it appropriately Verghese Kurien launched the White Revolution.
B M Vyas is saying it is time to demonstrate the same statesmanship now by giving skimmed milk to neighbouring countries like Bhutan, Nepal, Sri Lanka, Bangladesh and African countries.
I completely agree with him. We must donate our milk so they can launch their own milk revolution like the way India did.
We must donate the same way as the European Union donated butter oil to India, which helped us to launch the White Revolution.
Will the government do this?
Well, why not? It is time to show statesmanship.
The Karnataka government started the Ksheera Bhagya scheme in which free milk is given in government-run schools. Can't we do that across the country?
Good initiative. We should do that.
But also see how the other countries are helping dairy farmers.
In Germany, the government provided 100 million euros to support small dairy farmers as a short-term measure.
The European Union spent 500 million euros supporting for small dairy farmers.
So why can't the Indian government announce a Rs 50,000 crore package for small dairy farmers?
What future do you foresee for the dairy industry?
There seems to be no good news on the horizon.
FAO has recently stated that international commodity prices, including for milk, will remain low for the next decade.
I don't see a bright future for the dairy sector in India.
We will see more and more small farmers getting out of the dairy business in the years to come.
Policy-makers are keen to bring in big dairy giants into India, go for industrial scale dairy farms.
Our entire economic thought is in that direction.
The same thing is being said about the farming sector too.
Yes, the entire effort is push small farmers out of agriculture, to bring them into cities which are in need of cheaper labour.
Corporate agriculture is being strengthened. Model law for contract farming has already been circulated among states. Marketing infrastructure is also being strengthened in the same direction.
Why are farmers still producing milk? Have they no idea where the dairy business is going?
What do you expect farmers to do?
They are hurt by low prices. They are protesting in various states.
After recent protest by dairy farmers in Maharashtra, the state had fixed a higher procurement price. But milk plants are unable to pay that high a price.
Himachal farmers have now threatened to hold a massive state-wide protest if the government does not provide them with higher milk prices.