'I think we are not equipped and ready to create disruption in the lives of more than a billion people this industry supports. I think we will have to think through,' says Venu Srinivasan, Chairman and Managing Director, TVS Motors.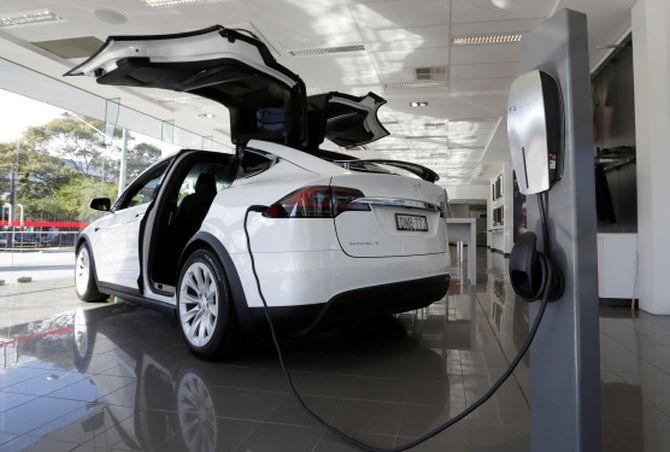 Government think-tank NITI Aayog has asked automakers to completely switch to electric vehicles (EV) by 2025, but TVS Motor Chairman and Managing Director Venu Srinivasan is finding it difficult to understand the strict deadline.
In a chat with Arindam Majumder, he explains the hurdles for EV transformation and why a policy of ban on India's vibrant two-wheeler industry will be catastrophic.
The government has set an ambitious target for switching to EV. How realistic is the target?
We believe that the transformation should not be by bans. We should also look at what exactly we want to achieve.
If we look at greenhouse gas, a substantial part of electricity production in India is generated from dirty coal.
If you are going to use that coal, it is definitely going to produce more carbon dioxide than the BS-VI engines, which conform to the strictest emission standards in the world.
Recently, the oil and the auto industry invested Rs 1.7 trillion to upgrade engines and fuel for better emission.
Why did you then invest so much money if all have to be thrown away in five years?
Secondly, if you look at highly polluted cities, taking out BS-II and BS-III vehicles and giving incentives to reduce pollutants and particulate work faster than electric vehicles.
Thirdly, all vehicles constitute 20 per cent of emission load in Delhi. Of that, only 3 percentage is due to two-wheelers.
So, how is that a priority in order to improve environment? I think we are showing a needless haste. So for 3 per cent is going to be the reason you will shut down an industry?
So, you are telling both EV and conventional engines can survive simultaneously?
See, there are internal combustion engines. Then there are mild hybrids, which can further reduce impact of pollution. There is also full electric. So, there is no reason to ban any one thing.
I think we need to understand what befits the society and then leave it to the manufacturer to find the solution. That's what most countries do.
So, a total shift to EV is not inevitable?
EV shift is never 100 per cent at the same time anywhere in the world. It is never like 100 per cent vehicle has turned electric suddenly.
For example, Volkswagen has announced that by 2035, 50 per cent of its vehicle sold in China will be electric.
So, that is 15 years timeframe and only 50 per cent. Only 3 per cent of Chinese vehicles are electric.
I think we are not equipped and ready to create disruption in the lives of more than a billion people this industry supports.
I think we will have to think through.
Is India's infrastructure ready for EV transformation?
I can understand if you want to progress in highly congested cities by improving incentives and infra.
But in small towns and villages, charging infra is going to be more difficult, as it is not about electricity availability only.
Local electricity grids are very weak. In an apartment block, if everybody switches on the geyser, the fuse blows out.
If everybody is going to charge their vehicle, then what will happen?
We need to move to EV, but in a calibrated manner. We don't understand this hurry.
We are looking at a much longer timeframe and we need to find out what a realistic timeframe should be, what would be the geography that should be done first.
So we need to understand that. Big cities may go electric but outside that may not be electric.
What is a realistic timeline?
The Society of Indian Automobile Manufacturers (SIAM) is doing a major study on the cost implication, impact on jobs, on emission, and greenhouse gases.
I think the study will be ready in three months. Then we will go to the government explaining our position.
But the government gave you three weeks to prepare a road map?
If you are looking at $25-billion industry that is the largest exporter of the country, I think we need to tread with care. Mind you this is the only global-scale industry in automotive business in India.
Policymakers argue that if it (EV transition) is not forced, the court will someday force it.
Are the courts going to make the country dependent on three countries for lithium-ion batteries? The ecosystem has to develop first. You can't put cart before the horse.
If you are going to shut down such a large industry overnight, I think there will be other people who will move court, too.
The China example is highlighted again and again to support transition to EV. Is that a fair comparison?
China took 20 years to transform and did it first in one city before slowly expanding over time. Also, Chinese two-wheelers are short range and for local transportation.
These are basically bicycles with scooter bodies on it. They are not like the motorcycles in India which travel 20-30 km.
Also, is India similar to China in terms of spending power? Who is going to pay for something that costs 80 per cent higher? Supposedly, a Rs 65,000 scooter like Jupiter suddenly costs more than Rs 1 lakh, how are you going to subsidise that? The customer seems to have been forgotten in this whole rush for EV.
But considering that the start-ups have shown high interest in EVs, is there a threat of losing out to them in future?
Somebody who has made nothing and has been in the business for two days can't say we will be going full electric.
They have no experience of the market. They have not sold anything. They have not made anything. We have much greater understanding than them. Best wishes to them.