'It is not that digital is eating into the old one. The fact is a customer will spend his money only in digital technologies.'
'Clients are not worrying about technology platforms. That is what is driving the change.'
'Our whole model is that of providing outcomes'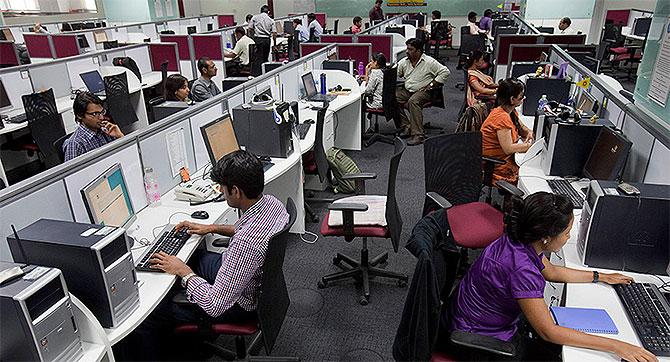 LTI, formerly L&T Infotech, achieved over $1 billion revenue in the last financial year. As the company focuses on its growth path, Sanjay Jalona, bottom, left, chief executive (CEO) and managing director (MD) of LTI, says the push would be to increase digital business and look at outcomes in projects for customers.
"I reckon in the next few years, the whole process of counting the digital revenue will change, and that would be the only way IT would be done," Jalona tells Raghu Krishnan in an interview.
You are increasing focus on digital, but traditional IT services still contribute over 60 per cent of the revenue?
If you look at two years, since I joined this company we have focused very systemically, driving up structural advisory relationships with our customers.
Since the exit of FY 2016, our digital business was less than 20 per cent, today it is 28 per cent as we reported last quarter.
So, there is a remarkable opportunity in the marketplace for a company like us, to do and bring value to our customers at the convergence of physical and digital.
That is the where we differentiate and we see tremendous opportunity.
It is really growing faster than most people in terms of business. In order to digitise, somebody has to understand the business very well.
Once you know the customer's business, then you can use technology.
How is digital growth offsetting commoditised traditional services business?
Today, customers are spending 80 per cent of their budgets in traditional IT, 20-30 per cent in new technologies what we call digital.
I suspect by 2025, maybe 75-80 per cent will be the new age-digital and exponential percentage business, traditional would become 20-25 per cent.
The customer is using the same business processes. I reckon in the next few years, the whole process of counting the digital revenue will change, and that would be the only way IT would be done.
It is not that one is disappearing and digital is eating into old one. The way you have to look at this is that the customer will spend the money only in digital technologies.
How is L&T helping you in your business?
For LTI, L&T is our backyard where we can try a lot of these technologies, perfect them and take them to our customers.
L&T operates in many sectors -- manufacturing, finance, oil and gas and power. One of my largest insurance company client partners is a person who was the CIO of L&T Insurance (which was sold to HDFC Ergo).
The type of things that we can experiment is phenomenal. Once we do in the shop floor, the experience that we get we can take to the customers.
Would you take this as a product or solution?
Our whole model is that of providing outcomes. There are too many solutions, products and platforms. What customers are looking at is outcomes.
Look at Central Board of Direct Taxes (CBDT), the whole programme is based on us providing linkages to the spend patterns of who are not paying tax -- on social media, etc.
Everything I get paid (is) by outcomes, by the transactional linkages that I provide.
Below that is the whole bunch of platforms and solutions that we build for customers.
We even have acquired AugmentIQ, an analytics company with a suite of products. We don't sell the suite, but outcomes. That is what the customers are looking for in the changed world.
Are you seeing an increase in outcome-based projects?
These outcome-based programmes are typically reported in the fixed price portion of reported revenues for services companies.
For us, definitely, there is no other classification today.
For most of the IT companies you will see the fixed prices going up, which is a reflection of customers demanding these outcome-based projects.
That is also because there is a maze out there in terms of new technologies that exist today.
And everyone is talking of using my automation platform or analytics platform, hence this maze.
Customers are just saying that this is enough, I don't need anything, give me outcomes.
Clients are not worrying about technology platforms. That is what is driving the change.
Where does LTI fit in in a business, where start-ups are disrupting traditional business models?
We are ardent believers of digital first.
We were among the first companies to start a service for cloud apps.
LTI has a plethora of partnerships that will bring in customers.
For one of the digitisation of manufacturing companies, we got 101 start-ups to work with us -- for RFID on jackets, helmets and beacons which will sound an alarm when a person gets into an unauthorised area.
When large customers struggle with transformation in their business, how would you engage with them?
There is a maze around there. You need people who can work with the customers to sort the maze. For this, they would not have an RFP (request for proposal).
We launched a programme one-and-a-half years ago, what is called digital JEDIs.
We had a team of around 25 people, sent to customer locations, working with collaborative co-creation models.
The second type of people you need are digital architects or consultants, around 100 people. Their job is to look at a problem and say these are the technologies that you can bring in solutions for customers.
But would customers open the purse for such projects?
Customers are ready to open the purse if they know that you bring the right outcomes in the industries that you understand and work.
Today, what we have created is a culture in the company to ideate and take proactive proposals to the customer.
Would that help increase margins?
The only guidance we would say besides saying that we will be in the leaders' quadrant is the margins.
We will be at net margins of 14-15 per cent, not Ebidta. We are already on that track. Whatever savings we do, we plough back into the business.
Photograph: Reuters.