'A business cannot be driven by the passion to make money, the passion to change society is far more important.'
'After a certain point, what value has money to a person?'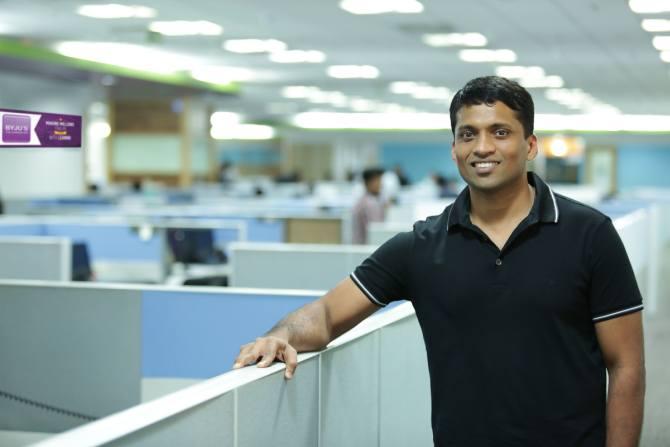 A son of teachers, teaching never fascinated Byju Raveendran when he was young. His passion was sports.
After working for a couple of years as a globetrotting service engineer for a shipping firm, Byju became a teacher by accident.
On holiday, he helped some friends pass the Common Aptitude Test entrance examination.
From then on, requests started pouring in from friends of friends, and their friends. In no time, 'Byju's classes' became so popular that he quit his job and flying from one city to another to take classes.
His classrooms grew from a single room, to a hall, and then an auditorium and at one point even a stadium!
He launched the BYJU's Learning App for school students in 2015. The learning app also coaches for CAT, the civil services examination, the Joint Entrance Examination (JEE), the National Eligibility and Entrance Test (NEET), the Graduate Record Examination (GRE) and the Graduate Management Admission Test (GMAT).
The idea appealed to many investors and in 2016 alone, venture capital firm Sequoia Capital and Belgian investment firm Sofina invested $75 million (approximately Rs 500 crore/Rs 5 billion) into the firm. This was the largest fundraising in the education start-up segment in India.
The latest investment into Byju's firm (September 2016) is the $50 million (Rs 332 crore/Rs 3.32 billion) from the Chan Zuckerberg Initiative, the philanthropic organisation created by Facebook founder Mark Zuckerberg and his wife Dr Priscilla Chan in 2015.
Byju spoke with Rediff.com's Shobha Warrier about his wonderful journey from mechanical engineer to successful entrepreneur.
Growing up in a village in Kerala
I grew up in Azhikode, a small village in Kannur, Kerala, the bastion of Communism.
I do not know whether it was the influence of Communism or the face of any typical village, the social fabric was very closely knit and people were politically and socially active.
Both my parents were teachers at the school I studied. My father Raveendran was a physics teacher and my mother Shobhanavalli taught maths. I grew up in a joint family where my father's brother and sister and their children also lived.
Normally, children of teachers are pressured to concentrate on academics, but my parents were so open minded that they let me participate and excel in sports which was my major passion as a student.
Other than life skills, they never gave me any coaching in any subject. Though some of my teachers used to complain to my parents that I was missing a lot of classes due to my sports activities, they supported me to pursue what I liked.
In Kannur, football is a passion for everyone, but I played almost every sport available when in school, and football, cricket and table tennis at the university level.
'I had my education in a Malayalam medium school and I learnt English on my own, mainly by listening to cricket commentary.'
It was quite common that many students who studied in Malayalam medium schools felt inferior in front of those who studied in English medium schools while in college.
My father's influence was tremendous in my life as he let me be free of the confinement of classrooms and I feel you learn a lot more outside the classrooms than inside.
The biggest lessons I learnt from my sporting days were how to lead a team, teamwork, and how to perform under pressure. All these helped me immensely when I became an entrepreneur.
In addition, I learnt the value of controlled aggression, how to be extremely positive and that losing and winning are both part of the game.
We played games for fun and not in the structured way most kids play these days. Unlike children who play video games inside their homes, those who run around and played outdoor games learn a lot more life skills.
There is no substitute for playing outdoor games with other children.
Though I played sports well, I did not have any ambition to be a cricketer or a football player. I played games because I enjoyed playing them. In fact, I enjoy every moment of my life; I do not do anything expecting anything in return. Maybe I inherited this attitude from my father who is super cool about everything in life.
The choices in front of all the students at that time were either be an engineer or a doctor, and I chose to study engineering. One reason why I chose engineering was I knew I would get more time to play as medicine students hardly got time to play sports.
From a village in Kerala to travelling around the world
After studying mechanical engineering, I got a job in a multinational shipping firm and started travelling all around the world as a service engineer.
It was a very challenging and exciting job and as I travelled to new places, I became more and more aspirational.
If anyone had asked me at that time whether I would be an entrepreneur in the future, I would have said, no. The desire to be an entrepreneur never even crossed my mind.
After two years of working, I was on holiday in Bangalore, where many of friends worked. It so happened that they were preparing for the CAT exam then and as I was good at maths, they asked for my help.
While I helped them prepare, I also wrote the exam just for fun and see how I fared. To my surprise, I scored in the 100th percentile, but I had no plans to do an MBA in an IIM. My friends also did well and some of them even got admission at the IIMs.
I was back in India again in 2005 on holiday. This time, more friends of my friends came to me for help to prepare for the CAT exams. I was in Bangalore for six weeks and I might have trained more than 1,000 students during the period.
'As the numbers grew, the venue moved from the terrace of a friend's house to a classroom, and then to an auditorium.'
The initial workshops were free and students paid for advanced workshops once they liked it.
Because of the enormous response to my teaching, I didn't go back to my job after that.
Once I started teaching, I realised that I enjoyed teaching tremendously which I was not aware of till then.
Becoming a full time teacher
When I decided to resign from my highly paid job and start teaching, my parents supported me. Never once did they question me. They supported all the decisions I took, like not joining an IIM, quitting my job to start teaching while there were many people who questioned my parents' indulgence of me.
In those days, I taught CAT aspirants on weekends while I prepared myself on weekdays by trying to come up with innovative ways to solve problems.
I travelled to Pune, Delhi, Chennai and Mumbai during the weekends and in no time I had to add five more cities on weekdays due to constant demand.
Wherever I went, I addressed packed auditoriums; a few times, I ran classes in a stadium. As time passed by, I even took maths workshops for 20,000 students at one time.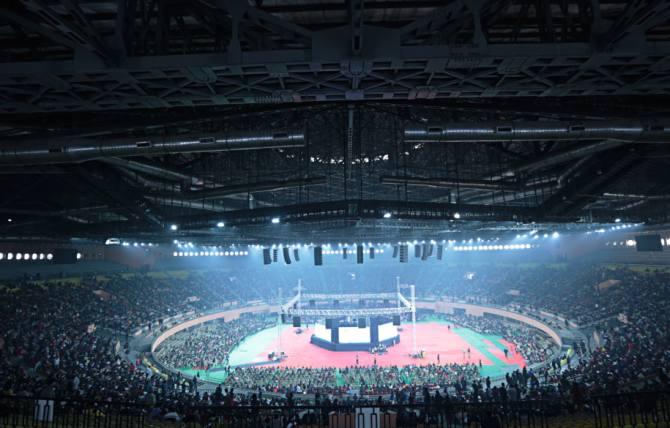 I became a popular teacher and I was doing this all by myself. It was an overwhelming experience when thousands of students wait eagerly in various cities for your classes.
Sometimes I wondered whether I deserved the kind of respect and importance they gave me.
Funnily, a person who had never addressed any group of even ten during my school or college days was taking classes to thousands of them in auditoriums.
'When you take classes in stadiums, teaching gets elevated to become almost like a performance art.'
Soon I started making lots of money, much more than I ever thought I would make as a teacher. As I was a one-man army then, I didn't have to spend any money on anything except my own efforts.
In 2009, I made videos of my lectures and used V-SAT to beam them to students in 45 cities where I could not travel to.
Byju's Classes becomes a brand
My classes were referred to as Byju's Classes from the time my classes became popular.
In 2007, without me knowing, the brand name Byju's Classes was created by my students and I decided to capitalise on the brand name later. I didn't want to lose the popularity and the good name the brand had achieved.
In 2011, the idea to form a team came from some of my students who contacted me after finishing their courses at various IIMs. We started the company Think and Learn with 25 to 30 people, but the team grew in numbers every month to more than 1,000 today.
The product our company planned to create was content for school students and the decision to move from CAT to creating content for school students came from my observation of the students I taught.
I felt that most of the students lacked conceptual clarity and a proper foundation. I found that there was a huge gap in how the subjects could be learnt and how they were taught. That is why I wanted to create something that could fill the gap.
Looking back, I feel I excelled in exams because I wrote exams for fun, the same way I played games.
'Exams never intimidated me. There was no stress or pressure to perform well in the exams. I looked at exams as a part of the learning process.'
Instead of memorising stuff, I used to learn the concepts well, something I found was lacking in many of my students. So, I decided to target the crucial years in a student's life from the 8th to the 12th standard.
Today, my classes begin for 4th standard children; they are in maths, physics, chemistry and biology.
Maths and science are two subjects for which I had special attitude and I enjoyed both, especially solving maths problems. I never learnt maths and science to write exams. I loved learning on my own and understanding the concepts.
I noticed then and even now that majority of the students learn a subject to score good marks. You lose the pleasure you derive from solving, say a maths problem, by studying for the exam. These students don't realise the fun they are losing out on by studying only to score high marks.
I was a Maths Olympiad winner in school only because I enjoyed solving maths problems.
The problem with our education system is that it gives more importance to breadth than depth.
We tend to create many generalists and very few specialists.
They tell you to work hard on your weaknesses.
On the contrary, I would argue that you should also build on your strengths!
Asking questions is the key to a student's success. You see 2-3-year-olds learning things by asking questions all the time, but as they grow, adults discourage them from asking questions.
'I feel all schools should encourage students to ask questions. Your thought process is alive only when you ask the right questions.'
I love maths and sports equally and it's tough for me to choose one. My love for maths has helped me a lot in life. For example, I used my strength in solving maths problems to start my own company, attract investors and on a lighter note, even impress the girl I loved to become my wife.
From 2011 to 2015, we immersed ourselves in creating content mainly for school students from classes 6 to 12.
Our content is very contextual and visual. Instead of focusing on the whats of learning, we pay attention to the whys and hows as well.
We created each chapter in a subject like a movie. And it's not just me; a lot more teachers take classes these days.
We have a 150 strong content team, a 200 member media team to make it into interesting videos and a technology team of 150 to personalise it. In all, we are a 500-member product development team now.
By August 2015, Byju's Learning App was ready to be launched, and in one year, we have had 5.5 million downloads with 250,000 plus students using it on an annual subscription basis.
We have also found that students spend an average of 40 minutes per session and more than 90 per cent of the students who came on board last year renewed their subscription, acknowledging the fact that they benefited from the learning programme.
Investment over the years
We didn't invest much initially; the Rs 2 lakh (Rs 200,000) I invested first came from what I made from my classes.
The first investment came in 2013 when Mohandas Pai and Ranjan Pai decided to invest Rs 50 crore (Rs 500 million) in Byju's Classes.
It was after Ranjan Pai saw how students at the Manipal Institute of Technology attended our video classes in large numbers. We used the money to scale up the team and accelerate product development.
The latest and the most publicised investment was the $50 million invested by the Chan Zuckerberg Initiative. I do not know how we came on to their radar. I assume it must be through some reference.
Two things got them excited in our company: The first was how we use technology to personalise learning and the second was the impact our app has had on students not just in cities, but also in small towns.
Naturally, I was very excited to be noticed by one of the world's most dynamic young entrepreneurs.
Social impact
With a father who is a Communist, and having grown up in a village in Kannur, money is not really important to me. I am more concerned and interested in seeing our app make a strong social impact.
I didn't have any drive or passion to start a business, but when I started teaching, I realised that it was my passion and it gave me a lot of satisfaction and enjoyment.
When my classes started creating an impact, it became a business proposition.
'In the sector that we are in, the real fun is not in creating a billion dollar company but changing the way millions of students learn.'
The most satisfying aspect for me is that we are able to reach out to tens of thousands of students.
I always say I am a teacher by choice and an entrepreneur by chance.
Making money has never been a priority for me, but giving something back to society is. That's why I take care of the education and healthcare of the underprivileged in my village.
I grew up there and I feel it is my duty to help others come up in life.
I am of the opinion that a business cannot be driven by the passion to make money. The passion to change society is far more important.
After a certain point, what value has money to a person?