'Students tell me their parents are fine with them either joining a start up or even starting one. This was not the case 10 years ago.'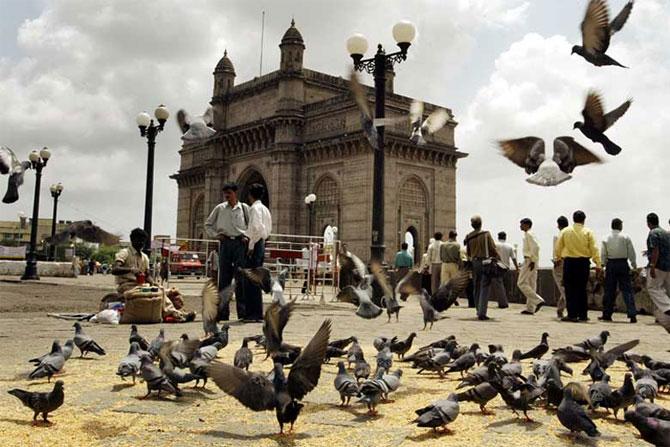 Ashok Jhunjhunwala is a pioneer in incubating new ideas and mentoring young entrepreneurs.
Even before India started talking about start ups, Professor Jhunjhunwala had incubated companies in the electrical engineering department of Indian Institute of Technology-Madras where he teaches. He and his team have incubated more than 100 start ups so far.
In an interview with Shobha Warrier/Rediff.com, the professor, bottom, left, discusses the start up scene in India.
You have been incubating start ups for around 30 years. How did the professor in you become a mentor to so many start ups?
In the '80s, India was mostly importing products. Even Indian industry was tying up with foreign companies for partnership. Since these products were developed in Western countries, the prices were determined by their economies.
With our income levels ten times lower, only the top 3 to 5 per cent of people were able to use those products. Even when it came to everyday gadgets like a refrigerator, or a washing machine, this was the case.
I realised that only if you bring down prices, these things would become affordable to the public. For that, Indian industry had to innovate, but they were not willing to, and were borrowing technology from outside.
Being a part of academia, I felt I should be able to innovate and create products. We tried tying up with industry, but India Inc was not ready to take risks.
We then decided to incubate companies by joining hands with some of our alumni. That was the starting point for us. Our agenda was to innovate products that were affordable to Indians.
When did you help incubate the first company?
Way back in 1984-85 we incubated Benchmark Electronics, our first company. Two of our former students, Raghu Rajagopalan and Senthil Nathan, started it.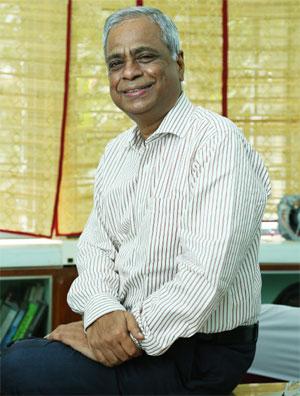 I had taught in the US before joining IIT-Madras. Though our classroom teaching is as good as the universities there, our lab teaching was below average.
Mind you, I am talking about the IITs, the premier institutions in India. In the US, even in small universities, students in the same class can work on different experiments. Labs were meant for hands-on experience.
On the other hand, in India, even in the IITs, we could afford only two sets of experiments for say, a class of 40, 50 students. Sometimes, the technician would give a demonstration and the students would watch. That was because the lab kits were expensive and we were buying from outside.
Benchmark was started with the idea of creating low cost, affordable, lab kits. The first kit we designed was a fibre optic educator, and even after 30 years, I am getting royalty for that product! Almost all the labs in India buy the product even today.
That was the beginning.
Then I started working in the field of telecom. By then, India Inc was ready to take low risks. The first time I worked with industry was with WS Electronics. They were importing powerline carrier communication equipment, each of which cost Rs 100,000.
I made a bold statement at a conference that I could design the whole thing for the same amount.
They came to know of this and the chairman contacted me. He gave me Rs 100,000, big money then, and asked me to design it. With the help of my students I designed it successfully.
It worked really well and they used that to bargain with the person who was importing it for a lower price.
Was it after liberalisation that incubation started in a big way?
Even in the '80s, we must have incubated 2, 3 companies. Midas Technology was one of our biggest successes.
When we developed wireless in local loop, we knew we could bring down the cost by a factor of 3 or 4, but industry was not ready to take a bet.
So, I along with Bhaskar Ramamurthy and Timothy Gonsalves zeroed on eight of our students who were in India and were willing to join us.
That was how we started Midas Technologies in 1993-94. This was the first formal incubation.
In the '90s, we might have incubated 15 companies.
What was your role? Just helping them with technology?
Not just technology, complete mentorship for the company -- from developing technology to raising capital to doing business to production set up -- we were involved in every single aspect of the company, right from the beginning.
Ray Stata (the founder and chairman of Analog Devices, a leading semiconductor corporation, also founded Stata Venture Partners, a private equity fund that invests in early stage new business opportunities) had put in seed capital in almost all the incubations.
Did IIT-M play any role in these incubations?
These were not formally done by the IIT as there was this debate of Saraswati versus Lakshmi going on then.
Though they were located here, they had nothing to do with the IIT then. We used to sign MoUs with the companies and helped them develop technology, but we didn't have ownership in any of them.
How was the infrastructure in the early '90s?
We may not have had the right ecosystem, but we worked under the given circumstances. It is not possible to start working after getting the circumstances right.
When IIT did not allow incubations, we set up the companies outside it, but let the researchers work in the IIT labs because of the MoU signed on R&D.
Later, we formally transferred the technology to the companies, which were mainly run by our alumni. We got the royalty and license fee for the technology.
In 2000-01, the IIT administration became ready to incubate companies. I was head of the committee that set up the rules. As some other deans messed it up, I went ahead and created a separate incubator in 2005 -- the Rural Technology and Business Incubator and tied up with the Department of Science and Technology.
When Bhaskar Ramamurthi became the director of IIT-Madras, we started the IIT-M Incubation Centre, an umbrella under which many incubation centres work. We have put all these at the 1.2 million square feet IIT-Madras Research Park. We have formally incubated at least 100 companies by now.
In the US, all the major universities have incubation centres and it is from there that new ideas and new entrepreneurs come. How important is it for universities to have incubation centres?
Very important. If you want any new product to be developed, you need next generation technology.
Youngsters and students are more willing to take risks compared to older people. Start up is all about larger risk taking.
Has the start up ecosystem in India changed over the years?
It has changed a lot in the past 5 years. We still may not have the experience of the West, but we are not inferior to anyone.
Maybe because of our past, we didn't have the confidence to create something new.
But confidence started coming back with our people going out and doing extremely well. For a long time, we felt technology was the forte of the West and we were only good at science.
Today's youngsters believe they can do anything. Even a person coming from a lower income group is willing to take risks now. I am very proud of today's youngsters.
How much has the attitude of parents and society changed?
I see a huge change now. In the past couple of years, I hear students telling me their parents are fine with them either joining a start up or even starting one. This was not the case 10 years ago.
But society is not yet ready to accept failures. We have to learn that a failure of an idea is not actually a failure, it is not a black mark. Success cannot happen without failure.
Do you think the Start up India initiative will encourage more youngsters to take risks?
Definitely, it will push more youngsters to take more risks. In fact, in the last 12 years, the Government of India has helped the Department of Science and Technology and Department of Biotechnology create 1,900 incubators. But taking them to market was not that successful.
With the Start India initiative, it will further consolidate as the beginning was made 10 years back. As a result of this, India is poised to witness big economic growth in the next 5 years.
In the next 10 years, you will see many more start ups coming up. We have created 3,000, 4,000 engineering colleges of variable quality. Most of them have incubation centres today.
The students are not from one section of society alone. Twenty-five per cent of engineering students come from rural areas and 25 per cent come from families that are below the poverty line.
It means all sections of society are getting trained. At least some of them will become employment producers and create products that are meaningful to India.
How much will these entrepreneurs help India achieve double-digit economic growth?
Entrepreneurship and innovation are the two keys to economic growth, but you have to replicate it in all domains, and not just in technology.
There is too much stress on IT now, which has to change. I feel we are in a very positive situation right now.
What is the advice you would give youngsters on entrepreneurship?
Instead of giving advice, I always tell them my own experiences, my own failures and successes. They will be able to relate to that more than my advice. I have failed many times.
Today, Midas Technologies, the second company we incubated, is no longer there. At one time, it was doing Rs 500 crore (Rs 5 billion) business, but it failed later.
There is no point in keeping a company alive, which is not working. I tell them not to be scared of failures.
They have to understand the market before they start. Entrepreneurship is not just about creating a product, it is also about commercialisation of the product.
Success does not come unless your product succeeds commercially.
Becoming an entrepreneur is a tough job. As an entrepreneur, you have to worry about everything, right from creating the product to marketing it to the cash flow. Be prepared for that.
Don't wait for the circumstances to change. Understand the environment and work within that. If your goal is clear, go ahead and do it.
Take risks, but with minimal resources and start small, then work hard and build it to some scale. After that, some larger company can take over, scale it further and take it to the market as larger companies are good at scaling, but not at innovation.
Professor Ashok Jhunjhunwala's photograph: Sreeram Selvaraj