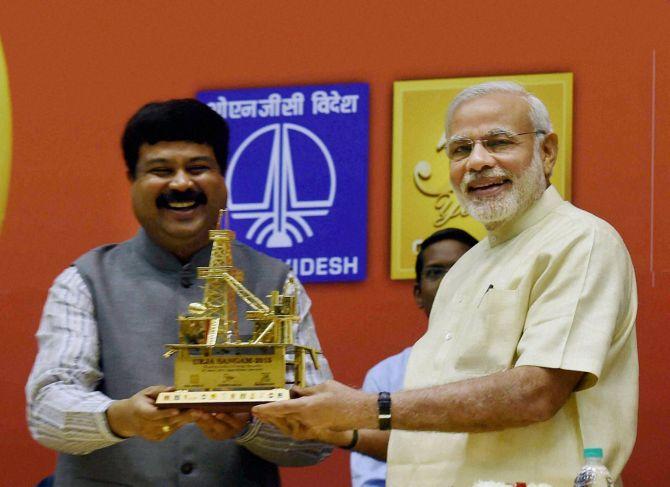 'Our intentions are clear. If I keep all the acquired land under the ownership of the government, why do you raise questions about my intentions?'
'One achievement of my ministry would be the gas pricing policy. Two, we made a delivery mechanism (for domestic LPG) which is the largest in the world. We are crediting money to the poor directly. It is the biggest structure of direct subsidy transfer.'
'It is very easy to work with Modi. He gives everyone a chance in decision-making. I have become a minister for the very first time, but if we want to raise any issues in the Cabinet, we have full freedom to do so.'
The second and final part of Union Oil Minister Dharmendra Pradhan's exclusive interview with Sheela Bhatt/Rediff.com.
Part 1: Minister Dharmendra Pradhan: 'Benefits of falling oil prices passed on to consumers'
You have accepted that there were problems (on the land acquisition bill), otherwise how would those nine amendments have been inserted at a later stage? We raised our voice, that is why those changes came about.
Not because of your voice. That is your misconception.
Then?
We had thought of bringing in something positive. We do not act stubborn.
In the first place, did you bring about the land ordinance after proper thinking?
You are trying to say that if you brought in the ordinance, then why did you amend it?
The prime minister said that if anyone can tell him there are other things that can help the farmers as well, he is ready to add or amend the law. We did what we felt was necessary and right. We were not sitting stubbornly.
The prime minister even said he was ready to give all the credit to the Congress, he was not after fame. And he did not say this in secret, he said this in public. He said water has to reach the farmers for irrigation, let them get electricity, let villagers get homes and roads and hospitals and let us have an industrial corridor for the villagers to get jobs and to give a market for their agricultural produce. Is there anything wrong in it?
See, the Social Impact Assessment is gone and consent clause, which requires 80 per cent of the land owners to agree, has been diluted. That is considered wrong.
I do not know how concrete that statement is but this is all a quasi issue. If any state has a problem with it, they need not accept it. They can still go for the SIA. What is the problem with that?
But we are talking about your intentions.
Our intentions are clear. If I keep all the acquired land under the ownership of the government, why do you raise questions about my intentions?
The people who sold land in Haryana through the daamaad (Robert Vadra), those who sold land in Noida and Ghaziabad, they have become the well-wishers of farmers now? Why are you questioning our intentions and not theirs? They have their government in some states, they should do as they please.
Why are you being so stubborn about the land acquisition bill? What is that one benefit you have in mind? I am asking you a straight question -- why is this bill so important?
You are confused. We have to increase employment and improve the lifestyle of the people. Please listen to me, the problem with you is you ask a question and then run away. Don't do that with me, I am a normal worker, let me answer whatever I have understood.
Just now you asked why are we being stubborn, and just now you asked me why are you so flexible that you changed the law again by inserting nine amendments.
See, the prime minister is saying that he wants to be flexible and accommodating. The PM has said that I do not want any credit, I will give the credit to the Congress party, I will give the credit to the Opposition but please let me provide water to the farmers who have not been able to irrigate their lands.
Those who do not have electricity in their houses, I want to lay down double lines for power for them for which land is required, so let me take land for that. I want to make hospitals for them, so let me take land for that. I want to build a market for their agricultural produce, so let me take land to start a few small industries.
So where is the question of stubborn attitude in that? If you want to justify the Opposition in political language, that is your right.
Dharmendraji, I asked you a very simple question, that it is said you have given the Opposition a hot topic on a platter. I am just asking for your comment. Do you think so?
No, it is not so. This is your misconception. It is your confusion and misconception, both. The public really believes in our prime minister, the public in whichever state.
You are considered an efficient worker who did a very good job in Bihar during the Lok Sabha election. You are from Orissa, and you have got such a plum ministry. How do you find power and the trappings of power?
That, you have to analyse. You have met me before and you are meeting me again, Have you seen any change in my behaviour? Politics does a lot of things to a lot of people.
What are your ministry's achievements in the last 11 months?
I would say it is the market linking of the price of products. The previous government had fixed $9 (about Rs 570) as the price of gas. We decreased it and got it to $6 (about Rs 380). Right now, amidst falling oil prices, because of the formula we derived, the prices went lower. The matter had even reached the courts. So one achievement would be the gas pricing policy.
Two, we made a delivery mechanism which is the largest in the world. We are crediting money to the poor directly. It is the biggest structure of direct subsidy transfer. The prime minister has appealed to the people to willingly let go of their LPG subsidy if they can afford it. It has been 15 days since the programme started and already there are 4 lakh people have given up subsidy.
The prime minister had appealed to the people to give it up of their own volition. All kinds of people are leaving it -- the rich, middle class, good people. I met a woman in Bengaluru who is a retired school teacher. I asked her how come you let it go? She said I trust the prime minister. A normal teacher was talking to me!
What has given you the maximum satisfaction in the past 11 months?
I believe smart governance and the idea of digital governance that we initiated have saved a lot for the country. People are getting the benefits; subsidies are going straight into their bank accounts. We got the most satisfaction from this.
Second, when we came in there was an environment of distrust in this sector, today investment in this sector is increasing. People from all over the world are investing. We want that through policy simplification, investment in this sector increases; trade increases and the 'Make in India' jobs in this sector increases.
What will happen to your ministry's dispute with Reliance?
Policy-related cases will keep going on. The Narendra Modi government has never compromised on policy-related issues, and never will.
What is the planning of your ministry relating to gas supplies from Iran and the Turkmenistan-Afghanistan-Pakistan-India pipeline?
In case of TAPI we have gone pretty ahead. There whatever we have to do, has to be according to the sovereign laws of Turkmenistan. We have begun discussing formation of a consortium. There is a primary consensus on the tentative form of the group.
This whole thing depends on the government of Turkmenistan. They have shown enthusiasm about it and India, Pakistan and Afghanistan have agreed to it. It is a very important pipeline, for all the four countries.
Is it a realistic project?
I believe it is.
And what about security issues?
See, the security guarantee has been given by the concerned States. I have formed an economic understanding in terms of our economic interests. Pakistan requires gas more urgently than us. Afghanistan has to build its economy, so they will have to make up the trade. They will take royalty, a user fee, since they will have the pipe going through their land which would be helpful to the economy of their country.
We have also understood the complications and challenges of this project. It is not the case that there would be a pipeline in such a complicated geopolitics for the first time. There are a lot of such pipelines in other parts of the world. But we believe it is a very high value project as the economy of all the four States is involved.
The Iran gas issue has its own diplomatic questions, we are dealing with it now. Once they get it clear, we will be able to do something.
But is it going anywhere now?
It won't be right to say anything specific but the situation has eased a little bit and the representatives of our government, representatives of my ministry, have gone to Teheran to assess what are the possibilities and what can be done.
Is anything happening with Russia about gas from Sakhalin?
Our prime minister told us there are four regions where our trade should increase: Africa, South America, Russia and Central Asia. I recently went to Mozambique. We buy a lot in two-three countries of Africa and our assets are there too. Our trade is increasing in Latin America. In central Asia, if we are able to work with Turkmenistan and we are in conversations with Azerbaijan, it would be more beneficial for us. In Russia we have interests in Sakhalin and such projects. We have increased our work in energy security and our diplomatic activity has also increased.
Do you think we are facing direct competition from China wherever we go?
See, China has a different model, we have a different model. I went to Mozambique and from what I could understand from my information about other countries in Africa, China has its own advantages and India has its own.
Like?
Indian-ness! We are good, trustworthy people. It is not only economic interest that is important. India's reassuring factor, when India goes to any other country, is that it does not play around with that country's sovereignty. Indians are nice people. The credibility of Indians is a huge asset in trade, and trade runs on trust. I believe that the credibility of Indians and India's market size are India's brand.
How is working with your boss, Prime Minister Modi?
It is very easy. He gives everyone a chance in decision-making. I have become a minister for the very first time, but if we want to raise any issues in the Cabinet, we have full freedom to do so.
Does he speak more or does he listen to ministers more?
He listens. He takes decisions based on everyone's suggestions. Mostly decisions have been taken according to the suggestions of the Cabinet.
If we want to meet him or wish to have his guidance on the telephone, he reassures and helps us in getting clarity over matters.
But his image is of a very tough...
(Interrupts) That is completely wrong, I can assure you.
Image: Oil Minister Dharmendra Pradhan with Prime Minister Narendra Modi. Photograph: PTI