'Krishna is your best friend. He knows what's best for you.'
'They talk about death being a final exam. So at 65, I have to be studying for my final exam.'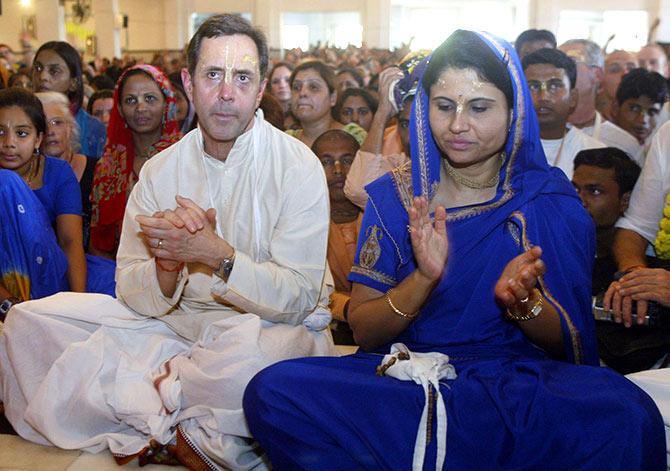 IMAGE: Alfred Brush Ford and his wife Sharmila sing hymns during a ceremony at the International Society for Krishna Consciousness in Mayapur, 120 km north of Kolkata, February 23, 2004. Photograph: Jayanta Shaw/Reuters
Before he adopted the name Ambarish Das, he was known as Alfred Brush Ford. His mother is the daughter of Edsel Ford, Henry Ford's son. That makes him a fourth-generation Ford from his mother's side and a part of one of America's most iconic families.
In the second part of his interview to Manu Shah for Rediff.com, Ambarish Das speaks about his stint at the Ford Motor Company, his wife Dr Sharmila Bhattacharya, the love that the two share, the Bhagwad Gita, among other things.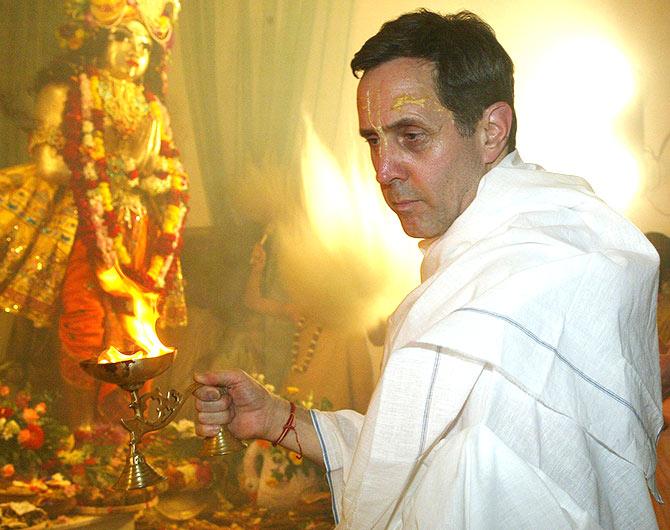 IMAGE: Alfred Brush Ford prays. Photograph: Jayanta Shaw/Reuters
What was your involvement with the Ford Motor Company?
I never really was too involved with the Ford Motor Company. I have been involved with the charities and the hospital in Michigan.
You had built a reputation as one of the foremost art dealers in Indian art.
Back in 1985, Sharmila and I were named the top collectors in Indian art by Arts and Antiques Magazine. I had a team of devotee friends who went to India and they would scour different galleries and palaces. We collected paintings, sculpture and art objects for the home and things like that.
Did you find a good market here?
It was an okay market. We sold a lot of things to my family members actually. My mother was the best customer. She loved the art and bought a lot of it for her houses. Detroit is not a hotbed for Oriental art.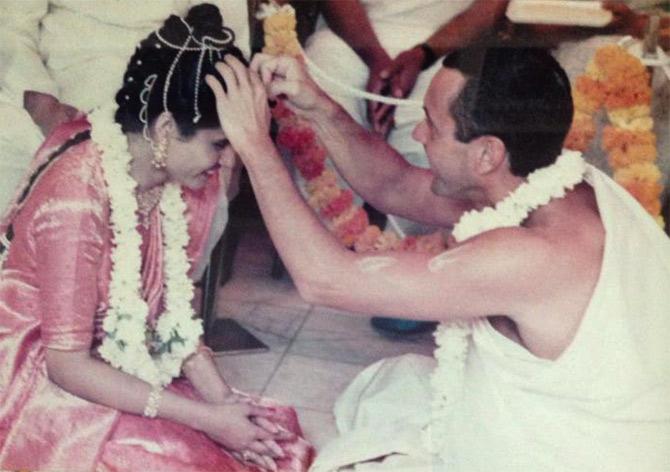 IMAGE: Ambarish Das aka Alfred Brush Ford weds Sharmila Bhattacharya in 1984 in India.
How did you meet your wife, Dr Sharmila Bhattacharya?
I met her through a mutual friend of ours in Australia, who happened to be her initiation guru.
I was very impressed with her. I knew her parents were looking for someone to get her married to, as she was just finishing her PhD from the University of New South Wales. So I proposed that maybe I would marry her.
We were married in 1984. It was a Hare Krishna wedding with the fire sacrifice in front of the deities in a Hare Krishna temple in rural New South Wales, Australia. Many people came, there was a lot of press coverage.
Are your daughters Hare Krishna devotees?
They are because they were brought up in our house where we have always had the temple room and deities. My older daughter Amrita is married now. She lives in Washington, DC. She has her own temple and she carries on the tradition. The younger one, Anisha, is still in college.
How does one balance the material world with the spiritual world?
I can only speak for myself. I have to put my spiritual life first. In order for me to do that I have to put in the time, early in the day. I'm always up by 3 or 4 in the morning doing my meditation. My wife and I are up early and we do our japa, our offerings. We try to get centred early in the morning and then everything else comes after that.
If I can't go to the temple, then I watch the arati on the Internet. I take care of the deities in the house, make an offering to the guru, read the scriptures. If I put all those activities in the beginning of the day, then the rest of the day kind of just flows.
Tell me about the Vedic temple, currently being built in Mayapur, West Bengal, the birthplace of Chaitanya Mahaprabhu.
I am focused these days on getting the Vedic temple built in Mayapur. I did give the seed money for the temple, about $25 million. I was nervous as that was the time the Ford company was about to go bankrupt because of the economic downturn.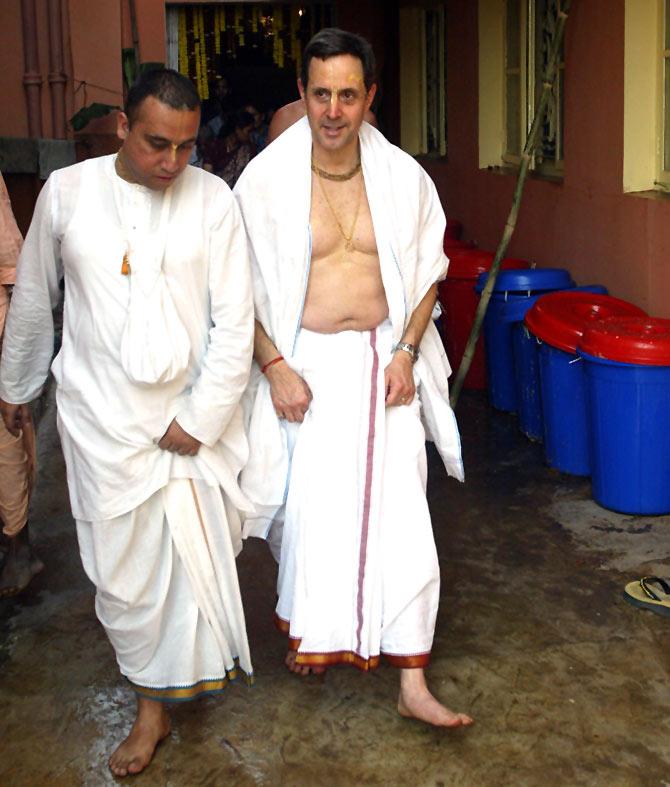 IMAGE: Alfred Brush Ford at the head office of the International Society for Krishna Consciousness in Mayapur, February 23, 2004. Photograph: Jayanta Shaw/Reuters
I'm glad that the transcendental project worked out beautifully and will help Westerners, Europeans and Americans come to Mayapur and chant Hare Krishna.
The opening date for the Vedic temple has been pushed back and hopefully we'll be able to do the opening in 2022.
It is a very complicated building. It has a huge 350-feet high dome and we are putting up a big chandelier inside the dome of the universe according to the Vedas -- so it's a lot of work that needs to be done.
What about the international Himalayan ski village project you had proposed near Manali?
As far as I know, the whole venture is dead. It was a wonderful concept and the government of Himachal Pradesh was totally in favour of it. But then they had an election, a new government came and, more or less, they closed it down.
Do you speak any Indian languages?
No, not really.
Any experiences in India that you would like to share?
India has gotten much more user friendly, as they say.
When I first went in 1975, it was very difficult to negotiate (your way) around the country and I was very sick.
Back in those days really the only airline in and out of India was Air-India. You had to go down in person to confirm your ticket out of the country. So it was kind of very archaic in those days.
Now everything is very modern, very streamlined. My wife and I go a couple of times a year. It is very easy to get around and we love it.
Where do you stay when you are in India?
I am in Mayapur most of the time. I stay in the guest house there. I would like to build a small residence there. Sometimes I go to Mumbai too.
What are your other interests apart from the Hare Krishna movement?
I am 65 years old. I used to have a lot of other interests. As you get older you tend to focus more on what you are really trying to accomplish in life.
The reason I joined the Hare Krishna movement was to make some spiritual advancement.
The whole point of becoming Krishna conscious is when you give up this body, you evolve into a spiritual body, hopefully. Or at least another birth that may be more advanced than the one we are in now.
They talk about death being a final exam. So at 65, I have to be studying for my final exam.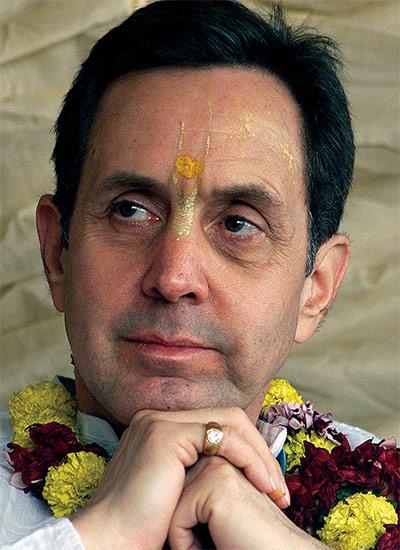 IMAGE: Alfred Brush Ford during a ceremony to begin construction of the International Society for Krishna Consciousness temple in Kolkata, December 29, 2002. Photograph: Reuters
What is the message from the Bhagwad Gita you would like to see spread in the world today?
There are so many. I'd like to say Man-mana bhava mad-bhakto which means surrender to Krishna. He's your best friend. He knows what's best for you. There's no reason to be fearful of him.
Yours is a fascinating story. I'm surprised there is no book or movie on you.
I am glad. I'm a very private person. My wife and I don't seek publicity.