'Vaccination is very important for an economy to start functioning properly.'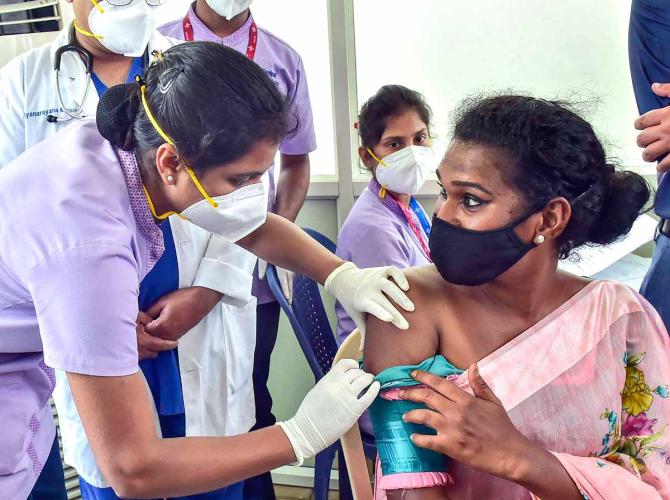 2020 was a terrible year for the Indian economy with the country shutting down completely for around more than one-and-a-half months.
And GDP contracted almost 25% in 2020.
Perhaps learning a lesson from the first wave of the pandemic in 2020, during the second wave, the country was not shut down completely.
Because of the localised lockdowns in states, the economy did not get paralysed like it had the previous year.
After being one of the worst performing economies in 2020, what awaits the Indian economy in the second half of 2021 and early 2022?
Priyanka Kishore, head of India and South East Asia Economics at Oxford Economics, has issued various studies on the way the economy will recover.
"I expect that the slow vaccination process would push out substantial recovery to second half of the fiscal year -- a flatter recovery unlike 2020 where we saw a massive rebound in Q3 2020 and growth momentum tapered off thereafter," the economist tells Rediff.com's Shobha Warrier in the first of a two-part interview:
Your recent study for Oxford Economics says India's GDP grew at 1.6% in Q1 (till March 2021), up from 0.5% in Q4 2020. And the second wave happened in April-May.
Would you change the growth forecast of 9.1% for 2021 because of the impact the second wave would have on the Indian economy?
At the start of this year, I was predicting almost 12% growth for 2021, which I first lowered to 10.2% and from there, I have made another big cut to 9.1%.
Now, I am in wait and watch mode.
There are two parameters at play; one is, how much contraction will be there in Q2 2021.
This will not show up in y-o-y numbers because of the 25% y/y contraction that happened in Q2 of 2020.
Sequentially, growth has contracted after rising 5% q/q as in Q1 2021.
While the latest data suggests that the impact on Q2 GDP maybe larger than my initial assessment of -6.2%, it is still likely to be much milder than Q2 2020.
This is because lockdowns have been much less stringent this year, with states allowing more mobility of vehicles and people.
The situation has varied from state to state.
Maharashtra and Delhi had very stringent lockdowns in the beginning.
Then UP, Bengal, etc joined. But many of the states allowed a lot of activities including construction even during the lockdown.
So, unlike last year, livelihood was not affected on a massive scale, with migrant workers often allowed to stay onsite and continue with their jobs.
The other thing is that because the lockdowns were less stringent, they are also likely to generate less pent-up demand.
Hence, re-openings are unlikely to generate a significantly large consumption and growth stimulus, especially as vaccination rates are still low and will impinge on consumption of services even after measures are relaxed.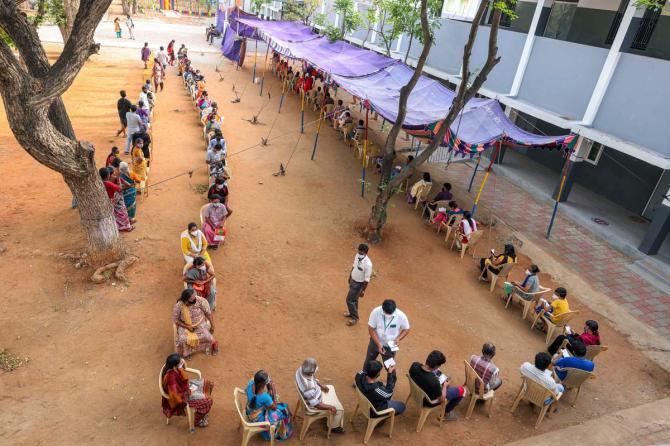 Does that mean the economic recovery of 2021 will be very different from what we saw in 2020?
Many experts are of the opinion that the V shaped recovery we saw last year, will not happen now.
We will get a V shaped recovery as the states are reopening.
But it would be different in the sense that the drop will be lower and the upward slope will be less steep.
We will see a partial pick up in Q3 because states have not exited lockdowns fully and partial restrictions will likely last into Q3.
I would say, the economic recovery depends a lot on how vaccination progresses.
I expect that the slow vaccination process would push out substantial recovery to second half of the fiscal year -- a flatter recovery unlike 2020 where we saw a massive rebound in Q3 2020 and growth momentum tapered off thereafter.
The recovery shapes of 2020 and 2021 are different because the lockdowns are different.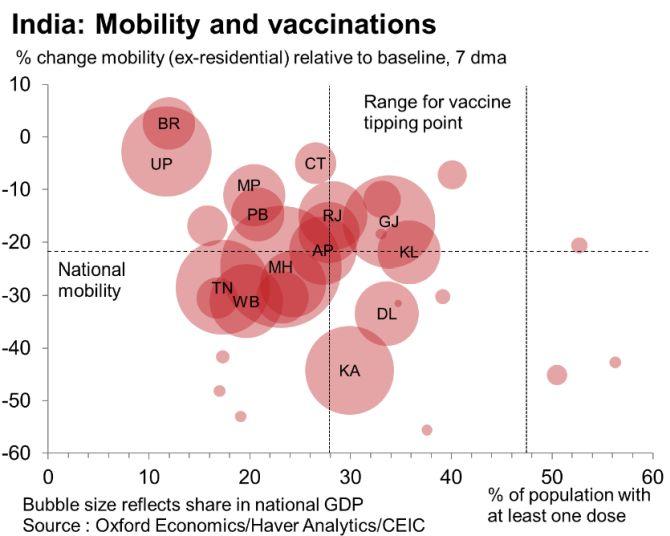 One of your studies show that there is a strong growth rebound in Q2 globally.
Is it because the US, Europe and the UK could vaccinate more than 50% of the people?
Vaccination and fiscal stimulus. The fiscal stimulus was a big game changer for the US.
In fact, we have massively upgraded our US forecast. The US is expected to grow 7.7% this year, unheard of growth rate for that economy.
China is also on track to register 8% plus growth in 2021. These developments have positively impacted global trade.
India's exports have also benefitted from that.
But imports have also gone up a lot because we were recovering before the second wave.
The Indian economy was fully open then, and thus imports also increased in tandem.
So, the net impact of trade on growth is not positive in India's case.
When we adjust for exports getting offset by imports, it will probably result in net trade subtracting from GDP growth this year.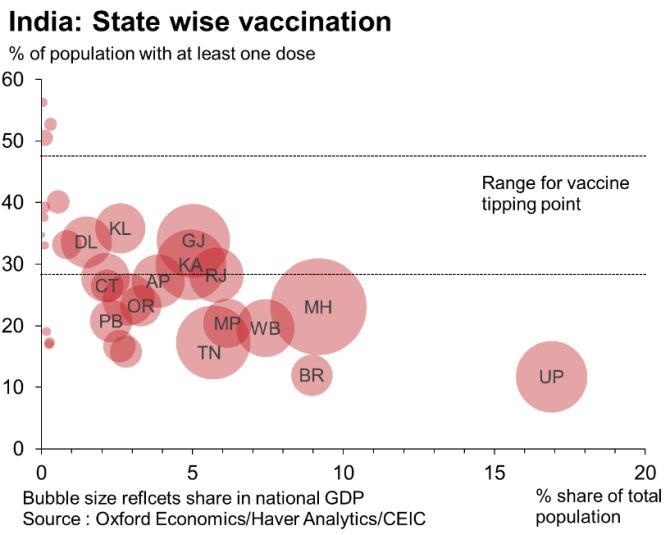 With just 4% of the population fully vaccinated and the devastation caused by the second wave, how long do you think it will take India to catch up with the global growth story?
We have been looking at India's growth at all levels.
The rate of first vaccination dose increased a lot in June 2021 and we see that 21% of the population has received at least one dose.
But the fully vaccinated percentage is in very low single digit.
So, there is a dichotomy here. The question is, what is more important for the domestic confidence to come back and more importantly allowing reopening while keeping the virus level low?
Till now, the focus in India has been only on one dose level.
International experience suggests that if 30%-50% the population gets at least one dose, you can think of reopening the economy.
But it's important to note that these thresholds are based on earlier variants of the coronavirus.
Given that the Delta variant, which has fuelled India's second wave, has proven to be much more transmissible than prior forms, we think the upper half of this range is more applicable to India.
Reports vary regarding the effectiveness of one dose of Covishield/Astra Zeneca (which is the most prevalent vaccine in India) in preventing hospitalisations due to the Delta variant.
But it is generally agreed that two doses are more effective against this variant, which has led the UK to increase its vaccination efforts and push out its complete reopening by four weeks.
So, if we are going to compare ourselves with that situation, India is nowhere near what's happening globally.
We have vaccinated just 4% of the population with two doses and my calculation says, we would only be vaccinating 8% of the population with two doses by August while the target is 23%!
I view the low share of fully vaccinated population in India and the slow progress with increasing concern.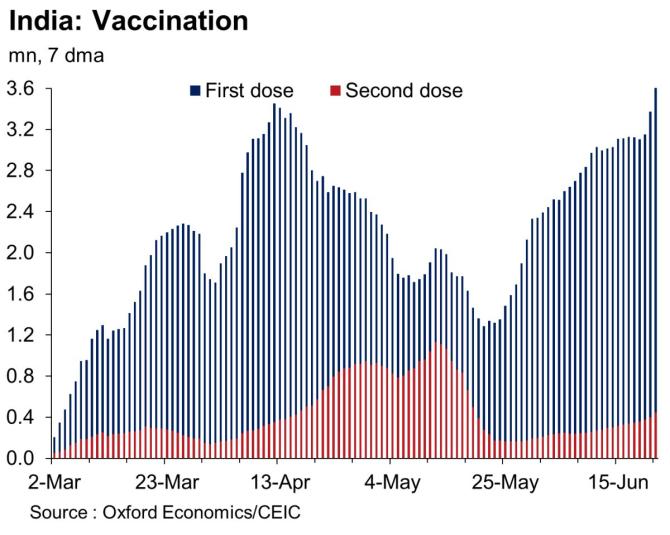 In your studies, how much connection have you seen between economic recovery and vaccination?
In our forecast, we look at vaccination as an important barometer for economic growth, as reopening will be more durable if vaccination rate is high.
When a substantially large percentage of the population get vaccinated, less and less occurrence of the virus will happen, and there will be less and less of lockdowns too.
Vaccination will lower the probability of lockdowns massively and also the health system getting choked.
Our studies are based on that assumption.
That way, vaccination is very important for an economy to start functioning properly.
If you look at South East Asia, you see a similar pattern.
Malaysia is again in a lockdown now. So, every economy is facing such speed breakers, although the impacts vary a lot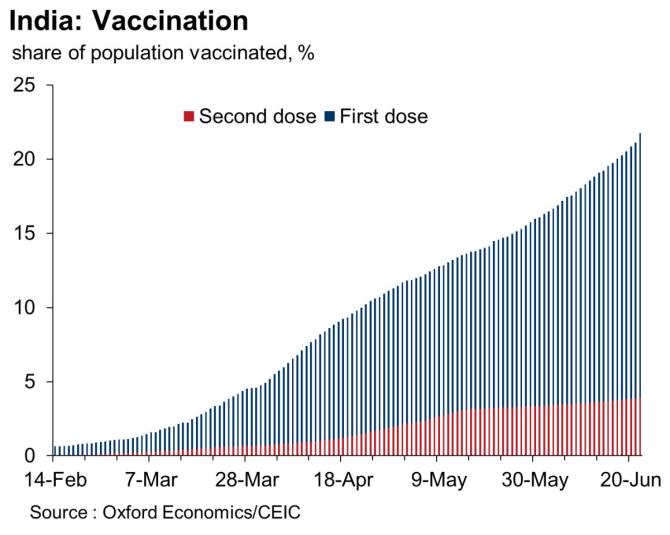 Feature Presentation: Aslam Hunani/Rediff.com