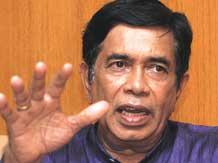 Oscar Fernandes, the new minister for road transport and highways, spoke to Kavita Chowdhury on his new role and plans for the ministry
As the new minister, what are your priorities for the road and transport sector?
Roads and national highways are the lifeline of the country. Alongwith the railways, this sector is vital for India's economic development since it provides much-needed connectivity.

In the last four years, this ministry had set itself an ambitious target and work is going on. I am aware there are issues of land acquisition and environment clearances which are holding up road projects. We shall try to get it cleared.
One of the major problems has been the long delays plaguing road projects…
I know. We will address this when we have a review of different sectors. The issue is that in public-private partnership projects, there are not many takers for road building projects, because ensuring the flow of funds is a major issue.

We are trying to modify the terms of contract to make it more feasible. In the build-operate-transfer model, we need to ensure there are enough bidders for the project.
As someone who has moved from organizational party work ( Fernandes was Congress general secretary) to ministerial work, how has the change been?
Ministry work is more administrative and technical in nature, but I am not new to it. (Fernandes, in the past had held statistics and programme implementation; and labour and employment portfolios) Party work, on the other hand, is more challenging and exciting, even more so when you get results.
There is less than a year before the general elections of 2014. Isn't that too short a time?
There are still 10 months for the May 2014 polls. The foundation work in this ministry has already been done by previous ministers and my predecessors; all I am doing is to give the final touches.