The new breed of India's best innovators is set to take the world by a storm. Young, intelligent, and ambitious, these dynamic entrepreneurs might well conquer the world with their innovative ideas, products and services.
rediff.com brings to you a special series on India's best innovators and entrepreneurs, winners of the latest Nasscom Innovation Award 2007.
---
Meet Madan Padaki, the man behind MeritTrac, an online assessment company.
"Entrepreneurship has been an extremely satisfying experience. Believing in an idea and leading it to fruition as well as guiding the destiny of an entity can put you through a gamut of emotions which you always feel is worth every bit," says Padaki.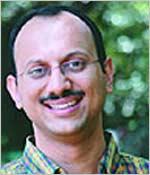 A pioneer in the field of assessments, MeritTrac has tested over 3 million candidates till date for over 150 clients across various sectors like IT/ITeS verticals. Today it has strong hold across various sectors like retail, BFSI (banking, financial services and insurance), manufacturing, public sector units, and healthcare.
While it has been a success story for Padaki, he is alarmed at the rise in the qualified people who are 'unemployable.' "Our analysis of the performance of candidates, through talent pool reports presents an alarming picture. Employability figures of engineers was seen to be around 25 per cent, of MBAs around 23 per cent and that of graduates in the business process outsourcing industry at just around 10 per cent. This calls for rapid action to improve employability, explains Padaki.
So what was the entrepreneurial journey like? It was a fight against all odds. . . But read on. . .
Madan Padaki, whose designation in his company is co-founder and director -- business development, in an interview with Assistant Editor Manu A B talks about the path he took to be an entrepreneur.
Could you please tell us about the innovation that won you the Nasscom award?
We won the award for MeritTrac Assessment Zones (MAZs). Online assessment is recognized worldwide as the most efficient mechanism for delivering assessments. It is a need sorely felt by corporates and academia for recruitment and selection. MAZs address this issue by providing a secure testing environment with scale across India to support online assessments.
These centers combine labs with testing terminals, advanced proctoring mechanisms like close circuit cameras and stringent registration mechanisms like biometric fingerprint scanners with plush waiting areas, group discussions/interview rooms, evaluators, supervisors to provide a complete testing environment.
We have 21 MAZ centres are spread across 16 cities across the country with over 1,300 testing terminals to provide pan-India coverage.
How long did it take to develop the award winning online assessment hub?
The plan to enhance the online assessment infrastructures was in the offing since 2004 and concrete materialisation happened in 2005 with the first center. The set up of the entire network of 21 centers happened by early 2007 but the plans do not end here. The ultimate aim is to have a center in every district headquarters either on our own or through partnerships, to complete coverage across India.
How difficult was the task? What hurdles did you face?
The most important aspect was to plan out a phased roll out of centres set up to coincide with requirements across cities. The will to undertake such an activity was ever present inspite of the capital intensive nature of the activity and ratification was across the board.
Typical implementation hurdles included understanding the candidate and the corporate psyche to design a friendly environment while maintaining security.
How has it eased the assessment process?
Migrating tests online assures great process efficiencies and consistency in the assessment process. Online testing is secure with zero chance of leakage.
It also provides great versatility in design of tests through online testing software like MeritTrac's interface called OnTrac. Candidates can be schedules in batches to minimize load constraints and optimize capacity as well as save on people resources.
There is standardisation of environment for candidates locations and a single window clearance for selectors through integration of testing to offer co-ordination at a single place.
Security is also enhanced with fingerprinting and automated proctoring. Overall, a boon to the assessment process.
What do you think about the quality of talent in India? Are you facing a shortage of talented people?
We come with the perspective of an independent skills assessment company on this issue. As India's largest, we have tested over 3 million candidates for companies across industries and have first-hand knowledge of the actual test performance of candidates.
Our analysis of this performance, released through many talent pool reports presents an alarming picture. Employability figures for engineers were seen to be around 25 per cent; for MBAs around 23 per cent, and for graduates in the BPO industry at just around 10 per cent.
This calls for rapid action to improve employability and MeritTrac has also been lending a helping hand as assessment partner for Nasscom in their NAC-Tech initiative.
What was the inspiration to start this company?
Bitten by the entrepreneurial bug, I along with the other two co-founders of MeritTrac, S Murlidhar (co-founder & director - service delivery & operations) and Mohan Kannegal (co-founder & director - technology & test development), were scouting out opportunities of a start-up.
A chance meeting with a friend on developing question bank management software triggered off this idea -- that it was not a question bank software that was required, but a entire service offering on assessments! That was the beginning and the inspiration was in pioneering a whole new industry and set the way forward for assessments in India.
What kind of hurdles did you face when you started your company? What are the challenges that you face now?
The major challenge was convincing people about the prospects of a concept called as assessments. The common question faced by us was if we were a staffing or placement company. It was difficult for people to distinguish a niche called assessments and even after lengthy explanations the first query was how many people we could source.
The next big challenge was in convincing recruitment heads to outsource a critical function like people evaluation to a third party. People being critical, especially in the IT/ITeS industries which we first targetted, it was a tough task to change mindsets.
There were of course other challenges like procuring capital, hiring people for a new industry with new processes which were all successfully overcome.
Could you tell us about your company's growth over the years?
MeritTrac has grown exponentially over the years since being started in 2000. Being a pioneer the field of assessments, MeritTrac started with targeting the IT/ITeS vertical and our first wins were also in these verticals. But the dot-com bust of 2002 dried up business and put us in the difficult situation of operating without salaries for six months!
This was a tough job but with the full support of employees then, this difficult time has been overcome and we haven't looked back since.
HSBC Private Equity invested into the company in 2005 which has now exited to make way for the Manipal Education Group as a strategic investor.
MeritTrac has shown strong growth over the years and has been able to establish a strong hold across various industry verticals like retail, BFSI, manufacturing, PSUs, healthcare among others in furthering the use of assessments. We have also moved into providing individual certification as well as education assessment services to the academia and students.
What is your staff strength now? Do you plan to hire more people?
Currently, MeritTrac employs over 450 people, and hiring is a continuous process linked to our requirements and business plans.
What are the major milestones that you have achieved?
We have tested over 3 million candidates till date for over 150 clients across different domains. Our assessment suite includes pre-recruitment assessments as well as tests for laterals and employees in over 300 areas.
MeritTrac was the recipient of the Red Herring Top 100 Asia award for 2007 recognising the most promising private companies in Asia. This is probably the first instance of an assessment company winning this award.
MeritTrac is also the recipient of the Deloitte Technology Fast 50 India as well as the Deloitte Technology Fast 500 Asia-Pacific awards for 2007.
The crowning glory has of course been the Nasscom award.
Most people find finance a major constraint. How was it for you?
It is always a tough job to make people believe in an idea and things were no different when we were starting up. One of the most important things we found out was to quit our jobs if we were to convince a venture capitalist. People believe in you only if you believe in yourself, but leaving the security of a job is not an easy decision. It was difficult to convince VCs on a niche area when the toast of those days was IT and dot-com.
We had to start a business with our own savings until we could find an angel investor to back us. We also believe that there is enough money out there if the idea and the execution of the plan are right.
How do you like the role of an entrepreneur? Do you think India needs more entrepreneurs?
Entrepreneurship, for me has been extremely satisfying. The quantum of learning and experience that I have packed into these seven years has been phenomenal!
Believing in an idea and leading it to fruition as well as guiding the destiny of an entity can put you through a gamut of emotions which you always feel is worth every bit.
India does need a lot more entrepreneurs. The success stories in the Indian corporate space need not be reiterated and history has also shown that nations, their economies and destinies are built on successful businesses which always arise from someone believing in an idea.
Could you explain the reasons for your success?
It is belief in the idea, perseverance towards achieving excellence and most importantly passion for the company are defining elements of MeritTrac's success.
What would be your advice to budding entrepreneurs in India?
Every success has its own story, but the only advice that I would give to budding entrepreneurs is to never stop believing or dreaming.
What are your company's future plans? Where do you see the company five years from now?
The assessment space is on course to explodinge in the coming time, and MeritTrac is well placed to ride this wave. We believe in the maxim 'a test in everyone's life' and work towards making it possible.
Assessments are rapidly gaining ground across various industries and we have seen huge growth in our non-IT/ITeS business. Employability enhancement programs led by industry benchmarked assessments have been recognized across the country to uplift talent and an initiative like NAC-Tech is a step in the right direction.
We have also now focussing on the 'education assessment' space for delivering academic examinations for colleges/universities. In fact, MAZs have already leveraged for conducting large scale entrance exams online and this will be a major thrust area for MeritTrac's growth.
What are your views on innovation in India? How important is innovation for a company?
Innovation has assumed a vital space on the agenda of companies across India which are recognizing its need to stay competitive and achieve business success not just in India but also abroad.
The growing awareness can be tangibly gauged from the efforts of industry bodies like Nasscom placing a premium on it and instituting awards recognizing it. We have ourselves seen the urgency among our clients as well as traditional entities like the academia to adopt innovations like the MAZ.
Indian companies focus more on services than products. How important is a product-based innovation?
It is important and Indian companies are looking at product innovations seriously. They are vital for a global connect and to gain salience worldwide but a lot of recognised firms have delivered great value and gained fame for services and their strides cannot be ignored.
Companies are also developing focusing on product development and progress can be seen everywhere.
Do you think the US slowdown will affect your company?
We don't believe the slowdown would have a significant impact on business at MeritTrac.
Could you tell us about your interests? How do you spend your spare time?
Given the hectic six days of the week, Sunday is the time for my family. Working with entrepreneurs is quite a passion and I spend quite a lot of my spare time with other folks helping them with their business plans.
Tennis and golf takes up some of my other spare time.