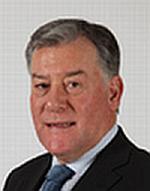 In an e-mailed interview with rediff.com, Robin Griffiths, technical strategist at Cazenove Capital, shares his opinion on why India and Brazil are a better bet than China in the current economic scenario, discusses the strength of the US dollar and believes that if all goes well then the Indian stock market benchmark, Sensex, could soon test its earlier peak set in January 2008.
In an interview with CNBC you had stated: 'Some other markets are slightly less vulnerable than China.' What are these vulnerabilities you are referring to apart from China's export dependency on the developed nations -- the topmost among them being the US?
India and Brazil are in much clearer secular uptrends. They are still high beta but even so the long-term uptrends are better. In the case of the Sensex, it bottomed at 2,594 in Aug 2001. The first bull (run) then took it to 21,000. It then fell back to just under 8,000 but it is now rising well at 17,500.
By contrast the Shanghai Composite was actually falling till 2005 at 1,000. It then exploded upwards to 6,000. It then fell back to 1,642 (losing) much too big a per cent of the bull surge. More recently it topped out back in July and has since made several lower highs. It has made no progress, is in a wedge, and could break down.
Also on a valuation basis, it (China) is way more expensive. It is on 50 times the average of historic earnings done the Ben Graham way. Even Japan, at its peak, did not go above 36 on this measure. I know we should not underestimate how expensive a market can get but we can agree it is in nosebleed territory now.
(That is) not the case for India and Brazil.
How is India poised vis-a-vis China in terms of the growth story that has attracted billions of dollars of foreign direct investment as well as portfolio investments into India?
In terms of the growth story China is moving fastest but by over-stimulating the building of infrastructure. It is also still an export machine. India is much less vulnerable on this score. It actually needs more infrastructure whereas the coastal regions of China have overdone it already.
Do you fear that interest rates might tighten in India and China? Food inflation has crossed 17 per cent; general inflation is over 7 per cent. . . Will high interest rates coupled with high inflation dent the confidence of overseas investors in the Indian economy?
I do think (interest) rates need (to) rise in both markets, but this is to cool a too fast rate of growth. We could call this a touch of the tiller. It could be handled well. In the world at large, I am more afraid of a depression than runaway inflation.
How will the dollar-rupee parity play out in the near as well as the long-term? Would you see a strengthening rupee hurting Indian exporters or a blessing in disguise for an oil importer like India?
The US dollar is going to have more of a rally this year that started late last year. I think for three to six months the dollar will win. After that I see the rupee going up. On a long-term view I like the rupee and its strength would be good.
Is the global economy out of the doldrums yet or do you see some weak signals in this nascent recovery that can crack global confidence once again?
I think this will be a tough year with a nasty setback, possibly a crash in it. India should come out of it better than the West. I would buy dips in India and sell rallies in the United States.
Where do you see the Sensex by December 2010?
I think a double dip in the (US) economy is inevitable. It is similar to the 1930s. If this is correct, then in many markets the lows of last year will be broken. So last year's drop will be seen as the children's tea party before the real adult one gets going. I think India will hold up quite well at, say, 15,000.
If, on the other hand, the rally continues then the Sensex could test the old all-time high by the end of the year.
In my portfolio the three biggest positions are ETFs in Sensex, the Brazil Ibovespa (the bellwether of the Brazilian stock market) and gold. I regard these as investments. I do have a list of United Kingdom stocks, but I regard these as trades and, in any event, they tend to be stocks like Billiton, etc linked to the Asian growth story.
Image: Robin Griffiths, Cazenove Capital.