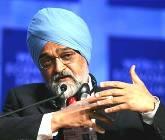 Planning Commission Deputy Chairman Montek Singh Ahluwalia says Commerce Minister Kamal Nath had warned him in advance that he was going to criticise the apex planning body in public.
Ahluwalia had told Nath to go ahead.
"The notion that the government just sits there and agrees on everything is a dream. It's good the government disagrees," says Ahluwalia.
This cordiality is missing when he talks about the Left's critique of the fuel price increase. He says it is 'completely and totally wrong and deliberately misleading'.
Edited excerpts from an interview with Karan Thapar on CNN-IBN's Devil's Advocate:
The Left says that from May 2009, when the UPA was sworn in, till today, the international price of oil has only risen by $7 a barrel, which it calculates comes to only 70p a litre. In the same space of time, your government has increased the price of petrol by Rs 6.44 and diesel by Rs 4.55.
The price situation was unviable when the United Progressive Alliance government came in.
The big price increase (in oil) took place over a year before that. Prices (here) were not adjusted, so the prices when the UPA government came in were leading to very substantial drain on the treasury.
The (current) rise in price is to correct that -- not to correct what was happening in the past three months.
The Left contests oil company underrecoveries on the basis of import parity pricing of refined petroleum products. India imports crude oil and does its own refining, at prices considerably lower than the global one. So, why compensate companies for costs they have not incurred?
It is actually going to end up being imported crude oil, plus the cost of margin. The formula used earlier was import-trade parity price, which looked at import price of products and some export price rules. You can do it one way or the other.
If you build up the price of petroleum products, taking into account the increase that has occurred in crude oil prices and taking into account the need to do some cross-subsidisation, I don't think the price being charged is all that wrong. 
The fact is you are charging at the level refining is happening abroad, not in India.
No, no! This needs detailed study of individual cost items. Where the Left has got it wrong is their claiming there is no underrecovery and these companies are making huge profits.
(But) these profits reflect the fact that a large subsidy is being paid to them. If we didn't pay the subsidy, these companies would be making a loss.
It is not true that left to themselves, without subsidy, these companies were making a profit and the system was viable.
The Left cites the petroleum ministry's annual report on 2009-10 in saying IOC made a profit in 2008-09 of Rs 2,950 crore (Rs 29.5 billion).
By the end of December 2009, the profit was already Rs 4,663 crore (Rs 46.63 billion) and the audited financial results for that year show a whopping profit of almost Rs 11,000 crore (Rs 110 billion).
But that is exactly what I was saying. Those profits are based on the assumption that the government will make up the underrecovery to a certain extent.
Those are the profits after they take credit for the subsidy. You are basically running a system in which the profits of the oil companies are the result of the government having to bear a subsidy, which is not viable.
We are not supposed to be subsidising the oil companies -- we should be paying for schools, education, hospitals and so on.
The other point the Left makes is that if you look at the pricing structure of petroleum and diesel, it is so expensive in India due to the impact of government taxation.
Yes, it is true but you cannot eliminate a tax burden without recouping the revenue somewhere else. You could legitimately say, don't tax petroleum, raise the same revenues by taxing everything else. Would anyone want that?
The Left is giving a completely false picture (that) by getting rid of the taxes, we will simply lower the price.
You lower the price but you lose a lot of tax revenue, so you won't be able to finance all the things that you otherwise financed unless you levy a general tax increase on all commodities. Do you want to do that?
In India the price of petrol is determined 51 per cent by government tax. Compare to Sri Lanka, where it is 37 per cent, Pakistan, where it is 30 per cent, and Thailand, where it is just 24 per cent.
That is a cross-subsidy. In India, the kerosene price is much lower than in Sri Lanka and Pakistan. What is the government doing?
The government is subsidising kerosene and liquefied petroleum gas and is raising this money from petrol. I regard that as a sensible form of cross-subsidy.
Let the Left say, get rid of LPG subsidy, get rid of kerosene subsidy, and then we can lower the tax on petrol. We are subsidising those things that go for the poor and we are taxing things consumed by much better-off people.
The Left is completely wrong and deliberately misleading. They know  they are making a purely political point. These arguments have absolutely no economic rationale, because they are not bringing out the other side of the picture.
The only reason oil companies were making a profit is because we were paying subsidies. The proposition that Indian taxes on petrol and diesel are higher than in our neighbouring counties is correct but that is because Indian kerosene and LPG is much cheaper.
Therefore, somebody has got to pay for it , either out of general revenues or it would be paid from petrol. It's better if paid from petrol because in any case we want people to move away from private transport to public transport.
Let us now come to what the press calls (Transport Minister) Kamal Nath's critique of the Planning Commission. Given that this is an institute headed by the Prime Minister, were you surprised at the sharp attack by a senior minister?
I was on the dais and Kamal had asked me, Look, I have some problems with the way Planning Commission handles things and I said, go ahead and express them.
The government is about creative tensions. We criticise many things the ministries do. I don't think there is anything wrong with ministries criticising us.
The prime minister also chairs the Cabinet: on that basis, everything we do when we criticise other ministries could be shot down.
The notion that the government just sits there and agrees on everything is a dream. We better get used to the idea: government is full of intense disagreements.
And, it is good. These disagreements get sorted out at different levels, there is nothing wrong in that.
The prime minister told his ministers they must not air their differences in public.
On political issues. Actually the newspapers only reported a part of what Kamal Nath said.
He said he is getting full support from the deputy chairman and Sudha Pillai, secretary, but there are things the commission does that he has problems with. I don't call that a criticism with political resonance.
I have sat with Kamal Nath at public meetings with investors and investors say different things. To take care of this problem, I had set up a committee under B K Chaturvedi to look at these things.
As a result, we modified some of the things that were in our various model concession agreements.
Kamal Nath was not, by the way, giving a public lecture.
This was a lecture to investors in roads and he was trying to convey to them that he is very aware of their requirements and he is making their case to the Planning Commission. I said, go ahead and do it.
He said the Planning Commission are armchair advisors who have lost contact with ground realities. That you people may be very good at writing books but building roads is very different.
Let us be clear: we are not an implementing body. Equally, it doesn't mean you don't need advice. I mean, accountants are not people who build roads but you can't build roads without having decent accounts.
There is a functional role that the different parts of the government play.
When you are dealing with the approval process, when you are dealing with due diligence, when you are dealing with how bidding is competitive, none of this requires you to be knowledgeable about the implementation process.
Nath actually suggested the Planning Commission is an obstruction. Citing Terminal 3 which has just been built at the Delhi Airport, he said he was told the only reason it had happened so effectively and on time is because the Planning Commission wasn't involved in any way.
Delhi Airport was a public-private partnership and the government's involvement was prior to selection of the partner. Many newspapers have noted it was the Planning Commission's intervention on how to do the competition properly that led to the present operator being selected.
It is absolutely true that once selected, we didn't get involved, nor did anyone else. That is the whole point of (public-private partnership): do the due diligence to select the right people and let them get on with it.
Kamal Nath said from the day he became the road transport and highways minister, he was told the Planning Commission will not let achieve you a target of 20 km a day.
There is an issue that when you set a target, you have to relate that to the available funding. One of the principal things the Commission does is to scale down the demands of ministries, which are typically 100 per cent more than the money available. Somebody has to do that.
Is that the root of the problem between Nath and the Commission? That he hasn't been able to live up to his target, or boast, of building 20 km a day and the Planning Commission has advised him to set a more realistic target, closer to 7 km?
No, not correct. In 2008-09, the volume of roads contracted haven't been as much as they would like or we would like.
For the current, that is 2010-11, we have set a target -- and we both agreed on it -- of something like 9,000 km of contracting.
How much gets built depends on how the programme rolls out on the ground -- 20 km a day is 7,500 km a year.
In terms of contracting, we will definitely be meeting that target. In terms of whether they get built, it is too early to tell. You will only know that three or four years later.
So, relations between the two of you are fine?
Absolutely no problem. I genuinely believe we ought to be able to discuss these things and people should know there are different points of view.
Image: Montek Singh Ahluwalia