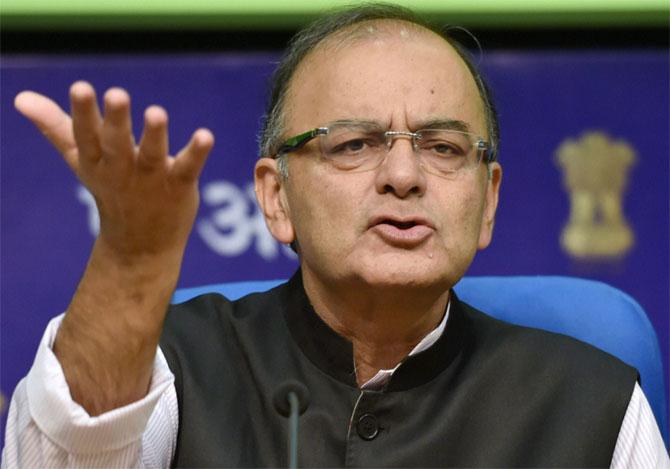 'We are in favour of reasonable taxation'.
'Raising gross domestic product growth above 7-8% would be a challenge.'
'Unions should understand the importance of job creation'.
The National Democratic Alliance government at the Centre will complete two years in office in 10 days.
Finance Minister Arun Jaitley -- in his first interview since the passage of the Union Budget -- indicated the next big challenge would be implementation of infrastructure and a renewed rural focus, especially in housing and irrigation.
Of course, getting legislation such as the Goods and Services Tax Bill passed by the Rajya Sabha is also on top of his priority list.
In an hour-long interview with Indivjal Dhasmana, Archis Mohan and Arup Roychoudhury, the finance minister said the Centre had done much to improve the ease of doing business in the country.
An enabling law to boost it is on the cards.
States also have to do their bit and work with the Centre.
He said consolidation of public sector banks was on the cards and hinted decisions on this would come in a few days.
On the ballooning of non-performing assets, Jaitley said these are caused by business cycles, not all of them global.
Moving away from the 'policy paralysis' in the past few years of the preceding United Progressive Alliance government, Jaitley claimed the National Democratic Alliance had plucked low-hanging fruit such as opening up of foreign direct investment, allowing telecom spectrum trading and tweaking the mining and minerals regulatory law to put the economy back on track.
Excerpts:
When you assumed office, you might have set various timelines for yourself to achieve some goals. How will you rate yourself?
And, what do you think remains to be done?
I won't get into the business of rating myself.
It is for others to do.
But, I would, in general, discuss what the situation was then and now.
You see, the past two years have had several difficult challenges.
The most difficult one arose out of two or three factors.
We took over when the economy had lost its credibility -- there was policy paralysis, we had fallen off the global radar, people did not expect too many significant changes and improvements, decision making was considered inherently more difficult.
Doubts such as will we fall off the BRICS (Brazil, Russia, India, China and South Africa) used to be raised.
And, during these years, a grim global scenario continued.
That had a huge impact on demand.
So, the external situation created a large number of challenges on demand, the private sector, exports, and gross domestic product.
Now, we are no longer in an age of nine to 10 per cent annual gross domestic product growth.
The second and more difficult challenge was agriculture because we had two bad monsoons.
The third adversity came out of the inability of banks to lend for growth. The core of the non-performing assets problem revolves around six sectors.
The ability of banks to support growth has been reduced.
There are three-four principal challenges before the economy. I would list these as factors created by external circumstances, the private sector slowing down, agriculture and banking.
Two favourable factors were -- oil prices and our comfortable majority in the lower House of Parliament.
Even then, why didn't big-bang reforms happen?
I believe the term 'big-bang reforms' is really a column writer's favourite.
The course we adopted was that there were some low-hanging fruits easy to pluck.
One was opening up as much foreign direct investment as possible and then slashing all conditions.
Except in insurance, this was an executive decision and it was relatively easier.
This brought in significant amounts of money.
Then, we systematically went on a cleaning drive.
So, no discretions allowed -- spectrum to coal to mining.
This has helped us to keep away from controversies, keep the slate clean, and do it transparently without obstructions.
There was no problem with the courts or the Comptroller and Auditor General of India.
Then, the slight tweaking I did was while we were opening out, we started reforming.
We allowed trading in spectrum and permitted commercial mining in coal.
The long-term effect of this tweaking will be seen in the telecom sector, when you have spectrum trading.
Also, pre-2015 mines can be transferred with premium by our changes in the Mines and Minerals (Development and Regulation) Act, which will enable more liquid companies to take over dead assets and repay the banks.

The third stage will come, even in coal.
In addition to public sector companies, you will have private sector and exclusive mining companies. So, the kind of unleashing of resources would be far more.
Despite this, India is lagging at 130 (of 189 countries) in the World Bank's ease of doing business ranking -- though there has been some improvement. What could be the reasons?
We did whatever was in the Centre's domain: opening up for foreign direct investment, quick decisions, quick environment clearances, quick Foreign Investment Promotion Board approval, passage of the Bankruptcy Code and sorting out taxation issues.
Last year, we moved up 12 positions; this year, we will do better.
Now, the challenge begins.
Why are we so low in the ease of doing business ranking?
In real estate and construction, we are 183 out of 189.
You allow entry, you open up for foreign direct investment, you allow setting up of a plant, you clear FIPB, you clear environmental norms, you clear all permissions and suddenly issues like land sanctions, land availability and completion certificates arise.
Then the whole thing comes to a naught.
We now have to get in touch with the states to ease this process.
Will you bring a central law for ease of doing business?
A central law can only be an enabling one.
Are states open to it?
You have two kinds of states -- reforming and non-reforming.

Even in taxation, some challenges are yet to be addressed. What is your take on those?
Taxation has different challenges. One is administrative, another reasonableness. Then, there are iconic cases.
We have done well on the administrative part, particularly direct taxes.
For an average taxpayer filing his returns and getting his assessment order, their interaction with officials are over quickly.
You file your returns online, your queries are online, your refunds are online. Tax assesses got over Rs 2 crore (Rs 20 million) refunds online.
Second, we restored the integrity of Budget making.
We didn't manage fiscal deficit by holding on to refunds and disguising payments.
What we got, was a clean fiscal deficit.
In direct taxes, my challenge is to keep India a reasonable tax destination.
We are not as low as Dubai or Singapore but compared to the developed world -- Australia, Europe, North America -- we are much better.
We tax our people modestly. If we are able to increase the taxation base, even these modest rates will come down.
Tax evaders and avoiders create a situation where taxpayers will have to pay a percentage higher.
We have actually done well to expand the base.
If you look at the returns filed for tax deducted at source, we are already almost 55 million or so.
We are taking a series of steps to discourage cash dealings.
There is a big penalty on foreign black money.
I am giving one more window to domestic black money holders to come clean.
We are slowly increasing the pressure on areas where it is spent.
So, from incentivising card payments to having a Permanent Account Number card if you possess Rs 200,000 or more to excise duty on jewellery -- all this is being done to squeeze black money and the cash economy.

Corporation tax rates were not reduced in the Budget. Why?
My big idea was to bring down this rate to 25 per cent, from 30 per cent.
This year, I could not live up to that commitment because phasing out of exemptions has not taken place.
As that begins, I will bring it down.
I re-emphasised the honesty of intent by bringing it down to 25 per cent for new manufacturing units.
There is a one per cent reduction for small units, of Rs 5 crore (Rs 50 million) and below.

Apart from direct tax reforms, there are also indirect taxes and all the legacy cases stuck in the judicial process. Where are you on those?
Indirect taxes have to be tweaked keeping the Make in India idea in mind.
The other important factor is the iconic cases.
We are trying to sort these out, one by one.
Therefore, we are giving various options to them.
The problem area is the retrospective tax cases.
The others are routine, which could be of any assessee, but because these are high-profile, they get publicity.
In some of these cases, the question of law has to be settled.
For instance, this new Bombay High Court judgment on Vodafone: Has nothing to do with retrospective taxation.
It is about capital gains. That is a routine matter.

What are the government's plans on taking advantage of (the fall in) oil prices and reducing subsidies further?
A big success area, and a bold one, is subsidy rationalisation.
We have done well on cooking gas and petrol.
Now, we are experimenting in kerosene, fertiliser and food.
Depending on how these pilot projects perform, we will go ahead.
The savings are significant and will increase.
So far, people have only spoken and written on rationalisation.
This is the first time we are seeing it happen.
The government has ambitious plans on Aadhaar (the citizen identification scheme). But, you now seem to be stuck in a legal issue.
We are now fighting a system in Parliament and in courts because Aadhaar ran into all kinds of challenges.
Nandan Nilekani's (former Unique Identification Authority of India chairman) idea was innovative.
He proposed there be an identification authority but why was not mentioned.
So, I changed it.
There will be an Aadhaar card.
If you want the benefit of government money, you must produce it.
We linked it only with expenditure of the government, which is what the court wanted.
And, I plugged the privacy provisions.
Another area where we have used the correct approach is on how to use the surplus created by oil prices.
We shared it three ways.
The consumers got a benefit, which also kept inflation under control and, in turn, enabled the Reserve Bank of India to systematically bring down the repo rate.
And, we made the oil companies healthier.
The third thing we did was to expand on expenditure, particularly in infrastructure and rural areas.
These were two deficit areas and doing this was important.
The Bankruptcy Code was a big initiative. What lies ahead on a legislative and executive agenda?
For the Bill, we went to a joint committee (of Parliament), instead of a standing committee.
That saved time. In four months, we had the report ready and took it to both Houses.
Among pending legislation, I now have four Bills, of which Goods and Services Tax is the most important.
There are also 70-odd amendments to the Companies Act.
Then, there is the Rs 44,000 crore (Rs 440 billion) to be distributed to states (under the Compensatory Afforestation Fund Bill).
It was unfair of the Congress (the principal Opposition party) to have blocked it, preventing the states from getting the money, despite a unanimous recommendation of the joint committee.
The fourth issue is about amendments to the Sarfaesi and Debt Recovery laws.
After this, we would have a legislation on how to deal with the possible bankruptcy of financial firms, which was announced in the Budget.
One more important Budget announcement is the Fiscal Responsibility and Budget Management review committee.
What is going to be the government's next big focus going forward?
The next round has to be implementation, in a big way. And, one policy aspect has to be the ease of doing business in states.
In implementation, you have to look at two distinct areas.
One will be infrastructure, one will be rural India.
In infrastructure, roads and rural roads are performing well.
The next area where the transport ministry has to perform is ports, an area where a lot of private sector investment would be willing to come.
There is a lot of shipping activity on the west coast.
So, as part of our Look-East policy, the east coast is where we have to develop.
Second, there is this whole emphasis on inland waterways.
We can do it but I am keeping my fingers crossed.
But, ports are an area where a lot can be done.
Also, we have to target 25 regional airports this year.
The money is there, the airstrips are there, the land is there.
Between the central and state governments and the Airports Authority of India, we have the resources. It is only a question of starting the process.
I think the ministry is doing fairly well.
On railways, I have had a meeting with Suresh Prabhu (the minister), and we need to plan ahead on expenditure.
In fact, I will be delighted if the Railways runs short of money and wants more.
We will be willing to give them more, so that the whole plan of redevelopment of 400 railway stations, track modernisation, the setting up of locomotive factories, a cleaner and globally comparable railway system could all be carried out.
That will take us to the second area, which is rural India.
We are putting in enough money in rural roads. Rural electrification is going on well.
The Mahatma Gandhi National Rural Employment Guarantee Act, interest subvention, will go on.
The two areas we have to focus specifically are rural housing and irrigation. Irrigation is at the core of what we are planning. Geographically, we have to concentrate more on the east.
The potential for growth there is much higher than the north or the west.
It seems you are comfortable with seven or eight per cent yearly economic growth.
Realistically, if global headwinds are hostile, reaching nine to 10 per cent growth is extremely difficult.
The global environment doesn't permit that because there will be volatility and shrinkage of trade.
There will be low demand and so on. But, if global tailwinds are favourable, we have the potential to get into that range (nine to 10 per cent).
What about land and labour reforms?
We have had a difficult challenge on land. The states feel there is no inadequacy of land for the projects they need.
Is that your feedback?
That is the feedback.
Availability of land is not hurting growth.
Therefore, the flexibility with the states to bring about suitable changes and amendments is there.
On labour, the ministry has brought some changes in the past few years. We keep consulting the labour unions because they are very particular.
The emphasis has to be on what is doable and possible.
There also needs to be on job generation.
The Indian trade union movement is still to realise that job growth should also be a part of the agenda.
Saving existing jobs is one challenge but growing is also essential.
I still think the union movement is delicately poised on that question.
With external headwinds, what makes you so confident that bank non-performing assets will come down? Recently, the Supreme Court asked the government to form a sub-panel to arrest NPAs. What's your take on this?
As I said, NPAs are a creation of business cycles.
Though those cycles are not because of external factors.
For instance, the discom (power distribution companies) problem is entirely domestic.
Steel was entirely external and we have arrested that factor.
Highways have started moving.
Sugar was external but it got corrected. I believe business cycle movements and their impact on NPAs and arresting NPAs are not a judicially determinable factor.
Court judgments can't resolve these. A whole lot of economic factors need to be resolved.
What is your timeline on consolidation of state-owned banks?
Wait for a few days.
How many public sector banks can an economy like India afford?
We need healthier banks.
Our PSBs also must be global players and therefore the idea of consolidating some of them, without adversely affecting labour employment considerations, came up.
I think that seems to be the objective. As I said, wait for a few days.
On disinvestment, yours has been the most game-changing announcement on this since the Vajpayee government (1998 to 2004). But, does the government have any target or aim in mind, in terms of the candidates?
We fix targets but achieving those depends on the health of the market.
If the market is turbulent and the sectors you want to disinvest in are not doing well, then I am not going to sell in adverse circumstances.
Are there any specific companies, big names like Air India, which you are looking at?
In terms of strategic disinvestments, we were looking at all these hotel companies. We have also asked them to look at some of these loss-making companies. The NITI Aayog is examining these.
You had mooted the idea of asset sales. Is it an idea that is flying?
NITI Aayog is working on it. I put it in the Budget. . . Asset recycling adds to national resources.
For example, if a power sector company makes an SPV (special purpose vehicle) and two of its units are sold to some other companies and that money is used to set up two more units, then the country will have four units instead of two.
How do you assess the political management of issues like the Employees Provident Fund?
On the EPF, I believe we took the correct decision.
The original decision in the Budget?
Yes, the original Budget decision. It is a part of my conviction that as India grows, in the next few decades, we are going to be a developed country.
One of the hallmarks of a developed state is social security.
So, from small grassroots measures like Jan Dhan, making of an insured society, pensioned society, loans coming for enterprises, crop insurance, health insurance -- we are trying to generate consciousness with regard to that.
Now, one of the ideas of social security is that when you earn you must save and the benefit of this saving you get once you retire.
So, the whole object was that upon retirement you will get a lump sum plus an annuity or a pension and that is something on which I have strengthened the National Pension System.
So, any private sector employee who doesn't invest in National Pension Scheme will be well-advised to do so because his investment will be tax-free, his pension will be tax-free, his 40 per cent corpus will be tax-free and what his heirs inherit will be tax-free.
Now, we wanted EPF to move in the same direction.
But there was a section of employees who felt that this is their money and they should be allowed to deal with it the way they wanted. We yielded to that, but kept that process on NPS.
I am sure with 11 per cent plus returns coming in on NPS, a lot more people will move towards it.
There is this issue about the Pay Commission. Is there a case for staggered implementation? The allowances will come later?
They (the committee) are looking into this issue. At the end of the day, employees getting their dues is something that we need to consider.
The prime minister, as soon as he finished a month in office, said he felt like an outsider in Delhi.
On the completion of a year in office, he again talked about him being an outsider. There have also been reports that bureaucrats don't want to serve at the Centre but in states. Then, you have an openly hostile academia. Do you think these issues have been obstacles?
I don't think it is fair to make that comment. I have not had a bureaucratic obstruction. I have not seen a bureaucratic obstruction.
On academia: I have a view which is this: globally, the Left as an ideology and the political and economic system that they envisaged has collapsed.
It is globally not accepted and therefore electorally and in terms of governance it is a disappearing class.
In most parts of the world, they are now confined to three areas -- academics, NGOs (non-government organisations) and media. So, we can't grudge their presence.
National Democratic Alliance-I (1998-2004) had its share of 'outsiders' in the council of ministers. But the current government has steadfastly refused to induct such 'outsiders' or experts. How do you think the government has performed having kept away outsiders and entrusting key jobs to ministers who were new to the sectors?
I won't comment on outsiders but I can tell you there are a lot of new entrants into the parliamentary arena who have done exceedingly well.
One of the reasons is that they were not constrained by traditional mindsets. I think writing on a clean slate helped in areas like power, highways, or oil, where we have done well.
You have been hailed for bringing about this monetary policy committee in this Budget, which is going to put an end to the recurring drama of the RBI versus the finance ministry.
And yet, there are debates, questions about the finance ministry's relationship with current Reserve Bank of India Governor Raghuram Rajan.
Whether he gets a second term or not.
Commenting on individuals or their terms is not proper.
But I will tell you that the RBI and the government traditionally, and that continues to, have a very mature level of relationship.
It culminates into consultation and discussion on various issues.
And I think it is a system which, over the years, has matured.
Image: We did whatever was in the Centre's domain, says Finance Minister Arun Jaitley. Photograph: Vijay Verma/PTI