'Among my achievements was trying to establish NITI as a brand and a voice to be recognised.'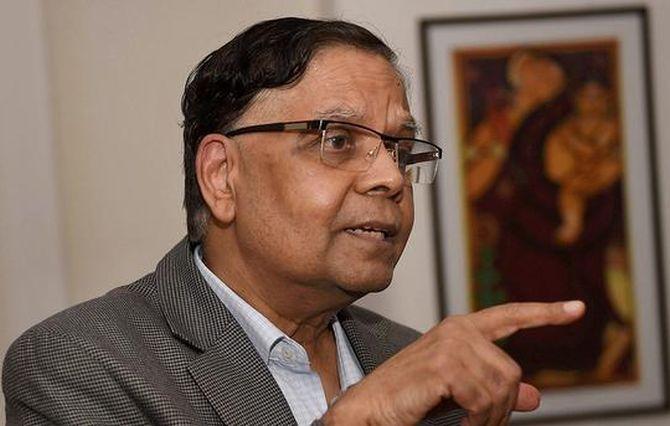 Arvind Panagariya, first vice-chairman of the NITI Aayog, replacement for the five-decade-old Planning Commission, has decided to return to academics. The noted economist in an interaction with a group of journalists. Excerpts:
Was the decision sudden or prompted by an event?
Not like that. I was in discussion with Columbia University (he's a professor there) for some months on extending my leave.
They declined to do so and, at this age, I won't get a job equivalent to my existing profile there.
Therefore, almost two months ago, I requested the prime minister to relieve me of my responsibilities, as I wanted to go back to teaching.
The PM is chairman of NITI Aayog. He urged me to reconsider. After much back and forth, I have finally decided to pursue my first love.
So, not a sudden decision?
Absolutely not. My leave from Columbia was coming to an end this August and despite my persuasion, the university was unwilling to extend it, leaving me no other option.
Given a chance, would you have liked to continue as Aayog vice-chairman?
Absolutely, if Columbia had extended my leave.
How do your rate your tenure of two years and eight months. What were the main achievements?
My tenure was good and I tried to achieve as much as I could.
Among my achievements was trying to establish NITI as a brand and a voice to be recognised.
Not with funds but with the kind of ideas we have fostered, then inculcating a sense of cooperation with states, giving valuable inputs and suggestions to the government on matters of public interest, divestment and privatisation of public sector units, recommending a restructuring formula for Air India - we accomplished much.
Initially, I might have had a tough time in dealing with things I wasn't aware of but gradually everything fell into place, due to strong cooperation from everyone.
What do you count as your unfinished agenda in the Aayog?
I would have loved to complete the work on a 15-year Vision Statement and the strategy papers.
But, then, I'm always available to anyone for advice, suggestion, help.
Apart from teaching, what else would you love to pursue henceforth?
I'd love to write, teach and work for India as I have been doing earlier.
One thing I can think of is probably a second edition of my book, 'India: The emerging giant'.
Photograph: PTI Photo