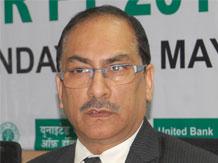 Deepak Narang, executive director of United Bank of India, which has declared Kingfisher Airlines' promoter Vijay Mallya, as well as board members of the airline, wilful defaulters, talks to Business Standard on the bank's strategy to strengthen recovery.
Edited excerpts:

Following UBI declaring Kingfisher Airlines a wilful defaulter, its chairman Vijay Mallya said he wasn't given an opportunity to present his case.

I would like to differ. We gave him a wilful defaulter notice on May 28, which was followed by another notice on June 23, requesting an appearance before the grievance redressal committee to present his case.
He wanted the lawyers to be present but we said the rule didn't have such a provision. Instead of appearing before the GRC, he went to a high court, seeking judicial intervention.
When the court declined his request and the division bench upheld the high court order, it was clear a lawyer wasn't allowed. So, he should have attended the GRC meeting on September 1, but he didn't. We gave him an opportunity; it was up to him to take that.

Have you informed regulatory authorities of the decision?

After the decision, we immediately informed the ministry and the Reserve Bank of India. We are mandated to send a list of such cases to the regulator.

We also told the Securities and Exchange Board of India that earlier, we had identified them as wilful defaulters, adding now, we declared them as the same.

What is the status of recovery in Kingfisher Airlines accounts?

About Rs 55 crore (Rs 550 million) was recovered through share sales, carried out by State Bank of India, the leader of the consortium of lenders. They have taken possession of the property mortgaged to banks.

If he (Mallya) is not a wilful defaulter and is willing to pay, why has he moved court for a stay on the properties mortgaged with the bank? If properties are mortgaged with a bank, they are to be sold if there is a default.

We were the first to file a winding-up petition against Kingfisher in the Karnataka High Court.
The court had deposits about Rs 250 crore (Rs 2.5 billion) in an escrow account. So, some money will come from there. Also, there is a surplus of Rs 650 crore after the sale of shares by Srei Infrastructure.

Do you expect some recovery from the loan given for purchasing aircraft?

Three banks funded the purchase -- UBI, Corporation Bank and Oriental Bank of Commerce. We have filed a case in the debt recovery tribunal. As the funds were for purchasing aircraft and that wasn't done, the money has to be returned; that is our contention.

The finance ministry has prepared a list of the top 50 defaulters. What step is the bank taking for recovery from these entities?

As far as UBI is concerned, we are taking updates of the recovery status every 15 days. We have taking all steps necessary such as serving notices for wilful defaults and attaching the properties mortgaged.
We are also filing cases in the debt recovery tribunal.

In the last two quarters, we have made healthy cash recoveries. In the quarter ended March this year, we made cash recovery of Rs 645 crore (Rs 6.45 billion), followed by Rs 345 crore (Rs 3.45 billion) in June quarter.
Cash recoveries at the branch level are being monitored on a daily basis.

Has UBI identified any other company as a wilful defaulter?

Yes, we have given a wilful defaulter's notice to SPS Steel. The Central Bureau of Investigation has filed a case on the basis of a complaint lodged by Central Bank of India. We have attached assets through the debt recovery tribunal.
The bank's non-performing asset position is much higher compared to peers as its gross NPA was 10.49% of gross advances at the end of June? Where do you see the number by the end of the financial year?
We want to reduce our gross NPA below 9% by the end of March 2015.
Image: Deepak Narang; Photograph, courtesy: Business Standard