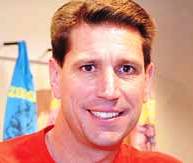 Adidas faced a troubled phase in India following the arrest of its top brass, including the flamboyant Reebok India CEO & MD Subhinder Singh Prem, over an alleged financial fraud that cost its India operations Euro 153 million.

To put its Reebok business in order, the German footwear major hand-picked the soft-spoken Erick Haskell, who has vast experience of working in China.

Within months of his appointment, Adidas India MD Haskell has put the past behind. In an interview with Business Standard, he talks about the future of the group's business.

Edited excerpts:
You went for a massive restructuring exercise, bringing the number of Reebok India stores down to half. . .

The focus for us was viability of the business and ensuring profitability for both our franchises and us.

We looked at stores that were not viable and decided to close those.

Now, we have a portfolio of successful stores and are again on a growth path.

But, this is a different type of growth path, where the focus is on profitability of the locations.

So, we go for significant due-diligence before a store is identified. For instance, we closed our store in Delhi's South Extension (an upmarket location) because the place was not viable.

We are now looking at a store around the same place that will be viable.

We are also going to Tier-II and -III cities -- like upcountry Tamil Nadu, where we did not have stores.

We had a total of 900 stores earlier. Now, we have 450 and are adding 50 this year.

Has the slowdown hit you?

We are in an industry where economic slowdown has not had a big impact.

That has to do with demographics.

We have certain things going in our favour. One, we are in an industry segment where demand is increasing.

Two, a population with increasing income wants to spend on, among other things, fitness and sportswear.

This has been my experience in India, as well as China.

So, no, we have not been impacted by slowdown.

India has allowed 100 per cent FDI in single-brand retail. Will you look at this option?

We are exploring. . . It's not a priority, though. We are studying the regulation.

Reebok has changed its earlier strategy of offering shoes at around Rs 1,000 and often coming with discounts. Have you completely abandoned that strategy? Your shoes are not affordable anymore.

The current positioning is that of a premium fitness brand. I think we give a lot of value to customers at our price levels.

Clearly, it is not accessible to everyone. Our shoes start from Rs 2,500.

But these are not available at the best locations, where our products start from Rs 3,500 and go up to Rs 10,000-11,000 -- that's a wide range.

But you have nothing below Rs 2,500 ?

Yes, except sandals.

Do you import most of your products? Has the rupee's depreciation forced you to increase prices?

Nearly 80 per cent of our footwear (in terms of volumes) is manufactured in India. Some of those are made completely in India, while there are some in which components are imported.

And, of course, the high-end products are imported. So far, the depreciation has not led us to increase our prices.

That's because of the nature of our business, as we sell in advance.

But, like everyone else, we also have to pass on the burden of depreciation to consumers.

As a company, you are now focusing on women in a big way. Is it because you want to change the current trend that sees only 25 per cent of the sports & fitness wear sold to women?

We have appointed actress Nargis Fakri as the Reebok brand ambassador for the women's range.

This is going to help us grow our women's business in India on the Reebok side.

Our Studio Line range will focus on dance, aerobics and yoga.

This comes three weeks after we announced John Abraham as our brand ambassador. Both Fakri and Abraham will be part of our plan to extend the Fit for Life concept.
But why have you shifted from sportswear to fitness?

The decision to move from just sports is a global decision the company took a couple of years back.

There are a number of players, including Adidas, which focus on sports.

We saw an opportunity globally to go after the fitness market.

Also, there is another reason: The heritage of Reebok, especially if you go back to the 1980s, when it was a fitness brand.

We wanted to go back to the heritage and re-establish ourselves as a fitness brand today.

How do you ensure consumers can differentiate between an Adidas brand and a Reebok one?

In Adidas stores, the segments are categorised as basketball or cricket, among others.

In Reebok ones, they are categorised as training, yoga, aerobics, walking, etc.

There, of course, are overlapping categories, too -- such as running or training, which are both in the premium category, where the decision of the consumer will be based on his personal interest and taste.

Whether he has grown up with Adidas or Reebok will matter.
Image: Erick Haskell; Photograph, courtesy, Business Standard