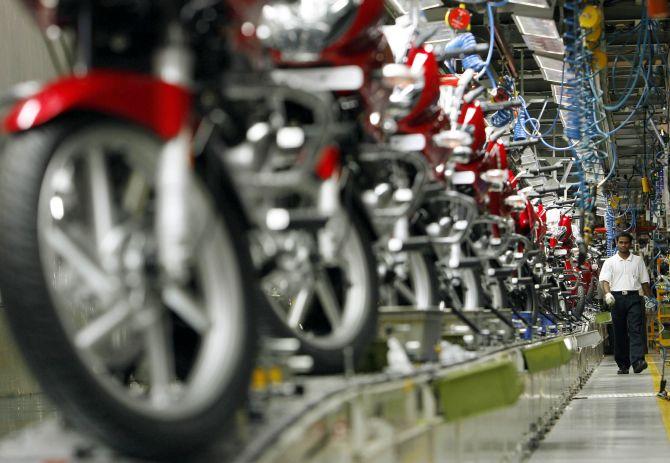 Image:

A worker walks beside newly built motorbikes at the Bajaj Auto Ltd. plant

. Photograph:

Punit Paranjpe/Reuters



For most companies, the quarter ended June is expected to be among the worst in recent times.
However, Rajiv Bajaj (photographed below), managing director of the Pune-based Bajaj Auto, tells Business Standard it would be among the best in his company's history.
Edited excerpts:
How has the quarter ended June been for Bajaj Auto?

The quarter has been very good because of two to three reasons.
There are some anxieties surrounding our results, scheduled for July 23, for two reasons: One, the overall situation of the sector isn't good.
As the business environment is still tough, people are expecting profits to be under pressure. In our case, we have had a lot of volume growth from the CT100 and Platina. ns.
Our 20 per cent Ebitda (earnings before interest, tax, depreciation and amortisation) margin has become so famous that everyone is watching it, when it will fall.
I don't think it will fall.
While the CT100 and Platina have done well, sales of Discover haven't improved.
The results (will) validate whatever corrections we have made to our strategy.
This is because in the past two to three years, we have been asking ourselves if we're doing everything else right -- the entry segment, the Pulsar segment, KTM and three-wheelers, exports and spare parts are doing very well -- what is wrong with Discover?
It is a brand that has done so well till recently.
That was one imperfection in an otherwise perfect picture.
Whatever strategy correction we have carried out is already showing results in the lower and higher segments, which is giving us a lot of confidence.
In the next two quarters, we have to focus our efforts on the mid-segment again.
Will the June quarter be the best ever for Bajaj Auto?
I believe this will be our best quarter ever.
To be technically correct, March 2011 was the only time our profit after tax went into four digits.
But that was because we had a huge component in other income.
We can't say that will be the case this time. Let's see if we can get into the four-digit territory; that is certainly what we've been aiming for.
So, in that sense, I expect this quarter will be our best ever.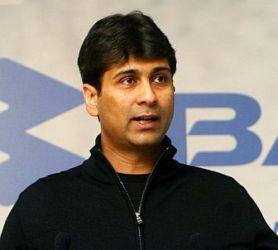 Your target of 23-24 per cent share by April-May has been pushed to March 2016.
There were two reasons for this. One was within our control and the other wasn't. If the sports segment grows, our overall market share grows.
While our share in that segment has remained intact, the segment itself has shrunk; it has not bounced back to the extent we had hoped for. But that will change. I see good acceptance for new models, not just for Bajaj.
The other reason is we had hoped to get the new Discover 125 out in the June quarter but we felt the need for more change to the product.
So, we have started production of the Discover 125 two days ago. The first vehicles are reaching Karnataka as we speak.
Analysts have voiced concern about the low margins of the CT100 and Platina.
Obviously, the CT100 has seen a lower margin than the corporate average; there is no doubt about that.
But there is also a 40-50 per cent increase in volumes. Commodity prices have softened: instead of realising Rs 61-62 to a dollar, we are realising Rs 63-63.5. We are already selling 10,000 AS and Rs (Pulsar), for which the Ebitda is more than the corporate average.
So, the anxieties will be proved wrong.
If you are gaining market share, who's losing?
I think it will be Hero, because they have the largest share. With the CT100 and Platina, we are recording 80,000-90,000 units a month.
Hero has the HF Dawn and HF Deluxe, for which sales stand at 90,000-100,000.
Now, both (Hero and Bajaj) are almost equal.
What is Bajaj Auto's current capacity?
We are operating at 5.4 million (units a year).
But I must clarify this could be a little theoretical. That is because I might say my capacity is 5.4 million but my vendors might not be invested for that level.
For instance, I am very sure if I try to produce at this rate tomorrow, I will not be able to because so many vendors will not be able to supply.
They might not have the equipment, tooling and manpower; so, it might take two to four months. Therefore, 5.4 million is an indicative figure.
Your last annual report said you were increasing capacity to six million units a year.
That plan is moving (forward). Our Pantnagar plant is moving towards 150,000 units a month from 125,000 units.
The capacity at Waluj, currently 175,000 units a month, is moving towards 200,000. So, this new capacity of 50,000 units will raise the overall capacity to six million a year by the end of this financial year.