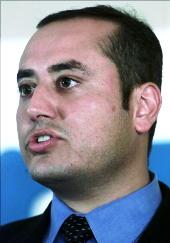 After co-founding Hotmail, Sabeer Bhatia became the poster boy of the information technology and communications industry.

However, other ventures by him didn't see the same success.

On Thursday, Sabeer Bhatia, chief executive and co-founder of Jaxtr, launched a global SIM card for travellers.

He shares his plans with Aneesh Phadnis: Edited excerpts:

Earlier, you had launched a text messaging system which, you said, would be bigger than Hotmail. What went wrong?

We had issues with regulations in India.

We were unable to deliver text messages to everyone. Then, our competitor, WhatsApp, began growing.

It has grown fabulously big.

So, we shifted from Jaxtr SMS to Jaxtr SIM.

The lure for it (Jaxtr SMS) was not as big as we had envisioned, especially in the light of WhatsApp's popularity and regulatory challenges.

What were these regulatory challenges?

We could not deliver text messages within India; we had to get a licence to do that out of the Jaxtr network.

Though we finally got a licence, it had a lot of restrictions.

You win some, you lose some. You cannot always have a batting average of 10/10.

What prompted you to launch the Jaxtr SIM?

Yogesh (Yogesh Patel, Jaxtr co-founder) and I have been working in the telecommunications sector for the last five years.

We have spent sweat and effort in building a network that adds to the voice mode.

This opportunity came about because of radical changes in cloud computing and telephony.

A lot of networking systems and switches have moved to the cloud and a lot of carriers have opened their networks to allow third parties like us, giving us an opportunity to create a network for travellers.

You are a late entrant in the business. Will this have an impact?

We are a late entrant in the actual market.

But in a way, we are the first. This is because we are the only one with this kind of a solution.

Other companies are engaged in re-selling local SIM cards. We have tapped the same market by becoming a travellers' carrier, as one SIM card works in 200 countries.

We are glad someone else discovered the market and showed us the way. We are merely using better solutions to capture the market.

How big is the market for foreign calling cards in India? What revenue and market share do you expect?

About 15 million Indians travel abroad every year. We assume the market is worth at least $750 million, assuming each traveller spends about $50 on telephone calls.

In the next two years, we hope to record 1-1.5 million customers. That would mean revenue of $50-100 million.

Earlier, we had launched the product in the US. India is only the second country in which we are launching the SIM card. Another reason for that is we have a distribution network in India.

Next, we may launch it in China.

What is unique abut the Jaxtr SIM card?

It has a unique price and features.

It is 70 per cent cheaper than others.

We have family plans and facilities for consolidated billing, SMS forwarding, voicemail-email transfer and multiple numbers using one SIM card. No one else offers these features.

What is its revenue model?

It is a pre-paid card. We sell the card for Rs 600.

Every time people top it up, they pay us -- we record a 30-40 per cent margin for each top-up.

We have invested $60 million in data centres, switches, leasing optical fibre and networking systems.

You have set up AMP Technologies in Chennai to offer business solutions to real estate owners in the US. Do you plan to offer these solutions in India?

We offer software and services that help people manage multiple properties online. There is no market for it in India.

Here, no one wants to pay for software.

They just put more people on the job.

Our market is in the US and we already have 30 customers there.

Hotmail's success made you a celebrity. But some of your other businesses haven't clicked. Why?

It takes time to build great companies. We are building our companies slowly and steadily.

We are doing this the right way and making sure our equity investors get returns on investment.

Rather than blowing up money on marketing and advertising and making ourselves known, we are doing it the steady way.

This takes longer, but our companies are doing well and these will grow rapidly.
Image: Sabeer Bhatia