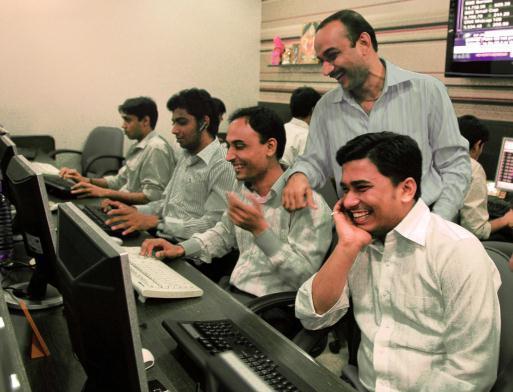 Over the past two decades, India has evolved economically as well as from the market's perspective.
The BSE Sensex, for instance, has gone up nearly eight times, while the markets have seen nearly three complete (up and down) cycles.
On the occasion the release of his book, The Art of Wealth Creation, which compiles 19 annual wealth creation studies, Raamdeo Agrawal, joint managing director and co-founder of Motilal Oswal Financial Services, spoke to Vishal Chhabria on what it takes to make money in stocks, market valuations and earnings. Excerpts:
Looking back at the wealth creation studies, what learning have you gathered?
I started my wealth creation study 19 years ago, when I first heard about Warren Buffett.
We've started incorporating what I've learnt from him and other books, in each and every study. In that process, two years ago, we figured that what works is QGLP – Quality (of business and management), Growth (in earnings), Longevity (of quality and growth) and Price (favourable purchase price of the stock).
That's been the biggest learning, and can be applied to pick wealth creating stocks across industry, size of the company and time horizon.
We have been practising it with the money we manage for people and that's the promise of Motilal Oswal Mutual Fund. Our portfolio is supposed to beat not only the benchmark but competition, too.
That's been the experience in the past four to five years and the process will mature as we do more studies.
How have you corrected the mistakes?
We realised 3-4 years back that 90-95% of the mistakes are committed and investors suffer because of the bad quality of companies in their portfolio.
I was not that conscious about buying only quality businesses. I was willingly to buy anything if it was available cheap and there was growth potential.
I used to have 200 companies in my portfolio; the last count was about 225 companies just before we started practicing wealth creation in 1995-96.
We cleaned up and brought it down to 16 companies.
With a very diversified unwieldy portfolio, you can't know enough about every company except for 5-10. You even don't remember the names.
I have reversed the process. Now first I understand the values and then go to the valuation. I will not compromise on quality and the QGL (quality, growth, longevity) I am looking for.
Unless those three elements are there to my satisfaction I will not look at the valuation.
In view of the QGLP, if you look at the e-commerce space, the valuations are quite high.
How do you go about navigating in that space?
It's very simple. What (companies) I don't understand, I don't even go through the process.
I don't know whether they (e-commerce companies) are going to make money or not. I am not in the game of speculating.
But, then, won't you lose on the opportunity?
It's doesn't matter. I need 15 stocks to manage a diversified portfolio and that's enough. In any case, there are not many online listed companies in India.
You have also been making investments in the unlisted space?
Yes, that's the private equity arm. There it is a different ball game but there also our specialisation is not on the tech side.
But there are quite a few of them, 3-4 that are going to go public this year itself. Like Parag Milk, Powermac from Hyderabad (the largest BTG installer in power plants) Creamica, the biscuit company from Ludhiana.
There are 2-3 more companies which will go public in 2016-17. So, there are companies which are now maturing.
Aren't market valuations expensive?
Currently, earnings are depressed. You have to adjust the broader market valuation to the cyclically depressed earnings. Today, earnings are about four per cent of the GDP.
Historically, earnings range between three per cent and six-to-seven per cent. In the last bull run, it went up to as high as 7.5 per cent.
As the economy picks up, it will go to six-to-eight per cent or even 10 per cent. FY16 will be the first year when actually earnings growth will be 15-16 per cent, which will be higher than the nominal GDP growth.
For FY15, it didn't work out because of the inventory loss of OMCs (oil marketing companies), slowdown and other factors.
Hence, earnings growth could turn out to be only five-six per cent. Even at 80 per cent of the GDP, market cap is cheap. At the peak, it was 1.8 times in 2007.
So, as nominal GDP is growing at 12-13 per cent, my sense says in three to four years, it will be well above one-time.
The stage is ready to get a broad market return of about 15 per cent compounded annual growth rate on a five-year basis. However, the shorter term will become more challenging.
So, what you are saying is right; at current levels of earnings, markets are looking a little pricey. However, the overall market valuation is still not high from a longer term perspective.
By when do you think the earnings will pick up?
I think in the second half, after four-five months of the new Budget. Government expenditure is going to start now because it has got a new cheque book.
The oil price is low and fuel prices have been de-controlled; so, subsidy, and current account and fiscal deficits are under control.
The most important thing is the quality of government expenditure, which would be significantly better than the previous government's.
That is going to make a huge difference, because if you spend say Rs 20 lakh crore (Rs 20 trillion) in an economy and you get only worth say Rs 10 lakh crore (Rs 10 trillion) worth of bang, and now if you spend Rs 20 lakh crore (Rs 20 trillion) and you get Rs 15-17 lakh crore (Rs 15-17 trillion) worth of bang, you will see the difference.
You can see what is happening in spectrum auction, in coal auction, the pace at which they are clearing, is good.
That means even parliament is working well. So, everybody is made to work more and someday the magic is going to happen, how can it not happen?
What kind of earnings growth are you expecting for FY16 and thereafter?
Earlier, we were much more bullish on earnings but it is getting revised every quarter. We're working on it so, for FY16, we might be still saying 12-15 per cent.
Among sectors, which are the ones you like and is it time to put some money on the infra and the cyclical sectors?
We will put money if it is a good business. I don't put in money in companies that have fancy names but not so fancy returns.
Being a good business is more important than the name whether it is online, offline, infrastructure, non-infrastructure or consumer.
If the companies don't make money I don't think we will make money. That is the fundamental thinking.
We don't try to make money in the stock market, we try to make money in the businesses we own.
What could be the possible near-term downside risks for markets?
The market, in the short term, is always irrational. In the long-term, it is fairly rational, almost precise.
In the short term, it can correct by 10-15 per cent, as it has risen so much.
You might have monsoon failure, earnings disappointment for prolonged period, some political missteps by the current ruling government, some geo-political problems, spike in inflation, etc.
So, problems can come from anywhere.
In last week's policy meet the RBI left almost everything unchanged. But with growth anaemic and government doing its bit to enhance growth and lower inflation, how do you read RBI's actions? And, isn't it impacting corporate India?
The governor's job is always very complex. He has to handle the forex balance, ensure exchange mechanism is working well, take care of the growth, etc and ensure there is an equilibrium.
The RBI has cut rates twice by 25 basis points and the governor has time and again said that the long term trajectory is down.
The pace of decline will depend on the data.
If we wait too long for the fair rate to come, the rate to be become low, it will also take a lot of time for the rate to go up.
Because then methodically all the inflationary forces would have been killed and then only you will get a sustained low inflation. It can work both ways.
They (RBI and government) may be looking at setting the ground for a sustained low inflation, which can lead to very high quality, non-inflationary growth.
Inflationary growth is not beneficial to the masses and the poor people. It only benefits few people, industrialists and larger set ups.
What is your view on the primary market in terms of initial public offering (IPO), qualified institutional placement (QIP) pipeline?
The market is slowly reviving. It is still not robust but pipeline is building up and it still takes a lot of time to prepare for IPO. The timelines, somehow, should be further shortened.
Regarding QIPs, they have started coming in. We have two or three of these. And, I think good quality companies are selling through properly. In QIP, you get listed companies which have some track record and research coverage.
Our pipeline (for this year) is better than last year's.
The market condition is also better. the secondary market has done quite well for the past four quarters and that will help some of these companies. However, the biggest seller in the quality IPO market will be private equity companies.
Till about five years ago, PE was not so big. The companies that came out with IPOs were small.
Today, PE players incubate the company allowing it to grow in size.For example, in our first fund we bought a stake in AU Financers for Rs 15-16 crore about 7-8 years back. Today, it must be a Rs 3,000 crore company.
How is MOSL doing and what are the plans for each of them going ahead?
We have done well and the trend continues.
The capital market business particularly in India is very cyclical. We are 60-70% broking, 15-20% in asset management and now we have started housing finance companies which has just completed a year.
It is a full-fledged financial services company and very conservatively managed with a net cash balance sheet.
But everything is linked to the market performance, including investments, which account for 30-40% of our balance sheet, are in the stock market through AMC products, etc.
In last 12 months it has done well, so all our segments have also done well.
As the market picks up, capital market activity picks up in broking, investing, private equity, public equity, I-banking, wealth management, we should do well.
We are trying to build distribution all across India from Tier I to Tier II to Tier III and IV cities.
We are in about 1,800 locations where we have the franchises in about 650 cities, and are going even deeper.
We are also building up our online presence. Unlike in 2007 when broking was a large part, we have more businesses now.
Are you looking to de-risk the business to some extent from markets, given the housing finance foray?
Yes, but that is only one year old. So it will take some time before it has a meaningful impact on providing stability to the earnings.
Right now 100% of the earnings are going up and down with the market. At the end of five years, we will have meaningful profits coming from housing finance which will give a lot more stability to the earnings.
Fundamentally, if for next 5-10 years things work out the way we have designed, it will look very different and far more stable compared to last 5-10 years.
Photograph: PTI