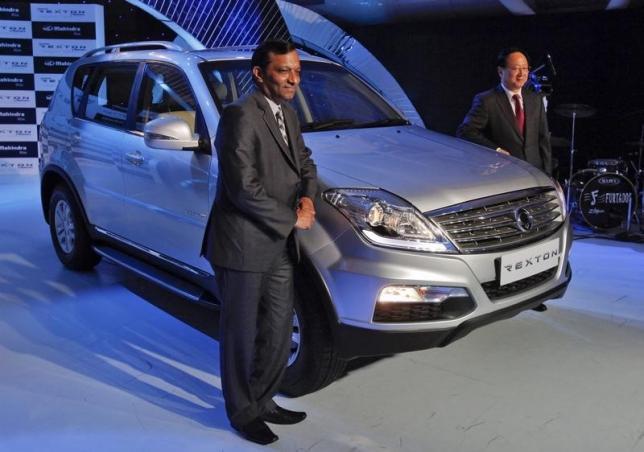 Pawan Goenka (L), President of Automotive and Farm Equipment of Mahindra & Mahindra, and Yoo-Il Lee, chief executive officer of Ssangyong Motor Co, pose with the newly-launched Ssangyong Rexton SUV vehicle in Mumbai. Photograph: Vivek Prakash/Reuters
Mahindra & Mahindra gets the biggest impact of the Supreme Court's ban on sale of vehicles in Delhi with diesel engines bigger than 2,000cc.
Its executive director, Pawan Goenka, spoke on Friday to reporters on the subject. Excerpts
On the ban:
The Supreme Court has given its decision which in interim. There is hope that on the basis on these decision there will be some improvement in Delhi's air quality.
It is also known that SC will hear the case on January 5. I do hope at that time a larger discussion will happen and I hope that the industry would get a fair chance to present its case.
What has happened in the last few days is that there are lots of experts who have suddenly surfaced who seem to know all about diesel petrol, air pollution and health effects.
And they are blaming diesel for everything. It is important we look at scientific data and rather than being emotive about the whole issue.
We are consistently and faithfully meeting all the laws of the land.
We are producing vehicles that meet the requirements that have been set out and the changed regulations either by the Supreme Court or by others and we have met those regulations however difficult or impossible they might be.
But there are clearly technical limits that one cant go beyond. We have to keep in mind that time requirements to do certain things because physics cannot change.
Will impact future investments?
Suddenly if we say that diesel engines cannot be made then those investments are down.
And that does create the same case like Vodafone that got so much air time creates the same problems for us. Because this is not a stable business environment. When we make an investment we have to know that the investment will live out its life.
So clearly those who wants to invest in India in automotive will have to think twice.
On customer impacted by the ruling:
Our immediate priority is to take care of the customers who have already ordered our vehicles. We are looking at refunding the advance they have paid to dealers or giving them different options of vehicles.
On dealer stock:
There are about 1000 vehicles in the Delhi-NCR region which come under the 2000cc and above category.
We are working on how to take these vehicles oput of the NCR area and sell them in areas outside the NCR. We have to replenish these stocks with the TUV3OO and KUV1OO.
On petrol foray:
We are already on our way to to have a strong petrol portfolio.
Today we spoke about the 1.2 petrol engine. We have more petrol engines in the pipeline.
We are currently working on Scorpio and XUV5OO petrol versions.
We will have petrol options available in most of our products within a medium term.
On electric vehicles:
We are the only electric four wheeler manufacturing company in India. We have been struggling for the last four years to get electric vehicles accepted because of the high cost these vehicles have.
But may be because of the current situation government of India will come forward and incentivise these vehicles because there is the only way to clean air quality because of their zero emission.
On downsizing of engines:
We are looking at options and things don't happen overnight.
We will have to look at the long term view that is taken by the SC because we dont want to do something for the short term and change things again.
Right now its too early to say, we have started working on many things but what finally gets implemented will depend on how things pan out from here.
On sentimental impact in rest of the country:
Delhi started with BSII and the rest of the country followed. It does not necessarily mean that it will spread to the rest of the country.
Cannot rule it out though. The attempt to get diesel banned started in 1999. We have to wait and see if this grows into a bigger issue in terms of restriction to automakers in selling vehicles or not.
On raising voice against the ban:
There was a particular show where the president of SIAM was on the panel and he was allowed three sentences in one hour.
The point is when something becomes an emotive issue nobody wants to know the facts and figures and thats what is our frustration. And they are making us (automotive industry) the cause of all problems. Right now people are not in the mood to listen.