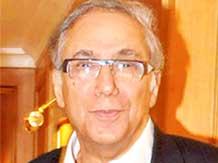 Though the legal battle over Glivec's patentability may be over for now, Y K Sapru, the man spearheading the fight against Swiss multinational Novartis, isn't resting.

Sapru, founder chairman of Cancer Patients Aid Association, or CPAA (which moved the Supreme Court to keep the prices of the cancer drug low), tells Business Standard what the judgment means to cancer patients.
Edited excerpts:

What does a judgment in CPAA's favour mean for patients across the country?
The Supreme Court's judgment on the Glivec case is a landmark one.

This may form the basis for decisions in all patent disputes in the future.

The judgment is crucial because it would ensure there is no ever-greening of patents and Section 3(d) can be used to ensure incremental innovation would not be accepted for drug patents in the future, too.

As far as Glivec is concerned, there is no immediate benefit for patients, because a lower-priced version of the drug is already available.
Still, it is a major victory because if we would have lost the battle, patients would have had to pay Rs 1,25,000 for a month's therapy, against the current Rs 6,000-8,000.

What is CPAA's next objective? Are you planning to take the struggle forward and fight more such cases?
Now, we are planning a two-pronged attack.

First, pick up expensive patented products and get their patents cancelled.

Second, convince the government to allow compulsory licences for such products to allow competition in the market.

This would bring down prices for patients.

We have already started working on one such drug -- Herceptine, used for the treatment of breast cancer.

While the patented drug costs Rs 1,50,000 for a single course, a generic version can be made available at a much lower price.

How many patients would benefit from the generic version of Glivec?

In India, about 2,00,000 people suffer from chronic myloid leukaemia and about 30,000 are added every year. With prices of the drug remaining low, all these people would benefit.

Novartis has claimed it provides the drug free of charge to most patients. Since your organisation works for cancer patients, what is your view on the issue?

Novartis is giving Glivec free to only to selected patients and that, too, through doctors chosen by Novartis. Besides, patients have to take this drug throughout their lives; under its assistance programme, Novartis is giving doses for only one to two months.

Moreover, the availability of generics would ensure more people have access to the treatment through their lives.

Earlier, you worked with Johnson & Johnson. What motivated you to take up this cause?

I was with Johnson & Johnson till 1999. I founded Cancer Patients Aid Association about 43 years ago, when I was still working with the company.

This is because I found cancer patients across the globe weren't able to afford medicines. I realised people were not dying because of unavailability of treatment, but because the medicines weren't affordable.

That motivated me to take up the cause and fight for it.

There is a view provisions such as compulsory licence and Section 3(d) may hit the introduction of new drugs in India. Don't you think that would be a bigger threat to patients with unmet medical needs?

That is not true. Even now, there is no research taking place in India. Not a single drug is discovered here.

There are generics available all over the world and research happens everywhere. Even for generics, companies are required to prove their efficacy.

What challenges did you face during your seven-year-long Glivec battle with Novartis?

I have faced a lot of pressure, both direct and indirect, to withdraw the case.

I have also faced various charges. But the fact is for cancer patients, it is a fight between life and death.

If medicines are made affordable, patients across the globe can be treated properly and unaffordability would be a thing of the past.
Image: Y K Sapru | Photograph, courtesy: Business Standard