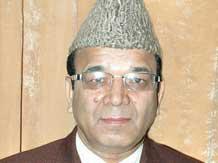 The Empowered Committee of State Finance Ministers got its new chairman on Monday in Jammu and Kashmir's Abdul Rahim Rather.

A regular at the Goods & Services Tax meetings, he faces the challenge of bringing together the Centre and the states on the many contentious issues in the proposed levy.

In an interview with Business Standard, he says building consensus is his priority.

Edited excerpts:

What will be your key priorities as the new chairman?

My first priority will be to build a consensus on GST.

The ultimate aim is to introduce GST in a timely manner. Before that, passage of the Constitution Amendment Bill is essential. Till that happens, GST cannot move forward. Parliament's standing committee on finance will give its report soon and then the EC will look into it.

What is a realistic deadline for GST introduction? Prime Minister Manmohan Singh has said it cannot be introduced by April 2014. Do you agree?

It is possible (to introduce it by next year) but the government needs a two-thirds majority (in Parliament) for that.

If the government gets the required support in Parliament, both for the Constitution Amendment Bill as well as the GST legislation, which is then ratified by half the states, it is possible to introduce the tax reform by April 2014. All political parties need to join hands for that.

Gujarat and Madhya Pradesh have been opposing the GST. How would you convince them?

They are not opposed to GST. They have some concerns which need to be addressed.

What are the major concerns of the states?

Compensation for the Central Sales Tax and also GST are the major areas of concern. States have lost a lot of revenue because of reduction in the CST rate from four per cent to two per cent.

Besides, we have to resolve concerns regarding the threshold for levying GST, the revenue-neutral rate, and dual control, among others.

These are being discussed by the EC and it is possible to address these issues.

Your predecessor, Sushil Modi, had said 80 per cent of the issues regarding GST have been resolved. Do you hold the same view?

We cannot proceed further without a Constitution amendment.

Power has to be given to the states to tax services and to the Centre to collect excise on areas mentioned in the (Constitution's) State List.

I think he (Modi) was referring to the issues discussed at the level of the EC. As far as those are concerned, he is correct.

The EC will leave for a study tour of GST to South Africa this week. Do you plan to implement some of the learnings after coming back?

We will have an EC meeting after coming back. We will also hold a meeting with the Union finance minister.
Image: Abdul Rahim Rather; Photograph, courtesy, Business Standard