'The next one year is not a good time to be in export-led sectors like IT and pharma. Sectors such as financial services, banking, EPC (engineering, procurement and construction), housing, real estate, etc will do well.'
The past eight months have seen vast improvement in the Indian economy, says Edelweiss Group chairman and chief executive Rashesh Shah, bottom, left, who feels domestic-oriented sectors are likely to do better. He tells Ujjval Jauhari that more benefits will follow once the goods and services tax is implemented. Excerpts:
RBI has left interest rates unchanged. Do you expect rate cuts in subsequent quarters?
We expect another 50-basis point rate cut to happen this year after good monsoon. But, in spite of rates not coming down in the past four-five months, liquidity has been very good.
In fact, in the past three-four months, RBI has provided a lot of liquidity. So, money is easily available. Both cost of money and availability of money matter. Even though cost has not come down, availability of money has improved.
What is driving equity indices that are near their highs now?
Over the past eight months, we have seen vast improvement in the economy, which is now visible on the ground. Every industry - be it steel, cement, or roads - is seeing an economic revival.
Along with this, we are seeing non-performing assets (NPA) clean up in banks, although it may take another year's time to complete. We are feeling very positive on the India growth story. Yes, international risk is still there but then if you look at major events such as Brexit, after a brief knee-jerk reaction, indices have continued to inch up.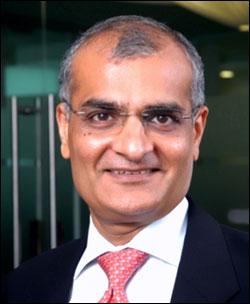 How has the result season panned out up till now?
We saw an improvement in the last quarter. This quarter is more so. This quarter will be good. So, barring a few industries that are still struggling, like power, and to an extent banks that are providing for NPAs (non-performing assets), all others will do better.
The stress on some sectors that I named is because of the past history. In a few quarters, once they are through with provisioning etc, they will start showing improvement.
How do you look at IT, pharma and other export-oriented sectors?
IT (information technology) will see slower growth. All export-led industries will remain slow. Pharma will also be in some stress and, looking at the FDA (US Food and Drug Administration) issues, it will take another year before we start seeing growth rebound. The next one year is not a good time to be in export-led sectors.
So you feel domestic-oriented is a better place to be in?
Yes, now the opportunity is in the industries that are India led. Sectors such as financial services, banking, EPC (engineering, procurement and construction), housing, real estate, etc will do well. We are seeing investment in renewable energy, roads, ports and railways. There are many opportunities that lie there.
Even defence procurement will see good momentum and investments will be coming back. We are seeing a lot of traction in housing finance, distressed assets, asset management and wealth management in our business, which indicates a lot.
So concentrate on pockets, consumption, and services - all of which will do well. With the Pay Commission benefits and good rainfall, more benefits will flow. Once GST is implemented, more positives will accrue.
Can we expect an earnings re-rating after this quarter?
We may see some re-rating soon. If monsoon is good and GST goes through, re-rating will happen.
Edelweiss Group is the principal sponsor of Indian contingent for Rio Olympics. What has prompted a financial services company to do so?
Having built a strong foundation through geographic expansion, focus has been on reaching out to different consumer segments. Our retail businesses - that is, life insurance, retail finance, broking and advisory are now at an inflection point, launching several cutting-edge products. There is a need to create a higher degree of awareness for these businesses.
Edelweiss Group has always been a sports evangelist and has had a long-standing association with sports - association with Olympic Gold Quest since 2009, supporting talented athletes like Mary Kom, or recently signing on Saina Nehwal as our brand ambassador, etc.
Photograph: Danish Siddiqui/Reuters