'One thing we need to monitor is the bank recap process.'
'It is time to lock in gains.'
'If the Indian markets correct, foreigners will buy now.'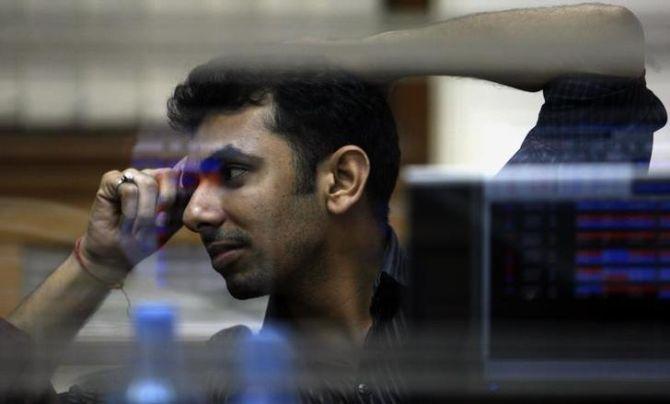 India has been one of the best-performing markets in calendar year 2017 (CY17).
CLSA managing director & equity strategist Christopher Wood, and executive director Mahesh Nandurkar tell Puneet Wadhwa that the markets could give a return of around 10 per cent from the current level over the next year.
They also share their sector preferences and how India stacks up amid recent global developments. Excerpts:
How long can the global equity markets, including India, go up inflated by liquidity?
Wood: If you are a fund manager and have been compensated by the performance of the markets over the past year, I would advise hedging of portfolio.
It is time to lock in gains in case you have been invested all through this year.
Some of the news flow from West Asia is destabilising, and given this, I would lock in some gains.
The US market remains spectacularly overvalued and that has been the case for a long time.
Asia is still in the midst of a long-term outperforming trend.
I will buy if there is any pullback in Asian equities.
The Indian (equity) story is looking a lot better ever since the government announced the recapitalisation plan for public-sector banks (PSBs).
The Indian markets have done way better than anyone would have expected, given the lack of earnings growth, and weak investment data and lending growth.
However, there is a limit to which the markets can go up in the absence of a credit cycle recovery.
Do you see any reason for the Indian markets to correct?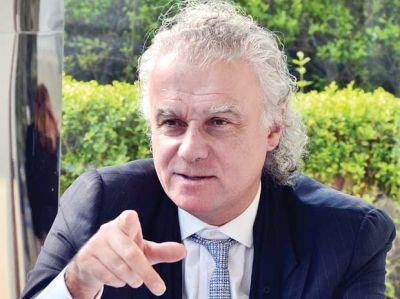 Wood: (Left) They would correct if the fund flows were to stop or slow down.
However, most people seem to think that is not going to happen; in that case, the markets will remain very resilient.
One thing we need to monitor is the bank recap process.
We do not want to see the deadlines extended.
Another thing we need to monitor is when these stressed assets would come to the market.
There will be some political noise and defaulting borrowers would try to buy back their assets.
At a time when mutual funds are lapping up Indian equities, what do you think is keeping foreign investors (FIIs/FPIs) at bay?
Wood: Foreign fund managers have not really participated much in this year's move.
There was a negative pushback from foreigners as regards Indian equities at the start of the calendar year.
That is because they have been buying in China, which is outperforming.
So, they sold in India and bought into the Chinese market.
That said, foreigners are still overweight on India, but much less than they were last year.
But now, they see light at the end of the tunnel, amid recent reforms, so they want to buy Indian equities on a pullback.
Until the government had announced bank recap, foreign investors had been becoming increasingly nervous; they saw the markets being driven more by mutual fund flows.
How do you read the recent macroeconomic numbers – gross domestic product (GDP), index of industrial production (IIP), etc? Are these a cause for concern?
Wood: I am not too focused on the macro numbers. I believe the roll-out of the Goods and Services Tax (GST) would lead to all sorts of distortions and have teething troubles.
The problem with GST in India is its multiple rates, which will create problems.
The bottom line is that if the Indian markets correct, foreigners will buy now.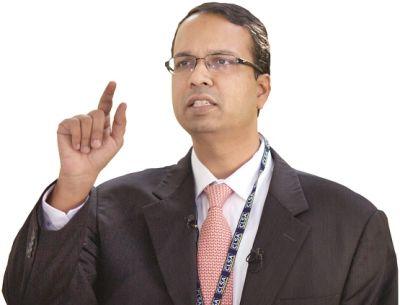 Nandurkar: (Left) Fiscal concerns are rising. The GST collections, we think, are falling short of target. Besides, there has been a rebalancing of rates.
All this is getting reflected partially in bond yields.
So, what's your one advice to the Indian investor right now?
Wood: Stay invested and buy on pullbacks. If you see the Indian stocks correcting by a third from their peaks, buy more!
Well, that is assuming you are already invested.
In any bull market, there will be short sharp corrections where prices can correct by a third from their peaks.
I would advise to cut bond exposure and invest in equities.
Do you see the government revising the fiscal deficit target going ahead?
Nandurkar: I think so, unless the government is able to pull back massively on the other expenditure.
The new target could be around 3.5 per cent (against the current3.2 per cent).
This can happen as early as December 2017.
The markets are not factoring this in fully at the current levels.
Photograph: Arko Datta/Reuters