Three out of every four programs used in India are pirated losing software companies s staggering half a billion dollars every year. But that doesn't daunt  Jeffrey Hardee. As vice-president and regional director at Business Software Alliance, a non-profit watchdog representing leading developers, Hardee is on a mission to roll back the rising tide of piracy in Asia-Pacific.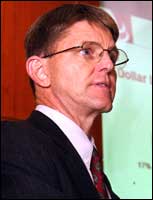 Sure, it's an uphill task, but someone's got to do it. And who better than an eco-pol grad from Duke University, a master's degree-holder from the LBJ School Of Public Affairs at UT Austin and a former American Motion Picture Association vice-president who oversaw copyright protection in the Asia-Pacific region.
Priyanka Joshi caught up with Hardee, who was in New Delhi last fortnight  to ask him just how bad the problem of pirated software was in India and what BSA was doing about it.
Excerpts:
What is BSA  doing to thwart software piracy in India?
We are a non-profit body that represents major software publishers and also a few hardware companies worldwide. Our challenge, globally, is to make a safe, legal digital atmosphere. We have recently started our operations in India, but have a good track record with industry bodies like NASSCOM, CII and several leading names in India like Microsoft, Apple, Sybase, AutoDesk, Adobe, IBM, Cisco and Intel.
According to a BSA-IDC global software piracy study published in 2004, India had a piracy rate of 73 per cent in 2003 with losses amounting to $367 million. Piracy rate is the amount of software pirated as a percentage of total software installed in each country.
This figure is 74 per cent this year and the consequential losses total $519 million for the industry. It's really disappointing to see an increase of one per cent despite our efforts. We are spending a lot of our time in promoting awareness about piracy at every level - consumer, corporate and even at the government end.
We all know that piracy is rampant...
Rampant would be the wrong word. It is everywhere. India's $17 billion IT industry is growing at 50-60 per cent and pirated software can be a big depression on this growth. Bootleggers have already caused a $519 million revenue loss by copying and selling, and with unauthorised bundling with hardware.
The only hope is that last year, the worldwide rate of personal computer software piracy decreased by one percentage point to 35 per cent. This occurred despite an influx of new PC users from high piracy market sectors -- consumer and small business -- and the increasing availability of unlicensed software on peer-to-peer file-sharing sites.
The study also finds that online piracy poses a major threat to most countries. Without strong copyright laws and enforcement of those laws, online piracy - via warez groups, spam, auction sites and P2P systems - will proliferate alongside Internet usage.
How does APAC stack up against developed markets?
In 2004, the world spent more than $59 billion on commercial packaged PC software. But our study has found that software worth over $90 billion was actually installed. In a more basic sense, we can say that for every two dollars' worth of software purchased legitimately, one dollar's worth was obtained illegally.
Compared to other countries in the Asia-Pacific region like China, Vietnam, Indonesia and Pakistan, India makes a better picture. The BSA-IDC study also adds that software piracy rates in Asia-Pacific range from a high of 92 per cent in Vietnam to a low of 23 per cent in New Zealand.
In the list of regions with the highest average piracy rate, Asia-Pacific ranks fourth, the top three positions being held by Latin America, Middle East/Africa and Rest of Europe (i.e., non-European Union), respectively. The Asia-Pacific region ranks lower in piracy than other emerging regions despite the fact that three of the top five pirating countries (Vietnam, China and Indonesia) are in the region.
The reason for this is that two large countries with relatively low piracy rates - Japan at 28 per cent and Australia at 32 per cent - bring down the average.
How does India stand to benefit from reduced piracy?
Talking about India, a 10-point drop in piracy levels (around 2.5 per cent) will contribute $2 billion to GDP and create 48,435 new jobs. Besides, it will also add a whopping $1.6 billion to local industry revenues.
If we include a wider region, say the Asia-Pacific region, a 10-point reduction in piracy rates could add $170 billion in economic growth and 1.1 million new jobs by 2006. The figures are mind-boggling and are the driving force behind organisations like BSA.
Many youngsters see software as a commodity; do you have any programmes to spread the word about piracy in schools and universities?
In India, the major driving forces for the use of pirated software are the lack of a legal framework, a taken-for-granted approach, large use of assembled PCs and refusal to treat intellectual property as an asset and not as a commodity.
With 54 per cent of India's population under the age of 25, this target audience will be responsible for heading software usage in the future. We are running school education programmes wherein we organise camps and sessions to make children aware of piracy in the software sector. We will run similar programmes in colleges and universities, too.
Awareness plays a very important role here, as many of the young users are unaware of the difference between pirated and original software, and indulge in acts such as casual copying which amounts to a legal offence.
For us, security, intellectual property protection, e-commerce, Internet privacy of a user, identity theft and online file sharing are important issues. These have to be resolved before the IT industry can evolve.
Powered by