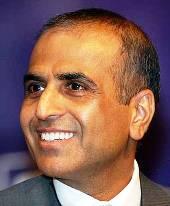 In an exclusive interview to NDTV Profit, chairman of Bharti Enterprises, Sunil Mittal, hit out at what he called the irrational pricing of spectrum between older and newer players.
He said older players are being asked to pay astronomical sums to renew 2 G licenses, while newer players are getting spectrum at 2002 prices.
This he said will not only kill the telecom dream, but is unprecedented anywhere in the world. Excerpts:
NDTV: The regulators say that when your license comes up for renewal, the first license is going to come in 2014 and that's for the next 20 years. Again the spectrum which you are going to get 2G spectrum at, will be at 3G prices?
Sunil: I cannot live in a position where a license has been granted at 2008 at 1650 crs, and the license you will renew in 2010-11-12-13 whenever they come, will be at a price of 16,000 crs.
You cannot run two licenses in the market, one at 1,600 and one at 16,000 crs. There's no one in the world that can take this irrationality and survive.
I am happy if the government is having a punitive regime in this industry, which I believe they should not but then let it be punitive for all, that's all I would say.
NDTV: It's not that the newer players who are coming in for the past couple of years are favoured? They are paying much less than the price you are paying.
Sunil: And we have heard enough on that. No they are paying much less; I paid this price in 2001.
They are paying this in 2010. In actual term they are paying fraction of what I have paid. So, all I am saying is that this inconsistency must be exposed that we paid the same price 7-10 years back, the same price is paid by 6+7 new licenses.
Now you are asking us to pay ten times more than that. It is inconsistent, you cannot have that.
NDTV: This could literally kill the big telecom dream in India if they carry on like this.
Sunil: Not only that, this is something unheard of that you will have two set of rules. That has never happened in any other industry and I am hoping that won't happen here too.
Sunil Bharti Mittal will speak to Sreenivasan Jain on NDTV's POWER OF ONE on Saturday July 24 at 9.30 pm