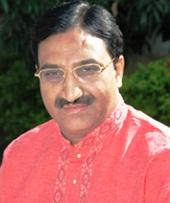 In June, Uttarakhand Chief Minister Ramesh Pokhriyal Nishank will complete one year in office.
In an interview with Shishir Prashant, Nishank talks about controversies plaguing his government as well as developmental projects and his plans.
You will complete one year in office next month. Are you satisfied with what you have achieved?
A lot of work has been done and more is being done. We want Uttarakhand to become an economically stable state. Very soon, you will see the difference.
What are your priorities?
We are working for overall development of the state. Our main focus is on villages, for which we are working hard. The Atal Adarsh Gram Yojana, in which over 670 villages will be provided modern facilities, is on top of the agenda. We hope to complete this work in the next two years.
But you have been dogged by controversies, especially related to allotment of small hydel projects. The Congress wants a Central Bureau of Investigation probe. What has actually happened?
The Congress government allotted projects with a capacity 10,000 MW during its tenure. The government could have earned a royalty of Rs 500,000 per MW.
But the projects were allotted without taking any policy decision. It is a scandal for which the Congress must apologise. We, on our part, brought a comprehensive policy under which preliminary allotments were done. But it (the policy) is not final. We are still in the process of making final allotments.
There were some concerns regarding un-experienced companies getting hydel projects and top companies being left out.
Let's assume these companies have no experience. However, we must consider that they are ready to invest. In case they are unable to build these projects, the money that will go down the drain will be theirs, not ours.
The interests of the state have been safeguarded. But these companies have cleared the test of being financially and technically sound. This is a part of our power policy.
But there are reports that over 16 companies have withdrawn.
The Congress created a ruckus over this. Who would like to stay in a scenario where they are being branded as mafia. Nevertheless, we have allotted these projects in such a way that all the power generated by the companies will be for the state only.
In Himachal Pradesh, the companies have been giving only 60 per cent of the power produced to the state. But we are getting 100 per cent. Which is better? Of course, our policy is the best.
What strategy you are adopting after the Centre scrapped two key hydel projects in Uttarakhand and suspended NTPC's 600-MW Loharinag Pala project?
Only the Ganga River Basin Authority has the power to take a decision on these projects. We have taken up the issue with the Centre. In the meantime, the Centre must compensate Uttarakhand with 2,000 MW free power.
The power scene in the state is turning bleak
We have made some short-term and long-term plans. We will try to complete the projects in time so that we get more power.
Since power has become a big issue, do you think generation will improve in the next two years.
We are working on the 2008 power policy. We will see to it that all power projects are completed in time by holding regular meetings with the Uttarakhand Jal Vidyut Nigam Ltd, which is our main power generation company.
What is the power equation within the ruling BJP, especially in the wake of meetings between rival party leaders B C Khanduri and Bhagat Singh Koshiyari.
Both Khanduri ji and Koshiyari ji are our senior party leaders. I don't have any problem with them. I go to their homes every day to chat with them. Where is the problem?
There are no differences. In the last Assembly byelection, our little-known party workers comfortably won against top leaders. We have excelled in the past and will continue to excel in the future.
What is the position of Bharatiya Janata Party in Uttarakhand?
The Congress is not happy after I took command. The ruckus that is being created by the Congress is linked with the good performance of my government.
There is no groupism in BJP. We are working unitedly for mission 2012, when Assembly elections will be held. We have also announced vision 2020 under which different sectors like tourism, herbal, power and industries will be given preference.
Under the vision, we are preparing a long-term strategy so that Uttarakhand can become a model state.
Image: Ramesh Pokhriyal Nishank