'GST cuts will boost demand. That is a good sign. Apart from this, rural markets are also seeing an uptick in demand.'
'Consumers there want to be serviced by good brands, which are affordable.'
'All of this bodes well for the market and for organised players in particular.'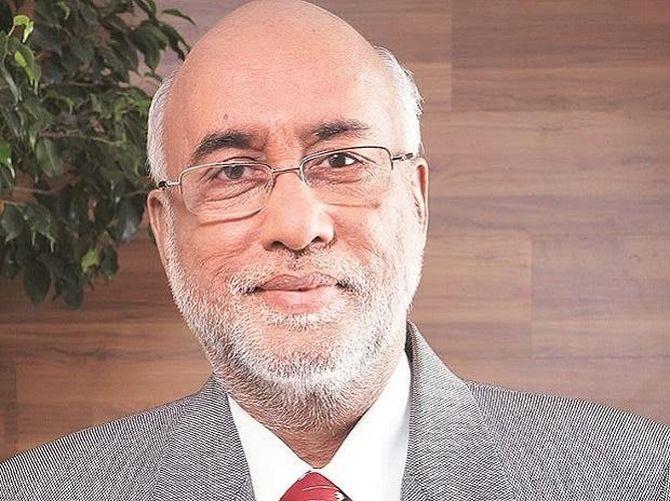 Mumbai-based Bajaj Electricals reported around 98 per cent jump in net profit for the June quarter on the back of its performance in the consumer durables business, which gives it nearly half its turnover.
Revenue growth of the consumer durables business for the June quarter increased 27 per cent, led by strong volume growth.
Shekhar Bajaj, chairman and managing director of the firm, explains to Viveat Susan Pinto on what led to this sales jump, besides throwing light on the benefits accruing to the sector on account of the GST rate cuts in appliances.
He also spells out his M&A plans after buying cookware brand Nirlep. Edited excerpts:
Consumer durables was a clear outlier in the June quarter. What led to the double-digit value and volume growth?
There were a couple of factors at work. One is the base quarter last year, especially, in the month of June, saw destocking in the run-up to GST. So, there was a (low) base effect at play this year (in the June quarter).
So, there was a base effect at play this year (in the June quarter).
But, we have also improved distribution significantly in the last one year and some of the growth visible in the consumer products business this year (in April-June) is a result of this.
We have taken distribution reach from about 80,000 outlets to a 100,000 and now to 162,000 outlets.
Plus, there is an uptick in consumer sentiment, especially in rural areas.
All of these have been contributors to growth this quarter.
Your assessment of the durables market over the next few quarters. Will the GST rate cuts in appliances give a boost to consumption?
It will help because the GST rate cuts have to be passed.
And the 10 percentage-point cut (in GST for appliances) is not a small number.
Consumers who were postponing purchases will be encouraged to come back into the market.
So, the GST cuts will boost demand. That is a good sign. Apart from this, rural markets are also seeing an uptick in demand.
Consumers there want to be serviced by good brands, which are affordable.
All of this bodes well for the market and for organised players in particular. So, I am excited about the growth prospects.
What about acquisitions? Will you look at more regional assets after buying cookware brand Nirlep in June?
I am open to acquisitions, but the valuations have to be reasonable.
Also, there has to be a strategic fit when doing acquisitions. With Nirlep, we got a strong foothold in the non-electric kitchen appliances category.
Nirlep is a known non-stick cookware brand, which has been around for 50 years.
So recall for the brand is strong, especially in states such as Maharashtra, where the company is based.
Besides, the acquisition also gives us access to Nirlep's manufacturing plant in western India.
The deal size is Rs 42.5 crore for acquiring the entire stake in the company.
It is a fair transaction, given that Nirlep's turnover was declining over the past three years.
So, these kind of deals, which are fair and reasonable, would attract us. However, we are also growing organically. So, acquisitions for the sake of it makes no sense.
Last year, you extended your brand license agreement with UK-based Morphy Richards. Are you open to more such tie-ups and alliances in the future?
Our association with Morphy Richards goes back 16 years and the five-year extension allowed us to consolidate our position in the market.
Kitchen appliances is a fragmented market here.
A premium brand such as Morphy Richards allows for creation of a unique space and identity in a cluttered market.
As far as more tie-ups and alliances go, we have had joint ventures in the past.
Such as with Philips for over five decades in lighting, which broke up in 2006.
We also had a JV with US-based Strix to produce electric kettles; also with Hind Lamps.
We have had experience on the JV front. We have learnt from these experiences.
What about manufacturing? Will you continue to outsource or manufacture in house as consumer products go?
We have manufacturing plants for some of our categories, including fans in Chakan near Pune; for lights in Nashik, and water heaters in Noida.
From about 10 per cent now in terms of manufacturing in house, we would like take the figure up to about 25-30 per cent in the next three years.