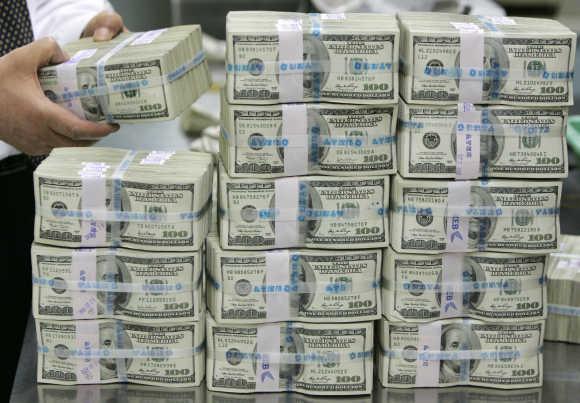 'The latest Index of Industrial Production numbers show some recovery'.
'Exports, together with domestic market, will have to be sustaining growth.'
Nirmala Sitharaman, below, left, has taken up the issue with the Prime Minister's Office and finance ministry and would pursue it even further, she tells Subhayan Chakraborty, Archis Mohan and Indivjal Dhasmana.
Edited excerpts:
You have said fall in exports is bottoming out. How do you see exports doing in the next few months, particularly in the context of negative growth in the past 18 months?
Going by the DGFT (Directorate General of Foreign Trade) report, we can conclude that the fall in exports has definitely been arrested.
It isn't an off the cuff remark by me, but is borne out of the DGFT data.
Adding to that is the word of mouth from the industry.
The feedback from the industry suggests that new markets are opening up where Indian products are reaching.
I did say, with a certain sense of caution, that the fall has been arrested, but for exports to climb steadily, we need to keep our fingers crossed.
The latest data show that among exports, the share of manufacturing exports has gone up by over 9 per cent in the past three years.
The manufacturing sector exports, from 2013-14, to 14-15 and 15-16, have increased from 60.25 per cent to 63.95 per cent to 69.21 per cent, respectively.
This means, between 13-14 and 15-16, manufacturing sector exports rose by 9.21 per cent.
But that could be because of lower oil prices. . .
It could be.
But the fact is that manufacturing goods going out in such (large) numbers is in itself a very solid message.
Manufacturing sector is still not doing as well as we would want it to, although figures show that it is moving in the right direction.
There are, therefore, indicators from different sources that exports are giving some green shoots.
Exports are not falling anymore.
For example, I was in Russia recently.
There is a keenness among the Russian authorities to have the FTA (Free Trade Agreement) negotiations with the Eurasian Economic Union (which consists of Belarus, Kyrgyzstan, Armenia, and Kazakhstan with Russia leading the pack and countries like Tajikistan might come in).
A joint working group, tasked with looking into the possibilities, has given its report.
It has been shared with the member countries, we have also looked at it and now it is with the secretariat of the EEU.
Substance of the FTA is in the following context. We have invested heavily in the Chabahar Port.
The freight and rail corridor has received maximum attention in the North-South Transport Corridor.
It would make the movement of even perishable goods much quicker to the landlocked countries of EEU.
With us putting in so much investment and Iran showing so much interest, central Asia has suddenly woken up to this.
I am looking forward to greater engagement on this.
Of course, negotiations will take time but the joint working group report is very energetic.
I believe there won't be too many issues about the number of 'give ins' and 'take aways' and it will happen comfortably.
These areas have the potential to act as new markets, owing to a lot of demand for Indian goods.
I was in Belarus sometime back.
There is a lot of interest in asking India to bring in goods like pharmaceuticals, engineering goods, agricultural products and dairy (milk and milk products).
It's a big opportunity with immediate bearings on our exports.
Apart from difficult conditions for global trade on account of low demand and sluggish growth, Indian exporters also face a problem due to the exchange rate since our currency continues to be overvalued. Are you in talks with the Finance Ministry and RBI to address this issue?
Most of my pleading (for commerce related issues) happens only with the Finance Ministry.
I don't recall any instance of engaging directly with the Reserve Bank, apart from some specific and limited context of exporters wanting some foreign currency.
Monetary issues have been negotiated through the Finance Ministry only.
Exchange rate not helping us in our exports and remaining rigid for over one-and-a-half years has been a matter of concern which I have voiced several times not just to the Finance Minister but also to the Prime Minister's Office.
I don't think they are rejecting our suggestions.
I shall pursue it further.
Do you see any ray of hope in this regard?
Exchange rate and the high interest rates have figured repeatedly in my interaction with the industry, particularly the small and medium enterprises, which constitute more than 40 per cent of our exports.
They continuously voice their grievance that the credit cost is just beyond their limits. . . these people don't have access to international funding.
SMEs located purely in India give us a lot of jobs and quality exports.
In fact, there are three or four sectors in which Indian SMEs produce at least one component.
For instance, a car anywhere in the world has at least one component made by Indian SMEs.
For such SMEs, credit is expensive.
So, exchange rate is one thing which has been rigid and not helping our exporters, cost of credit is another which is not helping SMEs for whom no other access to cheap credit is available.
Till about 15 years ago, textiles used to be our biggest export item. Now it is the fifth largest. With the new textiles package being announced by the Cabinet, how is the Commerce ministry planning to augment textiles exports?
I heartily welcome the package.
To a large extent, I accept the comparison with Bangladesh.
Therefore, we have to do things to gear up. . .
But we also have to understand that Bangladesh has had labour related issues, which probably were not taken up at international level, otherwise they would have been a big concern.
India can't be in that ground.
We need to have due diligence and compliance in terms of labour related matters.
I think this package addresses that aspect also, in giving fixed-term employment.
Textile owners are able to seasonally export a large quantity of goods but post-season they don't have many orders in hand.
That has been the worry of textiles sector and I am glad that this package has removed that anomaly.
Also, we have said that if a textiles unit is employing a certain number of people, government will contribute the employees' provident fund.
Already, there was a certain contribution. We have added more to provide for the total Employees Provident Fund of such employees.
My ministry was involved in the consultation process. We shall work together with the textiles ministry to ensure that markets are identified and benefits are passed on.
Even with the European Union, where the GSPs (generalised system of preferences) are the ones which worked in favour of countries like Bangladesh and Pakistan, we will have to recapture the market.
Have you started talks with such countries?
Well, with EU, it is part of the FTA that we will need to negotiate.
Is the government ready to come out with the exports target for this year?
It is one thing to have my targets announced every now and then.
But I also need to make sure that genuine problems of the sectors are addressed.
At the moment, I'm not focusing on announcing the targets but on seeing that the sectors which need handholding are given so.
What would you say about India's existing FTA negotiations, considering the slow progress in most of our engagements?
To compare, even if China has a 100-member team and our team consists only 25 people, my 25 have not failed me.
They have competently given me enough inputs to negotiate.
In RCEP (Regional Comprehensive Economic Partnership) for instance, even the Chinese have not been able to finalise the RCEP.
Except for TPP (Trans-Pacific Partnership), and Russia, Vietnam FTAs, other regional agreements are not moving fast enough. All countries are looking at their national interests.
There is a perception that you have deep reservations on FTA. Is that right?
My world view is not limited to my own assessment of what is good for India.
A whole lot of consultations happen before we take a call on any FTA negotiation.
So, it does not matter what world view I hold but it has to be influenced by, tempered down by and also accentuated by the needs of today's India.
I am in the business of having to talk about FTA, how could I be anti-FTA? FTAs are part of my job.
Let me take a step back to explain.
After we came (to power) in May 2014, we reviewed the FTAs signed by the previous governments.
All concerned sectors were represented and the FTA review process threw light on many things about which we in the ministry did not even speak about.
It was spoken by others. We took all of them on board.
Simultaneously, we looked at the running negotiations which were on the course, whether with Canada, the EU or Australia.
To my bad luck, Canada went through an election process and was not interested to engage during elections.
My counterpart Chrystia Freeland has said that we should start talking about it.
I plan to visit Canada by early October. We were negotiating with Australia.
They had Australian prime minister coming here and saying that by December 2015, FTA should be signed.
But Australia went to polls and has elected a new prime minister.
Regarding European Union, initially when negotiations started in early 2015, we were exchanging dates.
We could have started off.
Then, we had to hold back because of the drugs-related issue which we thought was unfair.
After the German chancellor's India visit, there was a sense that 'alright, we can start now'.
I wrote to my counterpart, asking for a date.
I met her in Paris, where I went for a UNESCO meet and a World Trade Organization conference.
I again asked for a dates.
They have never said it, but I feel that they were waiting for Brexit vote. So, with elections in Canada and Australia, and Brexit vote in the EU, how was I expected to move fast? As India's trade minister, do you have any concerns over FTAs?
My concern, till recently, was services, an area where India has advantage. Internationally, and, therefore, regionally, there was no framework within which we could talk on this.
But I am glad that in a WTO meet of 23 trade ministers in Paris, director general of WTO agreed to India's suggestion that there should be a framework for services and asked us to give a paper.
Our ministry has worked on the paper and will submit it soon.
The WTO agreement talked about the merchandise goods and went to the extent of adding trade facilitation agreement.
Now, if you don't have the framework or the institutional mechanism for it, or formulae for it, you will not going to be talking about trade facilitation in services.
As a result, movement of persons is affected.
Are you suggesting that the issue of services has by and large been addressed?
Not yet.
WTO will have to go through the whole process of receiving our paper, putting that to discussion, making all countries agree to some kind of a framework and then probably come out with trade facilitation agreement in services.
At that stage, in multi-lateral forum, we will have something to fall back on if countries don't honour the commitments.
Now, every negotiation on services is like you are full throttled.
You don't end up getting what you want out of it. Visa regulations can hamper you even where agreements say you are welcome.
Agreements would say Indian experts are welcome, but when it comes to providing visas for them, countries make it considerably expensive or make it restrictive in terms of the number of people who can come.
So, I wanted a framework for it. That was the concern I had earlier.
But no longer, now that WTO has agreed to discuss it.
Is it correct to say that we have hit a blind wall in RCEP because of our differential rates of tariff that have been attacked by others in the latest meet?
Every negotiation depends on what you give and what you get in return, reciprocity being the governing principle. RCEP is one such negotiation where India repeatedly goes in with initial offer. We were one of the earliest to give initial offer in goods as well as services.
Many countries have not even given their initial offers.
A few countries gave loose initial offers and said they we would fine-tune them, going forward.
I am not allowed that fine-tuning. I have given initial offer.
And as we go along, they tell me I can't have differential.
I wasn't told that in the first place. I made three offers with complete logic.
I have got current agreements in goods and services with ASEAN. Can I make the new offer lesser than that?
No, I can't.
If anything, I can make it better.
So that is my core ASEAN component. For the countries with which I already have FTAs -- Japan and Singapore -- I can only have better ones.
The third one is those countries with whom I have no FTA -- Australia and China. Even without FTA, Chinese imports have made inroads into India.
I have to keep that in mind before deciding how much I offer to these countries.
With that framework explained, we went for negotiations. Later, we were told this was not done. Initial offer that I made was acceptable, now they are pushing me backwards.
Take the other picture into account.
They don't have objections about loose offers made by other countries. So, if RCEP is not moving, is it India (to blame)?
On Goods and Services Tax, how hopeful is the government of its passage in the monsoon session? What will be its ramifications for exports?
The Finance Minister is very hopeful of seeing it through.
He has also said that we will engage with the Congress. I hope reason will prevail.
As for impact on exports, first of all, India opens up as one market because of the Goods and Services Tax.
Then, the rate at which we have ratified the trade facilitation agreement, the investment we are making towards improving infrastructure logistics in India, I have a strong feeling that GST, together with these things, will be a very good mover and big catalyst for exports.
Your academic training has been in international trade. Philosophically, given the myriad problems related to trade, do you think there is a need for a re-look at the paradigm of trade being the gateway to economic prosperity?
We have to place it in context. For smaller countries, exports, to an extent, were a very powerful engine of development.
Now, with the experience of post-2008, and today, when demand is not showing any signs of revival, even a country like China is looking at export related issues.
They are now looking at a paradigm shift and moving from an export-driven economy to a consumerist economy.
They are therefore refocusing on regenerating domestic demand, domestic purchasing and want their industries to cater to that.
In other words, they do not want to import more, they want to serve their economy as much as exporting.
Therefore, for large economies such as India, exports cannot be the only driver of growth.
Exports, together with domestic market, will have to be sustaining growth.
Exports were given good priority because domestic market alone could not bring in those extra valuable dollars needed for currency payment.
I strongly believe that domestic demand and domestic market are important factors contributing to a country's development, without foregoing on exports. It has to be a blend of both.
If you look at last two years, many statements have been made on FDI and FDI in retail.
We have seen a movement; signs of greater clarity and gradual opening up, even at the cost of taking on domestic trade lobbies.
Can you give us more perspective on how domestic foreign direct investment policy is moving, particularly regards to retail and the Apple issue?
Second, the latest Index of Industrial Production numbers show some recovery but the capital goods sector has seen contraction of almost double digit levels for seven months.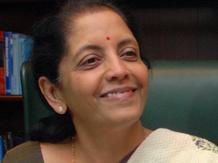 How do you see these two?
Everything in FDI was done keeping Make in India in mind, a stated policy of the government. Even before we came to power, it was announced that manufacturing sector's contribution to gross domestic product will be increased to up to 25 per cent.
I am glad that the latest CRISIL report says that we are moving in that direction.
Make in India was also brought in with the objective to create more jobs in services sector, other than IT and IT-enabled services. Look at tourism, medical tourism, paramedics, etc which have not got their due share but we talk of services as though it's synonymous with IT and ITeS.
On capital goods, the revival is happening. All of us are searching for green shoots.
Fall of exports has been arrested and you will see green shoots there. . .
Month-on-month signals will have to be carefully subsumed in the scheme of things but it shouldn't frighten us.
Nobody expected a BJP government to make this big jump in FDI policy.
But it is consistent with our manifesto promise that we would not touch multi-brand retail.
But, in e-commerce, you have allowed 100 per cent FDI.
In e-commerce, what we have done is to give a level-playing field which was already given to the brick-and-mortar firms in terms of single-brand retail.
Only to that extent, we have facilitated e-commerce. So, FDI had to be in line with Make in India.
Going forward, FDI policy should be seen in which context?
FDI policy should be seen in light of Make in India, in line with our manifesto.
I am glad to say that initially FDI came in for services sector, IT and ITeS. Now, it is coming in for many other sectors.
I was in Russia and the interest the Russians have evinced in defence and nuclear is definitely very significant.
We are talking about manufacturing some of the smaller units which can give components for their civil aircraft also, not just defence.
A lot of sectors have opened up because of that.
A number of visits have happened from investors in the US to find partners for joint ventures for manufacturing goods here. We had Lockheed Martin coming in here.
The US is seeking sanctions against India for alleged protectionist measures on poultry imports. How will India defend itself?
In poultry, in December 2014, the judgment went against us for the first time.
Then we went for appeal because we strongly felt that our farmers, for whom poultry is a source of additional income, are going to get affected very badly.
Then, certain notifications had to be released by the animal husbandry department, which has been done now.
But within a day after the deadline, when the notification was not seen, people thought we were being indifferent to it.
It isn't so.
Now that the notification is there, the argument of sanctions don't hold anymore and we hope to convince them.
Some experts disagree with your IPR policy. What's your take on that?
On IPR, let me be very clear. The policy is robust, our legislative framework is robust, we openly discussed this policy even at the draft stage. Consultations were exhaustive and absolutely transparent.
There is nothing more for me to add to it, but to comply with the policy.