'She was either overconfident that nothing will happen to her or she underestimated the gravity of the allegations.'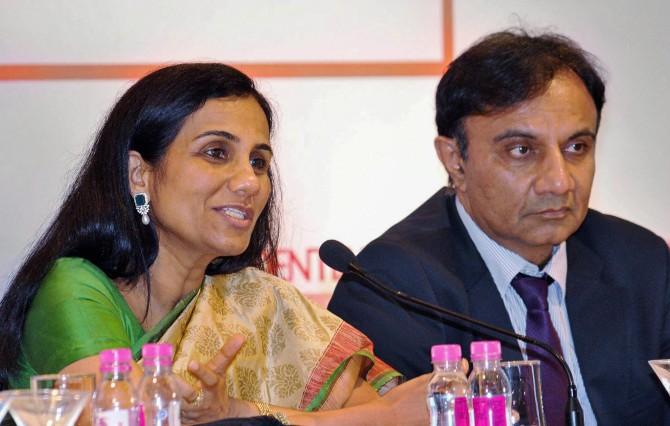 Chanda Kochhar's sudden resignation from ICICI Bank on Thursday, October 4, has sent shockwaves through the banking sector.
When allegations of involvement of Kochhar and her family members in a loan provided to Videocon group on a quid pro quo basis first surfaced, the highly respected banker firmly denied all charges of nepotism or any wrongdoing.
It was then alleged that the Videocon group pumped money into NuPower Renewables, a firm owned by Deepak Kochhar, Chanda Kochhar's husband, followed by charges that NuPower got investments of Rs 325 crore from the Mauritius-based Firstland Holdings, a company owned by Nishant Kanodia, Essar Group co-founder Ravi Ruia's son-in-law.
The investments from Kanodia's firm into NuPower started in December 2010, the same month ICICI Bank was the lead banker in a consortium of Indian banks that extended a $530 million loan to Essar Steel Minnesota LLC on December 29, 2010. This loan was later classified as a non performing asset.
In her reply to a show cause notice issued by Sebi, the market regulator, Chanda Kochhar said she was not aware of the business dealings between her husband Deepak Kochhar, promoter of NuPower Renewables, and Videocon group promoter Venugopal Dhoot.
She also refuted the charges of breach of code of conduct, and claimed that all the requisite disclosures were adhered to by her as per the extant code of conduct of the bank mandated for the top management and senior employees, according to sources.
The Reserve Bank in its 2016 investigation in the matter had raised questions over the ownership of the Mauritius-based entity, First Land Holding, which had invested Rs 325 crore in NuPower.
Following the ICICI Bank board's decision to institute an enquiry by retired Supreme Court Justice B N Srikrishna into the charges, Chanda Kochhar went on leave in May.
On Thursday, ICICI Bank said Justice Srikrishna's enquiry into Kochhar's actions will continue and that the benefits owed to her would be subject to the outcome of that probe.
Kochhar's resignation brings the curtain down -- at least, for now -- on the career of the most influential lady banker in India. The 56-year-old banker had helmed ICICI Bank since 2009.
"She was a fine banker, she was an intelligent banker and a fine human being. I really feel sorry as she was a great professional," Tamal Bandyopadhyay, the well-known journalist who specialises in the banking sector, tells Rediff.com's Syed Firdaus Ashraf.
After holding out for so long, and mounting a spirited defence, including insisting there was no malintent or conflict of interest, Chanda Kochhar has quit with immediate effect. Does this negate her earlier protestations of innocence?
I don't know exactly and I am not qualified to say that. It is like the Securities and Exchange Board of India has a system of when some investigation is on, you come back and you settle it, sort of you pay a penalty, and that does not necessarily mean you are guilty.
I personally think even if she gets exonerated by the committee, if you look at the new trend, the way the regulator is particularly handling the private banks, the possibility of her getting another term was non-existing.
Her current term would have come to an end by March 2019. Even if she gets exonerated by the committee -- it was expected to file its report in the next three months -- the possibility of her continuing as ICICI Bank CEO was virtually nil.
I wish she would have done so (resigned) earlier.
As an astute and veteran observer of India's banking sector, what do you think impelled her to take this step? Why now, and not, say, six months earlier?
Only she can answer that, but one way of looking at it is that she was over-confident, or the other way to look at it is she underestimated the gravity of the allegations.
These are the only two ways I can think of because of the way she was putting up a brave front. The (ICICI Bank) board also supported her to the hilt.
The entire board was backing her and they went out of their way to actually support her.
Then things changed for whatever reasons and a new committee was formed with a retired Supreme Court judge going into all those things.
I think that was the beginning of (the end). It was a foregone conclusion that she would have to go.
It will only be a comfort for her if she gets a clean chit from the committee.
For observers like us, there is a bit of a surprise as she was such an intelligent banker.
Yes, she must have misread certain economic trends and probably gone overboard to certain sectors -- and that is a separate story -- but how could she not see the writing on the wall? She continued to remain there.
First, she refused to vacate the corner office and then went on leave.
She continued to be elected as head of a subsidiary like ICICI Securities. That was quite a surprise because she is an extremely intelligent banker, so why she was doing that?
She could have opted for an honorary exit. It is a failure on her part.
As I said, she was either overconfident that nothing will happen to her or she underestimated the gravity of the allegations.
Will ICICI Bank be able to put the chapter behind it and move on? Or will it be subject to the probe and other regulatory measures initiated into the bank's dealings with companies associated with her husband?
If you look at the way the stock market reacted by 3 pm after the announcement of her exit, the market was up by 4 percent, the market celebrated.
It is not a very happy sign for an outgoing CEO that the market was celebrating her exit.
Clearly, I heard certain commentators and analysts giving a buy call for ICICI and that started when she went on leave and Sandeep Bakhshi took over.
As far as ICICI Bank is concerned, the Chanda chapter got over the day Sandeep Bakhshi took over. The market also felt that way.
Sandeep Bakhshi is an internal candidate. Unlike other banks ICICI is one bank which sticks to internal candidates.
Sandeep Bakhshi is a level-headed, non-controversial, low profile leader who understands the animal pretty very well.
I think the bank will now take its own course and this (chapter) is behind it.
Of course, you need to wait for the special committee which is probing the allegations against Kochhar over conflict of interest.
It is a question of her image being tainted or her being exonerated. As far as the bank is concerned, I think the Kochhar chapter is behind the bank.
Can ICICI Bank tide over the crisis?
I would like to believe so as ICICI Bank has a lot of inherent strength.
This was a bad chapter which they had undergone. Of course, on one hand there are many of the exposures turned bad, which is why I said Kochhar misread the economic trends.
That is one part, but the larger part was the allegations which were levelled against her for conflict of interest.
A bank like ICICI, I don't think there is anything that has happened as it is very well capitalised.
It has a good management now and I think the board is also better.
The kind of thing they were doing earlier, they are better equipped to handle this.
The Kochhar story is behind it and it is a new story now started by Sandeep Bakhshi.
He was COO in charge of the bank and now he is CEO and for stability he has been given a 5-year term.
So I would like to believe the Kochhar chapter is behind ICICI Bank and things will get far better in future.
How does the Chanda Kochhar episode reflect on ICICI Bank's internal mechanisms, control systems?
Much more than that, it is a reflection of the board. Of course, there were internal risk management and other mechanisms as you raised the point, but the reflection was more on governance.
Was the previous board independent enough or was it sort of aligned with the CEO? That is the larger issue.
One lesson from the Chanda Kochhar episode is the governance and quality of the board. You can have big names and you can have so-called experts but without a care for governance.
(This case) highlights the lack of governance in the banking sector in general and the quality of the board purely in terms of governance.
You may have boards of directors who are competent in their own field who bring domain knowledge, but are they independent, or are they aligned to the CEO? That is the basic question.
Particularly the way a former chairman of the board went out of the way to support Ms Kochhar definitely gave the impression that the board was aligned to the CEO, the board was not independent.
The biggest lesson is governance.
Is there a lesson to be learnt by other bankers from this sorry episode?
Chanda's case is very different. If you see the other CEOs who were not allowed by the Reserve Bank of India to continue at the helm, like (Axis Bank CEO) Shikha Sharma's tenure was cut short despite being cleared by the board and AGM.
You saw the latest episode of Rana Kapoor of Yes Bank. He got another extension and was ratified by the AGM, but the RBI declined.
These are all different issues primarily in terms of disclosures. These banks fail to disclose as much they should have.
These are very serious kinds of stuff, but very different from Chanda Kochhar.
I don't remember (a case) in private sector banking where you have the kind of allegations which she faced in terms of conflict of interest with her husband and brother-in-law. This is something unique.
As I said, the biggest lesson is the governance part. Even if the CEO is not doing something which is exactly right, it is the board which should figure out and cut the CEO to the size. That is the biggest lesson.
Do you think Chanda Kochhar provided a loan to the Videocon group on a quid pro quo basis?
That I am not qualified to comment as I don't know the facts. I think we need to wait.
There is nothing called black and white, there is a lot of grey area. I don't have access to any private papers which can actually highlight whether she is guilty or not guilty.
I knew her personally when she was a much younger executive and I have seen her rise. She was a fine banker and she was very intelligent.
I refuse to believe that she was compromised, but you never know, within the family there could be different dynamics.
If she got used by somebody else, a family member, it could not have been done without her knowledge.
I don't know if that is a fact or not and we need to wait.
She was a fine banker, she was an intelligent banker and a fine human being.
I really feel sorry about her as she was a great professional.
Where does Chanda Kochhar go from here?
To put it very crudely, to oblivion.
Even if she gets exonerated by the external committee, her image has got tarnished.
We need to wait to see what happens, but I would like to believe that it will be very difficult for her to come back to public life.
It is very unfortunate, but that is the harsh reality.