When the move was first thought of it was at the behest of Jet Airways, IndiGo, SpiceJet and Air India. Only Vistara and AirAsia were opposing it as they were doing the poaching, says Anjuli Bhargava.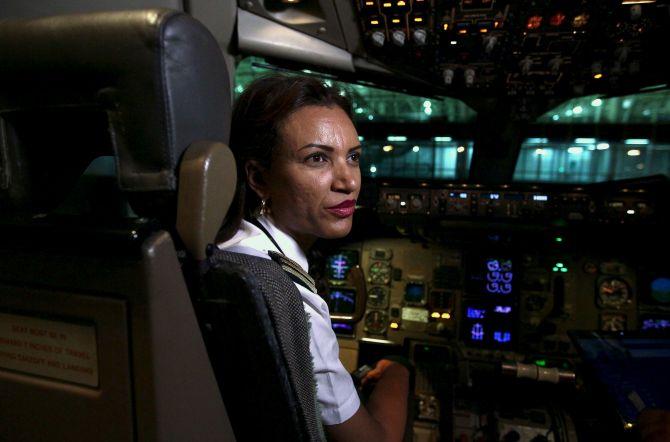 Union Aviation Minister Ashok Gajapathi Raju is busy these days.
The industry, pilots and other officials say he's busy. With what no one can quite say (although I now refer to him as Jahangir), so let's just accept it for what it is.
A bit like Rahul Gandhi -- wrong man in the wrong place at the wrong time -- but he is really busy.
The minister of state, Jayant Sinha, is pretty busy these days.
Besides Parliament, he's also busy with interviews with the media on his grand Udan scheme and plans.
Of course, Udan flights are yet to really take off and regional connectivity is yet to improve, but hey, someone has to imagine, visualise and give the final touches to it all. So, he is pretty busy.
And while the two ministers are so busy, the Directorate General of Civil Aviation (DGCA) went ahead and increased the notice period for senior pilots from the present six months to one year.
Sources say that the idea of a one-year notice period first came up almost two years ago. It was rejected once.
Then again it suddenly resurfaced this May-June. The authority asked for comments from various stakeholders. Almost unanimous criticism was received by DGCA.
In fact things got quite ugly and the police was involved when angry pilots took on senior DGCA officials including joint director general Lalit Gupta, one of the mainstays of the organisation.
But DGCA was undeterred. The body's illogical move left most of the industry open-mouthed. What does one say about the functioning of DGCA and this ministry?
Why ask for comments from stakeholders -- 278 of the 281 respondents argued against it -- when you have already made up your mind? Why insist when pilots will take it to court and since there is no logic, it's unlikely to hold up?
I too chatted with several people over the last few days to figure out why DGCA was dead set on this.
Since no one can take seriously the ostensible reason given by DGCA -- that pilots or even groups of pilots are resigning without giving any notice and it is leading to flight cancellations -- the industry is naturally looking for the "real" reason.
Here comes the exciting part. Conspiracy theories abound!
It seems when the move was first thought of it was at the behest of Jet Airways, IndiGo, SpiceJet and Air India.
Only Vistara and AirAsia were opposing it as they were doing the poaching.
But, of course, since in India the process of getting things done takes forever and the market dynamics are always changing, the situation is quite different from what it was when the move was first proposed.
For instance, for the time being IndiGo has announced that it is getting a whole bunch of ATRs for Sinha's Udan and where can it get commanders for those except by poaching some from Jet or Air India -- the two airlines in India who currently have an ATR fleet.
Rumour is that ATR commanders are even more at a premium than Airbus and Boeing ones and will be given a blank cheque to come on board.
SpiceJet -- which is treated by most senior pilots as a stop-gap kind of place -- is always in danger of losing its pilots to rivals who seem more stable and less likely to see changes in management.
With SpiceJet's record of constantly changing hands every two or three years, no one is ever sure of what may happen in the airline next.
Many told me that the chief orchestrator of the one-year notice period this time is Ajay Singh, who also has some friends in the present dispensation.
Jet Airways -- which is always confused on whether it has an excess of pilots or a shortage -- is making life difficult not only for its junior pilots but even its senior ones.
It's impossible to know what the airline's unique promoter ever has in mind so Jet could well be pushing or opposing the one-year notice period and not even the top management can confirm which it is.
I presume he wants one year because I have rarely seen things happen in Indian aviation in the last two decades unless he is either in agreement or at least indifferent.
And that leaves poor Air India. As we all know they have bigger problems of their own and couldn't really care less about silly developments like these.
Even if you wrestle with them, it's unlikely you can get a senior Air India commander to leave his cockpit so to speak. Even a lifelong notice period is just fine.
Photograph: Tiksa Neger/Reuters.