Flight of high-paying banking jobs to other European cities will hurt the prospects of Indian real estate developers and desis in the hospitality business in the UK, says Kunal Bose.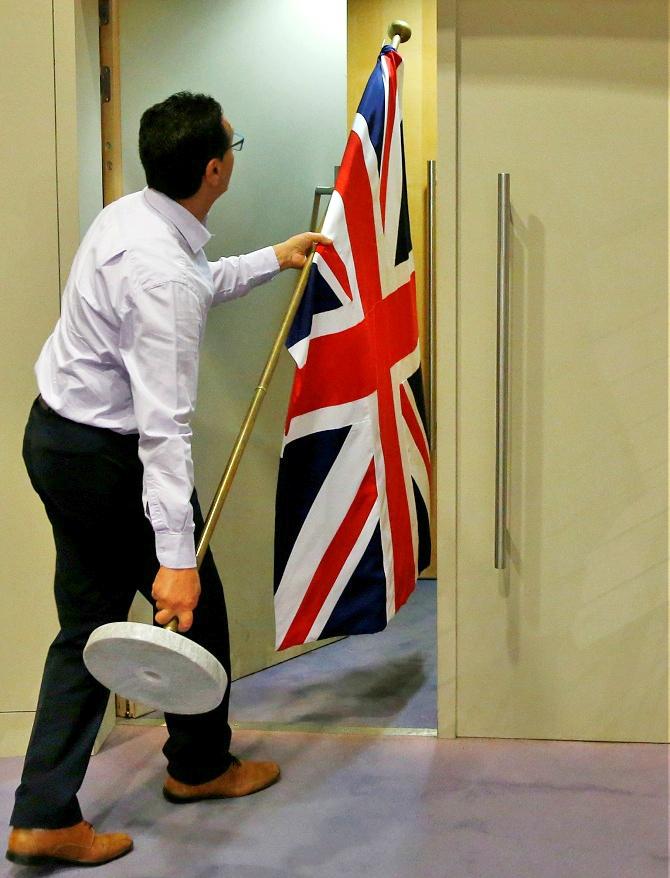 IMAGE:

An official carries a British flag ahead of a news conference by Britain's Secretary of State for Exiting the European Union, David Davis, and European Union's chief Brexit negotiator, Michel Barnier, in Brussels last month

.
Photograph:

Francois Lenoir/Reuters

.
When the United Kingdom (UK) decided through a referendum on June 23, 2016, that it would leave the European Union (EU), it was a given that EU agencies in the City of London would be relocated to other 'ideal' European capitals. Like in every other area of work, there is presence of people of Asian origin in European Banking Authority (EBA) and European Medicines Agency (EMA) headquartered in London.
As was seen in the past, when locations were to be chosen for more than 40 EU agencies from among 27 member countries, on the current occasion, too, expect European candidate cities -- eight for EBA and 19 for EMA -- to be engaged in some hardcore lobbying and fierce contests to host the two agencies that the UK must let go. Between the two London based EU agencies, they have nearly 1,100 high-paid full-time staff.
When the two crown jewels of EU agencies, with respective mandates to 'maintain financial stability in the EU' and 'facilitate development and access to medicines', mandatorily move base, many other linked offices will follow in their footsteps.
All these impending losses were taken as fait accompli when the UK government triggered Article 50 on March 2017, confirming that the country will leave the EU no later than April 2019.
What, however, remains to be fathomed is how many thousands of jobs in banks and other financial services agencies will move out of London to European cities ahead of Brexit and thereafter.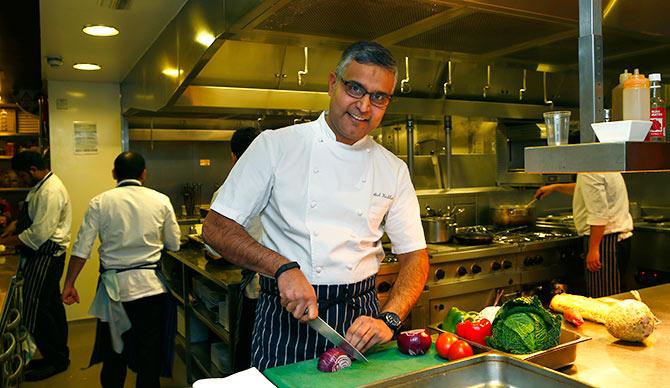 IMAGE:

Chef Atul Kochhar made history as the first Indian chef to receive a Michelin star for his debut London restaurant Tamarind

. Departure of two prized EU agencies and finance-related job losses from Brexit will leave a hole in London's high-end restaurants, many of which are owned by Indians.
Photograph:

Eddie Keogh/Reuters

.
Financial institutions, including the big UK home grown ones, are in full motion with contingency planning of offices and men to be shifted to European capitals from London in order to be ready from day one of Britain's exit from the EU to carry on continental business without disruptions. Announcements at regular intervals by major banks that they are on course to bulk up their operations in Europe to secure market access to EU single market when Britain ceases to be a member of the bloc have left many worried.
But there is no way the government can staunch the flight of jobs. Hasn't somebody in the present UK government described bankers and security dealers as 'citizens of nowhere?'
A good number of Indians holding important positions in banks and trading houses will be required to shift base from London as Brexit becomes a reality.
The impending large-scale migration of bank officials has left real estate developers in the UK, among whom are found the Lodha Group and Indiabulls, worried.
The UK financial services sector generates taxes estimated at $93.16 billion for the exchequer. European capitals are all out to spirit away as big a portion of this tax revenue as possible. Happening of this will likely leave an impact on high-end residential properties that Indian groups are building in London. After all, people working in London's Square Mile, drawing fat salaries, are buyers of such properties.
Departure of two prized EU agencies and finance-related job losses from Brexit will also leave a hole in the city's high-end restaurants, many of which are owned by Indians. Michelin-starred Veeraswamy, Tamarind and Cinnamon Club, offering fine Indian dining, count finance people among their valued patrons.
An official of a London-based event management company says winding up of EBA and EMA will mark an end to the large number of seminars and meetings held under their auspices with attendees from every European country. This means many London hotel nights will be lost. Taj Group's St James' Court in London will have to contend with the development.
WATCH: Can India really handle the Brexit impact?
Leading consultancy and auditor firm Ernst & Young says in a report that Brexit could destroy 83,000 City jobs involving roles in trading, sales, legal and technology. E&Y estimate is, however, on the lower side.
Other agencies fear Brexit-related job losses could be over 230,000. As long as Britain remains part of the EU, financial services firms will have the 'passporting rights' that allow them to operate all over the continent while being regulated by authorities in one member state.
Banks have come to believe now that the European parliament has taken the position that UK-based financial institutions should not get any 'privileged access,' meaning 'passporting rights,' to the single EU market once the break happens, their only option is to quickly create infrastructure in continental capitals. Brexit, hard or soft, will deny London its euro clearing role.
In quick succession, Deutsche Bank has announced it is to move 4,000 jobs to Frankfurt, and JP Morgan the same number of jobs to three European cities.
Citigroup will open a second trading hub in Frankfurt.
Himself a former investment banker who won the nickname 'the Mozart of finance', President Emmanuel Macron is on a charm offensive to make Paris one of the world's leading financial centres. He has promised lowering of taxes, including scrapping the highest bracket payroll tax on financial sector staff, and cutting red tape.
Indian bank branches, meanwhile, will stay put in the UK.
---
Recommended for you