The 2G judgment suggests many bureaucrats have poor application, inadequate interest and are unwilling to be active participants in the policy process, says Babu Jacob.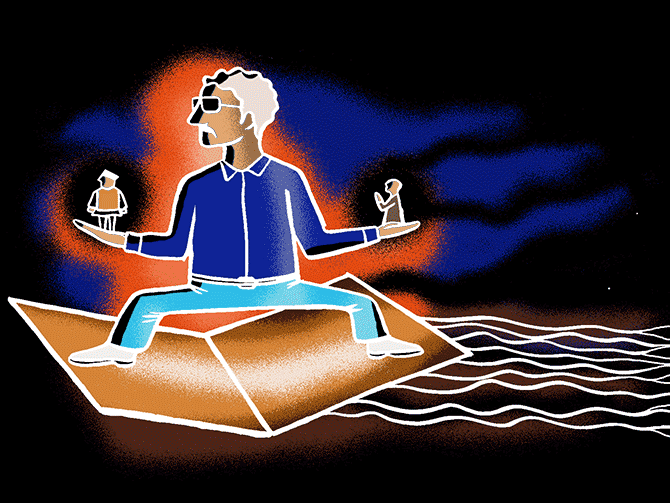 Illustration: Dominic Xavier/Rediff.com
The recent court verdict on the decade-old 2G spectrum licensing controversy opens a window into public management in India and suggests an alarming lack of policy direction and incapacity for policy detailing.
A key focus of telecom policy was to regulate licensing.
In 2003 the Union Cabinet allowed service providers to upgrade technology and migrate to more of India's 22 telecom regions.
The norm of selecting licensees for 2G spectrum was on a 'first come, first served' basis.
By 2007 the telecom regulator recommended that there should be no limits on the number of operators, and a flood of licence applications awaited a decision.
Controversy arose on two matters.
First, critics said that implementation violated the 'first come, first served' norm and gave partisan benefits to some.
Second, critics argued that the exchequer lost revenue by not raising licence fees.
The story neatly fitted the stereotype of politician-business collusion and siphoning off of public funds.
On both matters, the facts uncovered by the court stand in sharp contrast to the public discourse.
In fact, the norm of 'first come, first served' continued to be recognised, not ignored.
The problem was in implementation: Lack of clarity among bureaucrats regarding this norm in the new context.
When the policy was introduced in 2003, there was only a trickle of licence applications.
Based on the order it was received, each application was sequentially scrutinised regarding fulfilment of policy requirements for spectrum allocation.
However, once limits on the number of licences were removed and consequently a large number of applications awaited decision, it was not possible to scrutinise applications sequentially.
In this changed policy context, the implementation of the 'first come, first served' norm had to be refined.
Remarkably, the telecom secretary was silent on this crucial matter and was absent at crucial decision-making stages. Worse, he would comment without adequate comprehension after specific decisions were made.
This is an instance of the general casualness of the bureaucracy towards policy detailing: Elaboration of specific rules and processes of implementation after a broad policy has been instituted by the political leadership.
Also, in another telling instance, the telecom department did not know how to administer its own guidelines on spectrum licensing, including confusion over the implications and meaning of the term 'associate' for licensee qualifications.
What about the second decision, namely revision of entry fee?
The telecom regulator had advised against fee revision, arguing that it would upset the norm of a level playing field.
And yet, after going along with the proposal of unchanged fee, a secretary-level finance official suddenly changed tack at the very point of implementation.
And the finance secretary raised the fee question without being aware that his department had already engaged with the telecom department on this matter and agreed that a review was infeasible.
Further, although the law ministry had little advice to offer, it went on to surprise the implementing (telecom) ministry by proposing a fresh decision-making structure.
The decision on fee revision had to be made through the thick of such non-responsive, uncoordinated and disjointed 'advice'.
It is alarming that administrative leaders were unable to review options and consequences to take an informed decision.
Between them, several top bureaucrats could not think through whether and how revenues could be raised with 2G.
Except for mention of a 'level playing field', there was little detailed consideration of the pros and cons of fee revision or what fee structures were consistent with a level playing field.
It is unclear how the telecom department could conclude that a higher fee would 'increase service costs, lead to enhanced tariff, and drive down tele-density'.
A new fee structure would have required a careful, well-defined bid design process, but this possibility was not even debated.
And yet, without such a careful design, a senior audit official subsequently estimated a price (based on loss to the exchequer), going against the basic cannons of public procurement -- and the CAG surprisingly and casually endorsed it, and thus was created the public controversy over 2G licensing.
In the 2G case implementation was stymied because of the inability or unwillingness of top bureaucrats to engage in appropriate policy detailing.
There are other instances where policy frameworks established by the legislature were diluted and distorted due to improper policy detailing by bureaucrats.
Take the case of urban decentralisation.
Despite the fact that the 74th Constitutional Amendment transferred basic services to local governments, in many cases state bureaucracies hindered decentralisation through acts of omission and commission in rule-making to detail out the policy.
Although implementation forms an integral part of policy, policy research in India does not empirically unravel structures and processes of decision-making in government.
Academics seeking an appropriate site for tracing and analysing policy will find it in the unlikely spot of this court judgment.
In contrast to the widespread distrust of politicians, there is a perception that the higher bureaucracy, though slow-moving, is well-intentioned and follows professional rules of conduct.
Instead, the 2G judgment suggests that many bureaucrats have poor application, inadequate interest and are unwilling to be active participants in the policy process. This weakened professionalism is arguably also unethical.
Babu Jacob -- former chief secretary, government of Kerala -- is currently researching governance processes and institutions.