'I am sure Dr Patra will get the fullest cooperation from the finance minister who needs workhorses, not prima donnas constantly looking to improve their CVs,' says T C A Srinivasa-Raghavan.
Illustration: Dominic Xavier/Rediff.com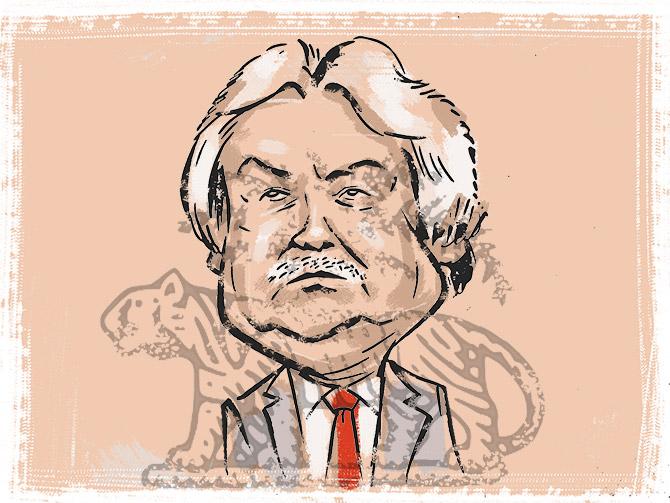 For several decades, the Reserve Bank of India used to publish the comprehensive Report on Currency and Finance.
It was an excellent report, both as current reading on the Indian economy and as archival material.
In its first avatar it used to have two parts like the Economic Survey -- one for analysis, the other for data.
Then around 2001 came the annual RBI Handbook of Statistics.
So Volume 2 of the Report on Currency and Finance was discontinued.
After that it became a theme-based publication which came out once in two years.
But after 2013, it suddenly stopped publication.
The last edition was in 2013. No explanation was given by Raghuram Rajan, who was then RBI governor, and Urjit Patel, who was deputy governor, for their decision.
Actually, even D Subbarao, who was governor from 2008 to 2013, needed to explain why the five years after 2008 were combined in a single report when, in fact, two were needed.
Those were the crucial stimulus years after the Lehman collapse.
Towards the end of his term Dr Subbarao kept complaining about irresponsible fiscal policy.
These gripes did come out eventually in the last Report on Currency and Finance of 2013 in a well-argued and properly supervised set of essays on fiscal-monetary interface.
Next, Dr Rajan and Dr Patel needed to explain why they quietly junked the Report on Currency and Finance.
After all, having started the whole full disclosure of non-performing assets and the prompt corrective action thing, which in no mean measure has led to the present banking doldrums, a proper account of the state of finance in the next Report on Currency and Finance was fully warranted.
In fact, Dr Rajan also needed to explain his decision to adopt the Basel III norms.
He must have had good reasons but what were they? Was there a proper debate? The Report on Currency and Finance would have been the best place to do it.
We would all have understood, as would have the writers of RBI history who will toil without access to the files.
My complaint is that if Dr Rajan and Dr Patel thought the Report on Currency and Finance was redundant to requirements, they could have explained why they thought so.
If they thought it was poorly written, they could have improved it.
Instead they behaved exactly like the vice-chancellor of Jawaharlal Nehru University behaves -- arbitrarily.
In the absence of an explanation, that's how it appears.
As an aside, let me ask what the reaction would have been if this had happened after Narendra Modi had taken over.
But in 2013 no one said a thing. The UPA was in its death throes and no one in government even noticed.
But now that Michael Patra is deputy governor who has to supervise the research department, the RBI should revive the report.
After all, Dr Patra would have surely worked on it at some point in his long career at the RBI and is in a better position to appreciate its value than were the outsiders.
Moreover, the seven-year break provides a great opportunity to focus on new developments in monetary theory and global practices.
The Indian bits can be woven in.
This is not the only thing on Dr Patra's plate.
The RBI also brings out a publication called Occasional Papers.
This contains research by its staff. The last issue came out in July. It comes out once in six months.
One problem with it is that it has become something of a vanity publication and the quality is highly variable.
Nevertheless, it serves a useful purpose inasmuch as one gets an insight into what sort of research the RBI is encouraging.
This publication is also something that Dr Patra needs to take in hand and raise it to international standards.
The objective must be to make non-RBI researchers also vie to publish in it.
There's so much ferment out there which we are not capturing on an institutional basis.
Much of this has now been relegated to the scattershot mercies of the twitterati.
In particular, I would urge him to associate economists from the Indian Economic Service in the effort.
They may not have PhDs from foreign universities, but they understand the Indian economy's dynamics better.
Over the years, the Indian Economic Service has become a sort of a subordinate service which gets virtually no encouragement, not least because their head, the chief economic adviser, has no time for it.
Kaushik Basu was the sole exception to this tendency.
I am sure Dr Patra will get the fullest cooperation from the finance minister who needs workhorses, not prima donnas constantly looking to improve their CVs.