Governments must encourage micro-irrigation, use of natural manure and pesticides in a big way. Farm income can be doubled by reducing cost as much as by increasing MSP, says Sanjeev Nayyar.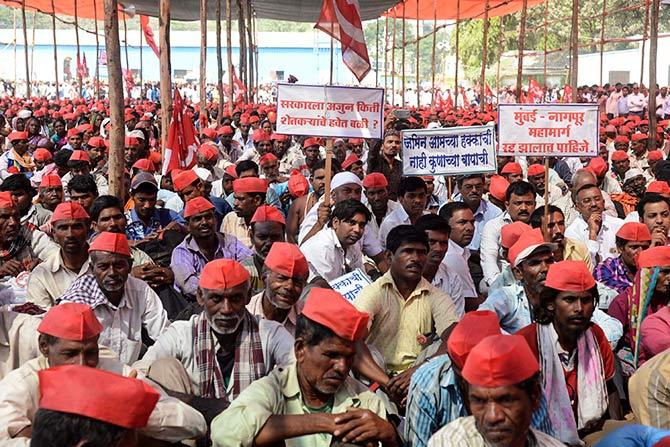 IMAGE: The farmers morcha in Mumbai's Azad maidan on March 12, 2018. Photograph: Sahil Salvi.
Over last weekend thousands of farmers marched to Mumbai to demand a host of relief measures, including an unconditional loan waiver scheme, better payment under welfare schemes, assurance on disbursal of minimum support price etc.
Up north, two interesting developments on agriculture were published by The Tribune recently.
In one, professor of economics Ranjit Singh Ghuman wrote that 'the so-called high yielding variety seeds of wheat and paddy are giving high yield because of their high degree of responsiveness to water and chemical fertilisers. The emergence of paddy as a major crop led to heavy dependence on subsoil water and a manifold increase in the number of tube wells. However, the area under canal irrigation decreased from 16.60 lakh hectares (43.50 per cent) to 11.60 lakh hectares (28.01 per cent) during 1990-2014.' You can read it here.
In the other article, Nirmal Sandhu spoke of the ill-effects of free power. He said "it has (1) hurt Punjab's agriculture, (2) depleted Punjab's water resources by encouraging paddy cultivation, (3) added to farmers' production cost by forcing installation of submersible pumps, (4) curtailed industrial activity during the paddy season and (5) consumed resources that could have been used to modernise power plants and enhance generation capacity, and thus save jobs lost in shutting down unviable plants."
Free power has made farmers dependent on freebies. Starved of resources the state government is cutting down expenditure on development and education, for eg, closing down rural schools.
A big reason why farmers grow rice is because returns are assured by virtue of being purchased by the government at MSP. More rice crop results in more groundwater being drawn, electricity consumed and eventually adds to the state's subsidy burden.
In the name of helping farmers successive Punjab governments have, by giving free power, done them a disservice.
It is in this context that I share two recent personal experiences. The first is a visit to Kutch in Gujarat where drip irrigation is used. Two, a doctor's son tells how his father did farming in Maharashtra over 30 years ago.
About 20 km from Bhuj is a farmer Amol Bhai (name changed), with a farm of about 100 acres where amrut, anar, mosambi and dates are grown.
Amol introduced drip irrigation about 15 years ago. The cost then, including filtration plant, was app Rs 55-60,000/ per acre. Some 50% of the cost was provided by the government as subsidy (now it is 70%).
How does drip irrigation work? Simply put, plastic tubes are laid out across the farm. Every tube has small holes through which the plant receives water. Groundwater is stored in a water tank from where it flows to designated points in the farm. There is a valve at each point. When opened the plant gets water drop by drop. Water is given for a specified number of hours per day.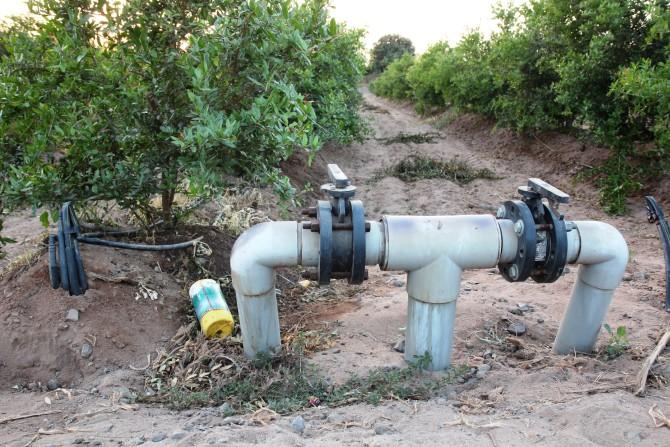 IMAGE: Tubes and valve at a farm near Bhuj in Kutch, Gujarat. Photograph: Sanjeev Nayyar.
According to Amol, per acre consumption of water for growing amrut is 21.60 litres annually. This is at least 50% lower than if he did not have drip irrigation.
Since the area has no access to irrigation water, groundwater is used. Twenty years ago groundwater was found at 200 feet as against 900 feet today. Cost of drilling is Rs 450/ per foot so depleting water levels have increased costs.
People in Gujarat speak as if the Narmada water is a solution to every shortage. Its waters have reached Rapar taluka of Kutch but the river flow, as we are seeing this year, is not infinite and dependent on rains in the catchment area.
My question to Amol Bhai was, had he thought of investing in a water harvesting facility? Silence was his reply.
While walking around the farm I saw cow dung which his manager said they used as manure. For an amrut farm, the cow dung cost is Rs 25-30,000/ per acre as against Rs 40,000/ for fertiliser.
According to another farmer Kaivalyabhai, the focus is shifting away from wheat, bajra to horticulture because farmers get a better price.
Yet the discourse on farmer distress is not focused on lowering input costs by reducing consumption of fertilisers and pesticides.
Why are farmers not asking for:
A time bound district wise plan for increase in irrigated area.
Large-scale implementation of micro irrigation schemes.
Scrapping of APMC across markets (Agricultural Produce Marketing Committee).
Growing of crops that are compatible with the soil, for eg, why is water deficient Maharashtra growing water guzzling sugarcane?
Will someone ask the farmers of Punjab why they have not shifted to horticulture and drip irrigation in a big way?
Next, 50-year-old Dr Atul Salunkhe speaks about farming practices followed by his father. He spent the first 20 years in their village and continues to manage the farm today.
Earlier, agriculture and livestock farming were intertwined. The remnants from farms were used to feed cattle and cow dung / household waste was used as fertilizers. Thus, a farmer's income from both ensured that the family had enough to eat. This led to stability and overall development of farmers and their locality.
They never purchased seeds, but reserved last year seeds in muddy pots for next year's cultivations. Use of natural products meant lower production cost, better soil fertility amongst others.
Earlier agricultural land was divided into two parts. Half was used for production for a year. The other was left uncultivated and rejuvenated through natural means, for eg, by adding cow dung.
Since needs were less and animal products available to farmers the surplus was distributed to the more needy sections of society for free including farm labour.
Every farmer had cattle meaning there was adequate supply of manure in the form of cow dung. With dwindling cattle stocks supply of cow dung has fallen drastically.
However, with time and an increase in population things changed.
Farmers started using tractors, chemical based fertilisers and pesticides. This increased output and production cost but reduced soil fertility. Today land is over-used, affecting its fertility adversely. From being self-sufficient the farmer has to now depend on traders for supply of seeds and fertilisers.
Dr Salunkhe compares the increase in salary with price of agricultural produce. He said that around 1977 to 1980 the salary of a government employee was Rs 900 per month, the standard price of staple food grain was Rs 200 per quintal (100 kg), and gold Rs 900 for 10 grams.
Today agricultural labour demands Rs 600 per day as against Rs 15 in 1980. Monthly salaries of government and private sector employees have gone up to lakhs of rupees.
Have agricultural prices gone up by the same ratio, asks Dr Salunkhe. He adds that people have got into the habit of heavy bargaining with farmers and expect low prices for agricultural products.
Today's farmers are caught in a chakravyuh. If there is too much production, prices crash. In normal course their share in the market price varies from 15 and 40%.
Farmers do not know what to do, was Dr Salunkhe's parting sentence.
Today people expect the government to have infinite resources. What is forgotten is the increasing salary and pension cost of government employees leaves fewer resources for public investment in irrigation and other technology. In 2018-19 the expenditure on salary, pension take away 45% of the Maharashtra government's revenue.
It is clear that increasing subsidies and loan writeoffs is not the solution, yet that is what political parties want.
Governments must encourage micro-irrigation, use of natural manure and pesticides in a big way. Farm income can be doubled by reducing cost as much as by increasing MSP.
Since agriculture is a state subject, the primary responsibility lies with the states. Unfortunately, most of them are starved of resources or fritter them away in freebies.
According to a recent editorial in Mint, 'NITI Aayog has argued for bringing agriculture into the concurrent list so that the Union government can ensure a national market for agricultural products'.
But will states cede control?
The author is an independent columnist and does not claim to be an expert on farming. He tweets @sanjeev1927