Surendra Hiranandani -- chairman and managing director, House of Hiranandani -- explains what ails India's housing sector and indicates the way forward.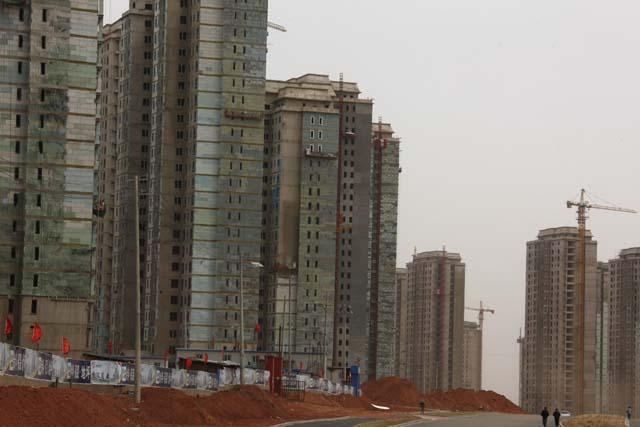 Photograph: Reuters
India has witnessed rapid growth and urbanisation in the last few years, owing to which there has been a considerable rise in the urban population.
However, despite the amount of construction and infrastructural developments taking place each day, India is still plagued with an acute housing shortage in urban areas, with a crunching of spaces to accommodate this proliferating mass.
To address this problem, the government had set itself the aim of providing housing for all by 2022. Yet sadly, the reality today is no less grim.
In comparison to the 3.6 million urban and six million rural housing units that had been approved since 2016, only around 0.3 million urban and 1.6 million rural units have been completed so far.
A lot has been spoken about real estate purchase, but rental housing has not made much headway despite its immense importance.
Consider this: As per syndicated reports, roughly 400 million urban residents live in urban settlements and millions more are on the move to greener pastures in cities, from their respective towns.
One can find dense settlements in the suburbs or peripheral areas of cities.
As the country progresses, it is imperative that we find viable solutions to this problem.
While the public-private partnership model for affordable housing banks on attracting private capital and giving access to cheap land, it does not take into account the needs of the urban poor, youth or self-employed people, who are unable to own a home owing to high prices or because their inadequate credit does not qualify them for a loan.
Additionally, millennials prefer dwelling near their workspace to cut down on travel time.
Also, owning a home in advantageous locations of metropolitan areas might not be feasible and the mobility that today's work culture demands poses a challenge to settle down at any one particular place.
This is where large-scale rental housing equipped with basic amenities can come to the rescue.
However, a prevailing paradox in the Indian context is that millions of units still lie unoccupied and unused despite an acute housing shortage.
A better utilisation of this existing inventory will alleviate a part of the housing pressure.
Rental housing has become a vital component of the housing response, as this also suits the income volatility and risk profile of low-income households working in the informal sector.
Home ownership necessitates fixed monthly payments for an illiquid asset that is subjected to market risks and poses a constraint in mobility for people who cannot afford to be unemployed.
Numerous innovative reforms have already been introduced in the Indian real estate sector over the recent past.
Whether it is demonetisation against black money, the revolutionary RERA (Real Estate Regulatory Authority) or the unified Goods and Services Tax regime -- all have been introduced to increase accountability and transparency in the sector.
The ascending line in the graph of consumer sentiment is strongly indicative of the fact that the market has responded to these reforms well.
While residential markets have undoubtedly benefitted from them, the rental market has also not lagged far behind.
The new rental reforms have successfully been able to check the use of fake rent receipts by salaried employees to avail themselves of tax exemption under house rent allowance by mandating the submission of various validated documents such as licence agreement, electricity, water bill and many more.
Also, now landlords receiving higher income as rent are required to provide details of their full rental income in their tax returns in order to claim the benefit of the TDS amount.
Yet, many impediments restrict the growth of the rental sector.
First, the legacy of several state-enacted Rent Control Acts deterred landlords from putting their houses on rent by freezing rents and making eviction tough.
Eventually, landlords found it unfeasible to maintain their properties, thereby allowing them to deteriorate.
Second, low rental yields offer little incentive in terms of undertaking risks while letting out apartments.
For instance, rental yields in most metropolitan cities in India are in the range of three to five per cent, which is among the lowest in the world.
These are lower than the returns from risk-free market instruments.
The government must create an environment conducive to harnessing this stock of vacant housing into a rental platform.
Rental management companies can then step in and handle these properties professionally on behalf of the owners.
The absence of tax benefits for rental housing as compared to the purchase of homes has also impacted this segment negatively.
Rental laws in many states are believed to heighten the risk of repossession by the tenant, thus adding to the apprehension of the landlord that tenants will not vacate the house or will overstay.
Although the government has geared up to confront the problem head-on, there is still a long way to go.
The draft of the National Urban Rental Housing Policy aims to ease the housing shortage in urban areas by encouraging the renting out of these vacant homes across the country.
Residential REITs can provide additional aid to alleviate the rising unsold inventory.
It has been successful in developed countries, where REITs buy properties and lease them, thereby generating value for investors while adding rental supply to the market.
The central government is now planning to launch a 'rent to own' scheme under the National Urban Rental Housing Policy, which would allow people to rent homes from government institutions.
Under this scheme, people would have the option to buy the home they have rented by paying the full price in easy instalments.
It is commendable that the government has given a much-needed boost to this segment by introducing such policies so that we can uncover the massive potential of rental housing in India.