What was the real reason behind ATMs running dry even in states that are not election-bound, wonders Nivedita Mookerji.
Illustration: Uttam Ghosh/Rediff.com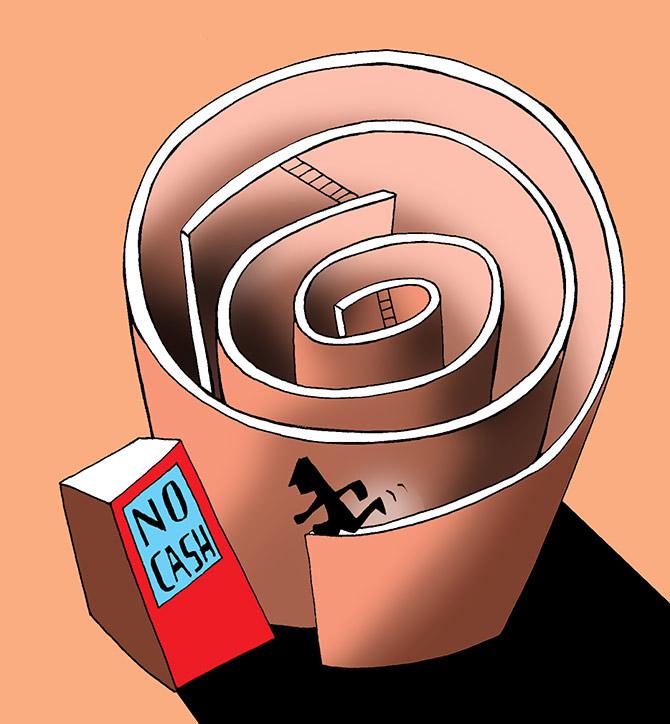 It was a bright December day last year and the talk revolved around New Year plans, places to visit, and what to look forward to.
Four months later when the news of ATMs going dry across several states made headlines, the December conversation came alive.
Will 2018 unravel anything big, maybe another disruption, I had asked my lunch companion, who generally keeps a close track of anything that's of any significance. That includes people and developments in the government.
In the run-up to the 2019 election, it must be consolidation time and of course there's little chance of any disruption, at least from the government, one thought.
But the reply from the other side of the table came as a surprise.
"Yes, you can expect another round of demonetisation. This time it could be rolled out in phases, rather than the single-stroke note ban of November 2016.''
To confirm that I had heard right, the question was asked again in a different way and the answer remained the same.
Carrying the conversation further, this official said, "I got to know that the RBI (Reserve Bank of India) has stopped printing Rs 2,000 notes. It is a move towards phasing out big currencies.''
But wasn't a decision taken just a few months ago to print Rs 2,000 notes, after Rs 1,000 currencies were made illegal?
Yes, true, but the government may have changed its mind and now it believes that Rs 2,000 is too big a denomination to remain in the system, especially as it wants to curb black money, he explained.
Not only that, there has been much discussion in the government around phasing out other "big notes'' too, possibly Rs 500, the official went on.
"But, they reviewed that plan and decided to retain the Rs 500 currency in the system.''
Could that be possible after all the pain unleashed by demonetisation in 2016?
"File an RTI and check if printing of Rs 2,000 has indeed been stopped,'' was his friendly advice with a smile.
Like any conversation over good food, it stayed on.
And a few days later, I filed an RTI with the RBI, asking about details on how many notes of Rs 2,000, Rs 1,000 (banned, but even so), Rs 500, Rs 200, Rs 100 and Rs 50 were printed in 2017; the number of notes of each denomination printed in the first half and the second half; the currency denomination that was printed the most; and the denomination that was printed the least.
Within a month, there was an online RTI reply from the Department of Currency Management at the RBI.
But the response did not offer an answer to any of the questions.
''The information is not available with us,'' it said.
The RTI story continued. Some of the queries (including those related to Rs 2,000 notes) were directed to Bharatiya Reserve Bank Note Mudran Pvt Ltd in Bengaluru and others to Security Printing and Minting Corporation Ltd in New Delhi.
Again after a month or so, there was another reply, this time from Currency Note Press, a unit of Security Printing and Minting Corporation of India Ltd, Nashik Road (Maharashtra).
It gave details of consignments/dispatches made to the RBI during 2017 for all denominations except Rs 2,000.
Disappointed that the RTI reply was quiet on Rs 2,000 printing or dispatches, an appeal (the logical step after an RTI reply is dissatisfactory) made sense.
That filed, one waited again. Even four months after the original RTI application was filed, there's no word yet on the status of printing of Rs 2,000 notes.
In the meantime, MPs caught on to the buzz of Rs 2,000 notes not getting printed and raised questions in Parliament.
The government maintained, in its Parliament reply, there's no such proposal. Now that a cash crunch has surfaced again in many parts of the country, the government and bank officials have given out multiple reasons from elections to wedding season, ATM calibration problem to logistics issue.
Withdrawals were too many, while deposits were few, some said knowledgeably.
And then some have indicated Rs 2,000 notes have not been printed for a while, without giving any time frame.
So what's the real reason behind ATMs running dry even in states that are not election-bound?
The official, who had advised me to file an RTI to find out if Rs 2,000 notes were still getting printed or not, now said, ''possible reasons could be post-GST decline in receipts, spending aggressively due to impending national elections, squeeze on borrowings (at the federal level) to show less fiscal deficit''.
He didn't mention anything on Rs 2,000 notes this time.
Demonetisation was not brought up either. But he did say, "Worth investigating.''