With all the brouhaha over GST, and (often) a limited understanding of the long-term forces shaping India's logistics sector, companies seem to have omitted factoring in some underlying trends that could shape supply chain excellence, says Neelesh Mundra.
Illustration: Uttam Ghosh/Rediff.com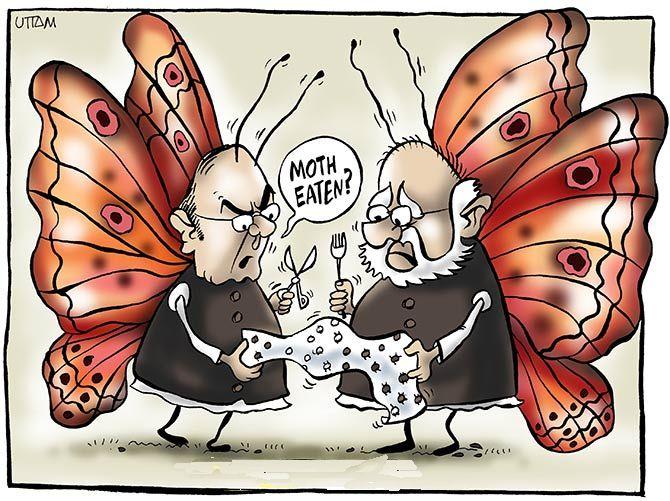 India's biggest tax reform invited both praise and criticism - a year on, the broad consensus is that the Goods and Services Tax (GST) has enhanced supply chains (prompting faster turnaround times and warehouse consolidation) despite niggling concerns about a higher compliance burden and complicated slab rates.
Most companies have redesigned their supply chains to anticipate only the uni-dimensional impact of GST - shutting down stock transfer depots and moving to 'mother warehouses'.
What this approach overlooks is that a GST-led supply chain transformation represents a once-in-a-lifetime opportunity, when all critical departments of a company - sales, supply chain, procurement and manufacturing - are willing to come together to re-think the network.
With all the brouhaha over GST, and (often) a limited understanding of the long-term forces shaping India's logistics sector, companies seem to have omitted factoring in some underlying trends in India that could shape supply chain excellence.
This has limited the value upside they could capture through the supply chain transformations.
The good news is that they can still realise the missing value by tapping four underlying trends critical to supply chain excellence in the country.
Trend 1: The catalytic power of ongoing infrastructure investments
India's infrastructure sector is witnessing unprecedented rates of public and private investment across modes.
These investments, along with the policy impetus through the Make in India initiative, are expected to transform India's manufacturing footprint and its freight transportation network.
The government's plans for railways, roadways (Bharatmala) and shipping (Sagarmala) amount to nearly a staggering Rs 22 trillion.
It has committed Rs 20,000 crore to the professionally managed National Investment and Infrastructure Fund (NIIF) which focuses on core infrastructure sectors such as logistics, ports, roads, airports, power, etc.
Ambitious plans are also underway for developing five major industrial corridors (for example, DMIC, BMIC), defining 14 Coastal Economic Zones (CEZs) and establishing 29 manufacturing clusters (16 bulk and 13 discrete).
To benefit from these infrastructural developments, companies should incorporate these emerging manufacturing hot-spots and new modes of transport (for example, coastal movement) into the blueprint for their supply chain transformation.
In fact, a few leading logistics players are already planning their foray into the end-to-end logistics services space aligned with emerging, strategic multi-modal hubs.
Trend 2: Transformative regulatory shifts
The Indian commercial vehicles industry is experiencing the effects of two regulatory shifts that could redefine demand and capacity requirements: decoupling a truck's 'horse' and 'trailer', and increasing its maximum axle-load capacity.
The first, decoupling the 'horse' (vehicle pulling a trailer) and trailers, is expected to increase utilisation - by allowing the registration of multiple trailers to a single 'horse', that 'horse' can now pull different trailers in separate legs of the journey, and will not be detained while the trailer is unloaded.
This could encourage companies to recreate 'transhipment hubs' in India which have been in operation globally for decades.
The government has also hiked the maximum axle-load of heavy vehicles by 20 to 25 per cent to match international standards - a move that might cut transportation costs for bulk road movement and increase available capacity for trucking in the short term across India.
Companies could use this opportunity to completely re-evaluate their current product-truck mix on a clean sheet network and accordingly optimise their transportation spend.
Trend 3: India's urbanisation wave and evolving consumer needs
The McKinsey Global Institute (MGI) publication, India's ascent: Five opportunities for growth and transformation (2016), estimates that India's urbanisation rate (the ratio of urban to total population) could touch 41 per cent by 2030.
With demand booming, and omnichannel retail flourishing in response, consumption patterns are changing dramatically.
For example, more and more people are shopping online, which redefines what they expect from retailers.
The industry can expect new demand centres and micro-markets to emerge in response to changing consumer expectations around efficiency, services and connectivity.
As companies consolidate their networks, they will need to identify under-penetrated geographies and sectors.
The MGI study on district-wise GDP growth in India indicates that the demand hot-spots of the past five years will shift, changing the optimal locations for warehouses.
Ignoring this trend could mean that the newly planned network might not optimally serve these new micro-markets - micro markets that would require higher service levels to win early market share.
Trend 4: The impact of SCM 4.0
It is amply clear that for supply chains to be truly agile, digital and analytics will have to be embedded in the transformation.
Demand-shaping via predictive analytics, route optimisation algorithms, automated systems for operational productivity, predictive transportation based on transaction history, cloud-based applications for improving transparency across the network, and other technology-enabled innovations can transform the supply chain beyond recognition.
In India, over 50 startups are already disrupting specific verticals across the supply chain.
As companies re-draw their supply chain strategies, it will be advisable to partner with or at least reach out to some of these disruptors to understand the value they can add to traditional models of distribution.
With plenty of value left to capture, companies could get a head start on a successful supply chain transformation by re-calibrating to factor in these trends.
The opportunity persists, and time is of the essence.
Neelesh Mundra is a partner, McKinsey & Company. Mundra is grateful to Mashantha Viswanathan, associate, McKinsey & Company for her inputs