M Muneer believes segmenting the population on the basis of their propensity to embrace new technologies is the key to driving digitisation.
Illustration: Uttam Ghosh/Rediff.com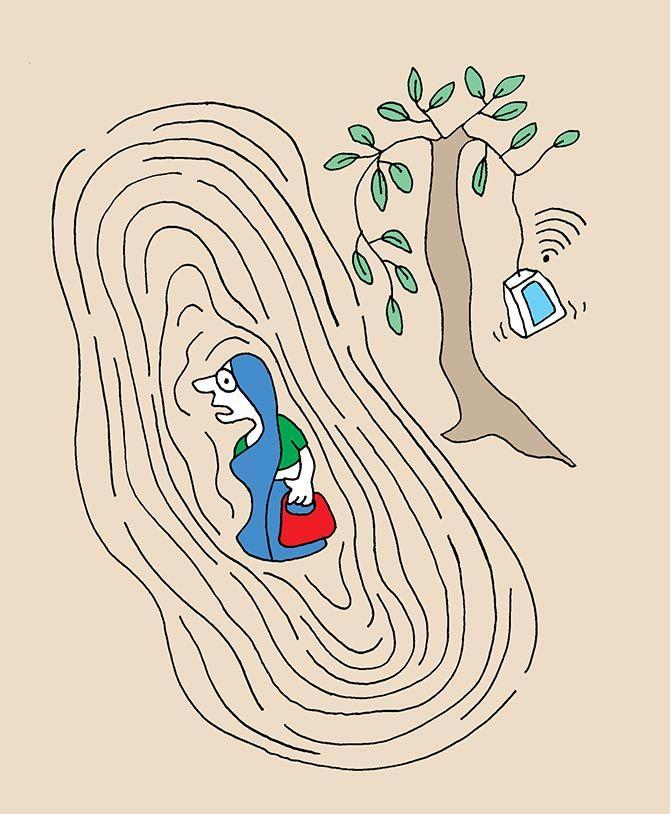 The pronouncements and predicaments of the demonetisation tsunami have still not ebbed. The new wave of digitisation and the cashless economy is consuming more ink in print and burning more bytes in social media than any other topic.
The debate is on whether or not we have enough penetration of technology, power, internet and point of sales (PoS) terminals, willing retailers and consumers, and so on. And, given that the annual cost of cash operations for banks is Rs 21,000 crore, going cashless certainly makes great sense. But the manner in which we are going about it is debatable.
While we can thump our chests for having the highest growth in Internet usage and one of the highest mobile phone penetration rates globally, we had better hang our heads in shame for the slowest Internet speeds in the world and low PoS penetration.
As always, India is full of paradoxes: The mobile proximity payment penetration is a disastrous 2 per cent, even though we have more mobile phones in use than toothbrushes; penetration of FMCG products is decent, yet that of PoS terminals is a low 5 per cent, at 700,000 retail outlets; high telecom penetration provides last mile connectivity, but the RBI will not allow telecom operators to provide essential banking services.
The list goes on.
There are challenges aplenty for a sudden shift from a 95 per cent cash economy to a "cash-less" economy. Non-tech and behavioural challenges will delay adoption as much as, if not more than, infrastructural and technical challenges. Tomes have been written about this, but policymakers and service providers need to think about efficient ways of driving tech adoption.
My intent here is to spotlight how various service providers should strive to deliver the government's vision using the "technology readiness" of people -- their propensity to embrace and use new technologies for accomplishing work/life goals -- as a way to segment and facilitate efficient penetration and adoption.
If, as a service provider, you do not know your prospects' readiness to embrace tech-based offerings, you will be wasting a lot of resources barking up the wrong tree. Lack of such knowledge is the cause of anguish and scepticism today.
None of the banks, or even non-banks such as Paytm, bothered to investigate and drive the penetration issue but continued to focus on the 5 per cent until DeMo happened.
Not all of us are wired the same way and not equally enthusiastic about technology, just as we are not for, say, Colgate, Head & Shoulders or Dove. Technology adoption is not necessarily dependent on where you live (rural vs urban), how educated you are, what income you earn or even tech penetration to some extent. It is inherent to individuals in various ways.
Highly educated and middle-class urban adults have been found to keep more than Rs 2 lakh in cash at home for "unanticipated needs". Despite their knowledge and access, they exhibit discomfort or insecurity.
On the other hand, lots of uneducated and poor farmers in remote Haryana villages use mobile phones to sell their produce, doing so with optimism and innovativeness.
Indeed, this paradoxical phenomenon highlights the need for measuring people's propensity to embrace cashless.

Using a framework developed by our partner, Dr A Parasuraman of the University of Miami, we can segment the population based on their technology readiness (TR).
It includes a 16-item TR scale to measure people's propensity to adopt technology and service providers can develop more informed and potentially more effective strategies for progressing towards the cashless goal.
While at it, we should also examine the propensity of both employees and customers (citizens as the case may be) to embrace technology. Just as a banker is pulled between the positive aspect of increased efficiency and ease, and the negative aspect of having to learn a new system and method, a customer too goes through similar tensions -- new hopes and innovativeness on the positive side, and discomfort and insecurity on the negative. Customers love the time saved, but become frustrated when snags occur.
Of the four dimensions of TR, optimism and innovativeness are "motivators," contributing to TR, whereas discomfort and insecurity are "inhibitors," detracting from it. Most importantly, an individual can possess different combinations of these traits, based on which a segmentation of the population can be done.
The graph depicts five broad segments based on technology readiness and time to adopt: Explorers, pioneers, sceptics, hesitators and avoiders. It is clear how wasteful it will be to drive straight to hesitators and avoiders. It will be best to focus on pioneers and sceptics as of now, since explorers are already active users.
For a smooth and efficient transition to a cashless economy, we can first assess the TR levels within a given population (regionally, state-wise, city-wise, seniors, across professions, and so on) to predict technology-related behavioural intentions as close as possible to actual behaviour. This can help allocate resources accordingly in a timely manner for various initiatives.
A joint study may be undertaken by government with private service providers to increase the return on investment for all.
Service providers playing to lead the cashless economy can reap rich dividends by gaining insights using TR-based segmentation. By comparing scores of a specific group against baseline scores, they can take appropriate marketing decisions.
Referring to the graph in this context, the "explorers" will be interested in more advanced functionality with minimal help, while the "avoiders" and "hesitators" will be more satisfied with basic functionality but will need more support and reassurance. The "sceptics" will need persuasive communication and the "pioneers" need little convincing but require more support to be satisfied.
Measuring the propensity to embrace technology can drive an efficient and effective pursuit of an eventual cashless economy that benefits all stakeholders -- government, citizens and service providers.
What's more important: Complaining like avoiders or hailing like explorers? Going by the current trend of newspaper stories, India seems to have only sceptics!
M Muneer is co-founder of Medici Institute, a non-profit company.