It is time for the Indian government now to shift priorities towards economic growth, notes R Shankar Raman.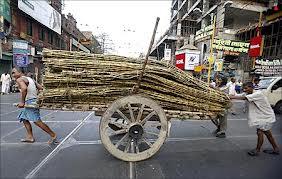 Alice Rivlin, former US Federal Reserve vice-chairperson, once remarked that the 'job of the central bank is to worry'.
Over the past two years, the creases of worry were most evident whilst the Reserve Bank of India was reflecting on its monetary policy stance.
Fortunately, over the past few months, macro parameters have improved. Inflation has shown signs of easing.
While declining oil prices was a slice of good luck, several steps have helped to contain the high inflationary conditions.
An inflation-focused stance adopted by RBI was well understood as par for the course.
It is time now to shift priorities towards economic growth.
Although many market participants & stakeholders were surprised by the rate cut on March 4, RBI seems to be complementing the government's efforts in boosting growth, without making a formal mention of it.
Rain and weather patterns in India have been extremely unpredictable over the past three to four years.
The distribution tends to be erratic, both temporally and geographically.
This introduces intrinsic volatility into the Consumer Price Index-based inflation numbers, since food comprises nearly half of the basket.
Looking at the headline CPI number in isolation, therefore, will complicate RBI's policymaking.
The focus needs to be on anchoring medium term inflation expectations rather than responding to short-term food and weather related disruptions.
Further, oil prices are unlikely to come back to the earlier highs, at least for the next two to three years.
Apart from oil, prices of almost all other commodities are at multi-year lows.
Deflationary concerns are lingering in all developed countries.
Even in most emerging market economies, inflation is subdued and central banks are taking pro-growth measures.
In such a situation, inflation in India is unlikely to blow out of control in short and medium term.
Time is appropriate for RBI to proactively adopt a more growth-focused stance and initiate calibrated reduction in the repo rates.
It is important to emphasise that reduction in benchmark monetary policy rates does not help the real economy if the transmission is ineffective.
RBI needs to give confidence to all stakeholders about keeping the cost of funds low.
This can be achieved by increasing liquidity so that the reverse repo becomes the operative money market rate.
RBI has taken a number of positive, meaningful measures, which need to be continued.
Further, cuts in statutory liquidity ratio requirements and increases in the FII limits for government securities will systematically boost credit availability over a period of time.
Banks need to be incentivised to lend more.
RBI has been nimble in managing the challenges facing the economy and has ensured monetary stability during times of distress. We need to capitalise upon this achievement.
R Shankar Raman is whole-time director and chief financial officer at Larsen & Toubro. The views expressed are personal