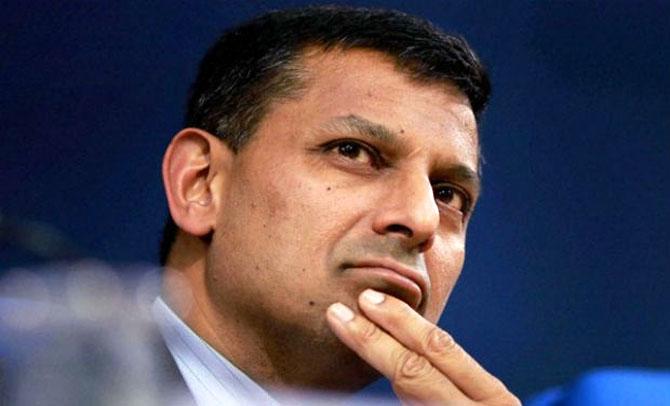 The Centre has messed it up with Rajan's resignation. But the RBI is too independent to kowtow to New Delhi, notes Omkar Goswami
I have a corporate friend who, more than many, knows how the Bharatiya Janata Party and the Rashtriya Swayamsevak Sangh actually work.
His forecasts have been unerringly true.
A month ago, he told me that the Reserve Bank of India governor wouldn't get an extension, to which I had naïvely exclaimed, "That would be stupid! Narendra Modi won't let that happen."
To which he said, "Yes, it's stupid. But it will."
A few days ago, I got a message from him: "RRexit. . . I told you so."
No sane person believes that Raghuram Rajan's decision to step down once his three-year term ends in September was driven by a burning desire to return to academia.
A sentence in his message to the RBI staff suggests otherwise.
Reflecting on two unfinished agenda items -- setting up of the monetary policy committee and further cleaning up of non-performing assets of banks -- he writes, "I was open to seeing these developments through, (but) on due reflection, and after consultation with the government. . . . I will be returning to academia when my term as governor ends on September 4, 2016."
Simply put, "I wanted to, but can't."
None can deny the government's prerogative to extend the term of an RBI governor.
None can also deny that on matters such as interest rates, the role of the finance ministry in the oversight of the RBI and monetary policy, and the pace with which Rajan was forcing banks to recognise and clean their non-performing assets, the governor and Finance Minister Arun Jaitley did not see eye to eye. Yet, the manner in which the resignation was virtually forced upon Rajan is a shame.
It shows exactly how hard decisions should not be taken.
Consider Subramanian Swamy's disgraceful diatribe against Rajan.
It was not a random act of this perpetual showboater.
It was cleverly orchestrated.
Clever since prepping Swamy to unleash vitriol needs no effort; clever since Rajan would be hurt but not reply; and clever since it gave the finance minister the space to claim it had nothing to do with his ministry.
Swamy's letter was neither strongly condemned by the finance minister nor the prime minister.
After all, a public grandstander was doing the task of embarrassing the non-pliable RBI chief.
Also consider the decision to have the committee under the cabinet secretary to decide who the governor may be.
In the last 40 years or more, no RBI governor has been chosen thus.
It was the government saying that there is nothing special about the RBI, and its head would be chosen just as one selects any secretary.
These were acts to degrade one of India's outstanding institutions and embarrass its chief sufficiently enough to quit -- thus allowing the finance minister to say what good work the incumbent had done and that a new governor would be chosen shortly.
Has Rajan been a good governor?
Forget his looks, international standing and outstanding ability to communicate ideas.
Even so, the jury would agree that he has done an excellent job.
In his tenure, consumer price inflation fell by 4 percentage points and wholesale by 5.7.
The current account deficit reduced to its lowest in seven years.
Three new banks came into being.
Existing banks were forced to stop dressing up bad loans and clean sizeable parts of their books, even at the cost of large losses.
Yes, he might have cut policy rates by another 50 basis points.
And he need not have spoken on so many topics outside the world of banking.
But such quibbling is neither here nor there.
However unfortunate, Rajan's exit will neither affect the RBI's de facto independence nor its working.
Manmohan Singh as the finance minister along with C Rangarajan had severed the operational umbilical cord between the RBI and the finance ministry.
The RBI's freedom in setting monetary policy and influencing interest rates began with Bimal Jalan and was hugely strengthened under Y Venugopal Reddy.
Pugnacious, canny and knowing which fights he could win, Reddy created an effectively independent institution to chart India's monetary policy and exchange rate movements.
Since then, the finance ministry has expressed its opinion, but never forced the RBI to do its bidding.
Rajan's successor won't have his international luminosity. S(he) may be a civil servant, a banker, or an economist of yore. But the RBI is now so forged that nobody who occupies that large room on the 18th floor will kowtow to the finance ministry or the Prime Minister's Office.
Nasty epistles from Swamy's ilk may hurt a governor. But the RBI is not for turning.
I wish the BJP understood this. If it did, Rajan may have remained.
Image: Raghuram Rajan. Photograph: PTI
Omkar Goswami is chairman, CERG Advisory