China and India have approached trade negotiations very differently: the former with confidence, the latter in a defensive crouch, says T N Ninan.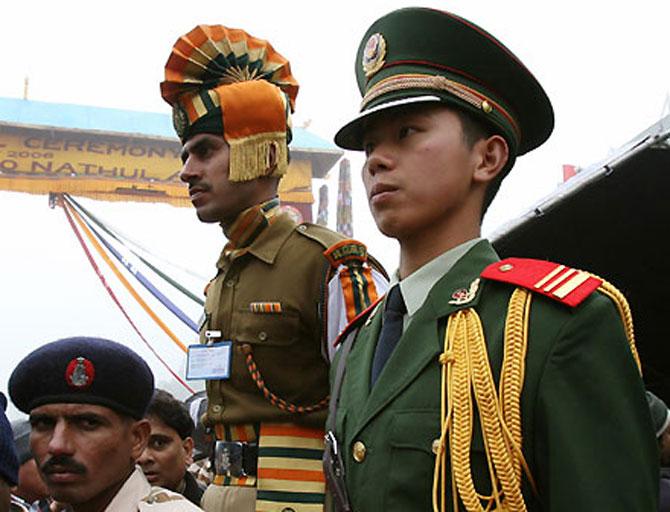 There are many India-China narratives that have been told over the past quarter-century and more. As time has passed, China has made comparisons between the two countries less and less relevant; it has placed itself in a different category from India on virtually every economic, social and power parameter, other than the old ones of large population and large geography.
In India, meanwhile, the comparator narrative that commentators don't talk about is the very different ways in which the two countries have approached trade negotiations: China with confidence, India in a defensive crouch.
This has showed in India's consistent foot-dragging during world trade negotiations, unlike China which used the run-up to gaining admission to the World Trade Organisation (WTO) in 2001 to push large-scale domestic reform.
Chinese nationalism has manifested itself in wanting to conquer world markets; India's nationalism has translated into protectionist sentiment - which is why the government is examining how to restrict the scope of the free trade agreements that the country has already signed.
History is repeating itself, with the Trans-Pacific Partnership (TPP) that is being negotiated by the US and 11 other countries of the Asia-Pacific (China has been consciously excluded). Commentators in India look at much of what is believed to be in TPP as intrusive and unacceptable because it involves issues that are excluded from WTO trade negotiations.
TPP covers labour and environmental norms and standards, competition rules, preference for the public sector, and much else. It also seeks to mould many of these issues into a US framework so that even countries that meet the norms being worked out will have to make modifications. India's trade negotiators look askance at all of this.
In contrast, China has indicated that it is willing to join TPP, even on terms that the US wants to present as a take-it-or-leave-it offer. Indeed, China is once again using its expected entry into a new trade grouping to drive domestic change. In preparatory steps that will help it manage interim transitions, China is negotiating a bilateral investment treaty with the US, something that India is reluctant to do despite American prodding.
China is also one of the 51 countries negotiating the Trade in Services Agreement (TISA) - India is not one of the 51. Finally, China is using the proposed Shanghai Free Trade Zone to experiment with unrestricted internet, an absence of capital controls and other issues on which the country as a whole will need to make adjustments before it can hope to join TPP.
India is doing none of these. Its main hope seems to be that TPP does not happen - or at least gets delayed, because the US Congress has denied fast track negotiating authority to President Obama. Still, it would be a surprise if TPP were not to come into existence at some stage. If India is left out of the tent for a long period of time, it runs the risk of losing competitive access to important markets like North America, and of giving East Asian competitors an advantage over Indian exporters.
A forward-looking trade policy would focus therefore on getting India ready for new trading regimes. Instead, India is caught in its defensive crouch.
India prefers negotiations in the WTO framework because it has the ability to block what it does not like in WTO's negotiating rooms. But the US's two major initiatives for new regional trading frameworks (the second is the Trans-Atlantic Trade and Investment Partnership, or TTIP) are precisely to by-pass what it sees as stone-walling by countries like India.
Given the context, New Delhi must ask itself whether it is adopting the right attitude when Vietnam is in the tent on TPP, and when Pakistan is in the tent on TISA. If those countries can make the adjustments, why can't India?