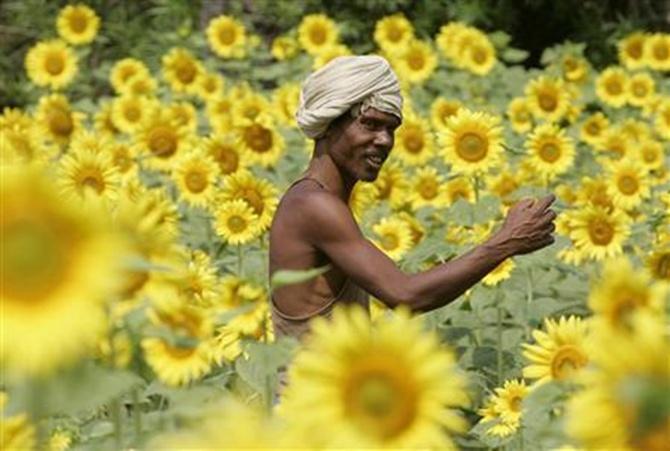 The farming community expects much more substance from the government, says Ajay Vir Jakhar.
Young Indians starting their careers in an environment devoid of hope and opportunity and surviving on dole will be inclined to populist politics.
But the farming community expects much more substance from the government, and the Budget was a good example of how populism trumped substantive policy.
Like his predecessors, Arun Jaitley chose not to clear the smokescreen over the government's financial obligations as far as the agricultural community is concerned.
For instance, Rs 73,000 crore (Rs 730 billion) has been allocated as fertiliser subsidy this year. But the actual outgo could be as much as Rs 85,000 crore (Rs 850 billion).

After clearing the backlog of last year's unpaid fertiliser subsidy of Rs 38,000 crore (Rs 380 billion), the remaining Rs 35,000 crore (Rs 350 billion) will run out by August. There is, thus, no provision for fertiliser subsidy for the Rabi sowing.

Factor in an imminent doubling of gas price and the additional burden to the exchequer for urea subsidy alone could be Rs 10,000 crore (Rs 100 billion). The combined shortfall will certainly dent the fiscal deficit targets the government has set for itself. Does the finance minister have other plans?
It is also significant that the finance minister candidly referred to reviewing the "urea policy", not the "fertiliser policy".
Using the term "fertiliser policy" would mean reallocating the subsidy between different nutrients - phosphates and potash being the other two - to encourage the balanced use of fertiliser that is currently skewed towards urea owing to the heavy subsidy on it.

A review of the urea policy can mean a reduction in urea subsidies only. Not that this will happen immediately either; no doubt, the Bharatiya Janata Party will wait till after the Maharashtra and Haryana Assembly elections before administering this bitter pill to the farming community.
Then again, the Budget announcement of a meagre Rs 56 crore (Rs 560 million) allocation for the archaic idea of 100 mobile soil-testing vans flummoxed me.
The world has moved along to cheaper compact backpack soil-testing technologies. The country doesn't need a 100 rickety vans but 4,000 advanced soil-testing units.
Rather than list such small ideas in over two hours of the Budget speech, farmers would have preferred the finance minister to dwell a little more on the nuances of Rs 800,000 crore of agriculture credit instead.

Legally, there is a whiff of a chance this may stand scrutiny owing to the fine print. But for the record: most of this humongous amount is not given to farmers. Members of Parliament and the public at large need to be made equally aware of this anomaly.

Especially when in West Bengal 54.7 per cent of agricultural credit is advanced by urban or metropolitan branches. For Maharashtra, the corresponding figure is 46.3 per cent and in Tamil Nadu 33 per cent.
Some good ideas in the Budget need follow-ups to be truly effective. For instance, the Rs 5,000 crore (Rs 50 billion) "long-term rural credit fund" for refinance support to co-operative banks and regional rural banks is much appreciated.

Short-term refinance to these banks is not applicable for interest subvention. But the announcement that we really awaited was a capital infusion into these small banks to fulfil the Reserve Bank of India guidelines of nine per cent minimum capital adequacy norms. Otherwise, these banks will eventually close.
Providing finance to 500,000 joint family groups of "Bhoomi Heen Kisan" through the National Bank for Agriculture and Rural Development (Nabard) is a landmark allocation. But at the pace at which Nabard works, I doubt if it will be able to reach any finance to the targeted families in this financial year.

New programmes such as Skill India, Rurban mission, Neeranchal & Kisan TV are laudable as are incentivising farmers markets. A price stabilisation fund could be one way to move away from the minimum support prices regime to a farmer income policy.
Farmers had desperately hoped for an effective crop insurance policy. A pension of Rs 1,000 a month for the landless labour is quite a valid demand when compared to similar guarantees for the employees of the organised sector.
I would be very cautious with projects like interlinking of rivers, which historically are fraught with risk of delivering only half the target output with cost overruns of over five times on a conservative estimate. The ecological loss will be also immeasurable.
As the prime minister gets ready to deliver his first Independence Day address, which is widely expected to contain many new policy announcements, it is important that he ignores the positive chatter emanating from the panel discussions on TV channels; they do not represent the largest section of society even one iota.

Neither should he be moved by the adulation of the industry associations, which have never opposed a Budget speech in living memory. Only when change is all but done, do they start to find fault in government policies. But it is those Indians who don't either follow the Budget telecast, invest in stock markets or pay taxes that will be a decisive factor five years down the line.

The government has lost an opportunity to articulate its intentions clearly or offer a sense of direction to that majority.
The writer is chairman of the farmers' forum Bharat Krishak Samaj.